Nate Jones: Chicago White Sox Reliever Earns AL Worst of the Night Award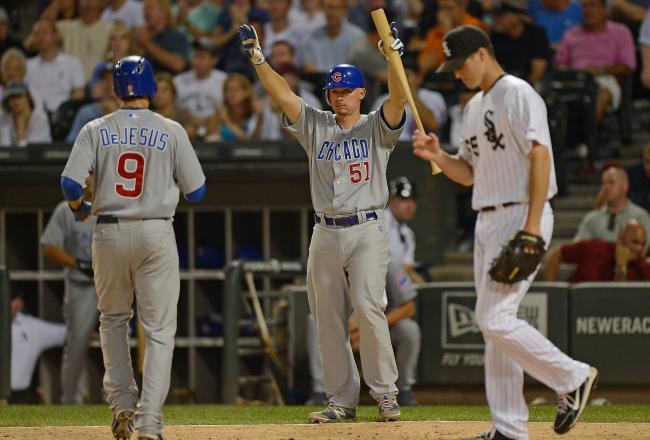 In the foreground is Nate Jones. In the background is just one of his earned runs.
Jonathan Daniel/Getty Images
Chicago White Sox righty reliever Nate Jones has a relatively simple job. All he has to do is come in and throw strikes and get outs without making a huge mess. For the most part, it's a job he's done quite well this season.
Until Monday night, that is. Let's just say Jones' evening didn't go so well.
The White Sox were trailing the Chicago Cubs when Jones entered the game in the top of the seventh inning, but the game was by no means out of reach. The Cubs were leading by just three runs at 6-3, which didn't qualify as an insurmountable lead because...well, because they're the Cubs.
All Jones had to do was get the White Sox out of a one-out jam with runners at first and second, and the team would have had a shot to make a comeback.
This proved to be too much to ask. Here's a rundown of Jones' outing.
Batter No. 1: Alfonso Soriano singled to center to bring home David DeJesus from second base. Starlin Castro moved to third on the play. Cubs lead 7-3.
Batter No. 2: Steve Clevenger singled to right to bring home Castro. Soriano moved up to second base. Cubs lead 8-3.
Batter No. 3: With Darwin Barney batting, a wild pitch by Jones moved Soriano to third and Clevenger to second. Barney then singled to bring home Soriano. Cubs lead 9-3.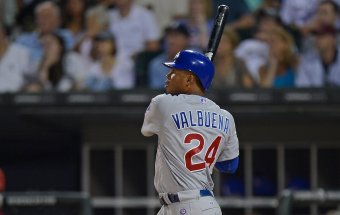 Luis Valbuena has hit two three-run homers in the Cubs' last three games.
Jonathan Daniel/Getty Images
Batter No. 4: Luis Valbuena homered to right, scoring Clevenger and Barney. Cubs lead 12-3.
Batter No. 5: Geovany Soto singled to right.
It was at that point that Sox manager Robin Ventura finally pulled Jones, who retreated to the clubhouse and let off a wail of despair.
Or so I'm told. By my imagination.
At any rate, Jones' line looked like this when the book was finally closed on him: 0 IP, 5 H, 4 R, 4 ER, 1 HR, 1 WP.
He threw just 16 pitches, nine of which went for strikes. What was a three-run deficit when Jones entered the game became a nine-run deficit, and the White Sox went on to lose 12-3.
Thanks to his brutal outing, Jones saw his ERA rise from 2.14 to 3.21. To be fair to him, the fact that it was as low as 2.14 to begin with goes to show just how reliable he's been for the White Sox this season coming out of their pen. He had a bad night, and Ventura admitted after the game that he deserves some blame for what happened.
"He's been used a lot," said Ventura, via ESPN.com. "That's partly my fault. He's been good. This was just one of those days for him."
White Sox starter Zach Stewart also had "one of those days," as he gave up six earned runs in 5.2 innings of work. He allowed nine hits, four of which left the ballpark.
It was between him and Jones for today's American League "Worst of the Night" award. After lots (i.e. five minutes' worth) of hard thinking, I decided that Jones is the rightful recipient.
He's getting it mainly because Stewart was at least able to get a few hitters out. Jones couldn't even manage to do that much.
And once again, these are the Cubs we're talking about.
One of those days, indeed.
If you ever want to nominate somebody for American League "Worst of the Night" honors, hit me up on Twitter.
This article is
What is the duplicate article?
Why is this article offensive?
Where is this article plagiarized from?
Why is this article poorly edited?