2012 NBA Draft: Evaluating the Strength or Weakness of an NBA Draft Class
June 19, 2012

Mike Stobe/Getty Images
Is it a "weak" draft or is it a "strong" draft? 
The argument happens every year, without fail. Often, people will try to make the statement over a year in advance, one way or the other. The reality is that there is no set answer. There are no set criteria, no mathematical formula, and no pieces of information which can lead to the correct answer.
That being said, there are different ways to approach a draft class which, unsurprisingly, will lead you to very different answers.
There is a large group who like to base their strength of a draft argument based on the talent in the top of the draft. Whether it's the top five picks, the lottery or even the top 20, the basis seems to rely on focusing at that group. We'll call this the "superstar" method. Potential MVPs, All-NBA, All-Stars, statistical leaders—these honors are at the heart of the argument. A draft class is only as good as its "stars."
Here is a look at the last 10 NBA draft classes and the number of players from each who have been named to an All-NBA Team or an All-Star game at least once, or have been named the league's MVP: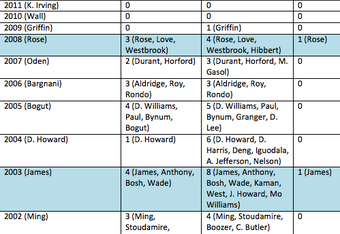 So what exactly does this tell us about the strength of each draft class? In four seasons, 2008 has had three All-NBA players, four All-Stars and one MVP; the class of 2003 has four, eight and one respectively. Which is a better class? The correct answer is…you can't tell just by looking at achievements.
Looking at these 10 years and the 20 players who have been named All-NBA, three have won an NBA championship (Bynum, Rondo, Wade). Yes, that number will jump to five either way the 2012 NBA Finals end, but that will still only represent 25 percent of the All-NBA players in this span. So, while these are nice tidbits to know about each class, it tells little of the strength overall.
The fact is, there have been 596 players chosen in the NBA draft in this 10-year span (Minnesota forfeited their 2002 and 2004 first-round picks, and Charlotte joined in 2004). Determining the value that these players have had to a particular team is an incredible task. At least half of that number has never played in the league, or if they have, played less than a full season's worth of games.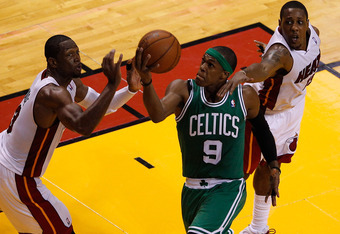 J. Meric/Getty Images
Then there are players who go on to very good NBA careers, but not with the team that drafted them. In order to really determine a particular draft's value, you have to look at each draftee and the impact they had on their drafter.
This in itself will lead to even more questions. Does the value have to be statistical? What if you were able to draft a player who you later used in a trade to significantly bolster your team? Also, how long should you wait before you can look back at a draft to try and determine its value? 
I am sure if you were to continue this exercise, you would come up with even more questions as you look at each player's history. The other thing I am sure of is, if you were to finish going through it all, you still couldn't come up with a definitive answer.
In my mind, there is one way to determine the value of a draft class, and that is in its depth. How many teams are able to utilize their draft picks with players who contribute significant minutes to the team? 
Winning or losing doesn't matter in this scenario. First, there are 30 teams, so no matter what, there will be disparities in success. A player from a losing team could have a much greater impact on his team than one on a winning team, so the team's record has little impact.
Second, no matter what the new advanced stat of the week is, there is no statistically accurate way to determine a player's value to his team's record compared to someone on a different team. They are two distinct animals, and statistical data will never be able to make up for the inevitable gaps.
Since first-round picks are guaranteed contracts, and teams may often feel pressure to play these players no matter what, the key to determining the depth of a draft can often be found in the second round. 
How many second-rounders are playing significant minutes for their team? While the point of this article is not to give a statistical breakdown, look to 2011 as an example of a deep draft. Not only was the 60th pick (Isaiah Thomas) one of the top rookies in his class, but many others (Chandler Parsons, Andrew Goudelock, Charles Jenkins and Lavoy Allen to name a few) played significant minutes. Allen and Goudelock played for playoff teams, the others did not, but they all had an impact on their team.
So, as we get close to the 2012 NBA draft, I implore you to refrain from the "weak" and "strong" arguments of this draft class. There is no answer. What I can tell you is that the 2012 class will be deep, with a lot of players in both rounds playing significant minutes in the league.