All week long, I will be breaking down a pair of scenarios for each AFC North team and determining whether they will prove to be fact or fiction. Today, I tackle the Cleveland Browns.
Scenario: Trent Richardson is every bit as good as we've all been made to believe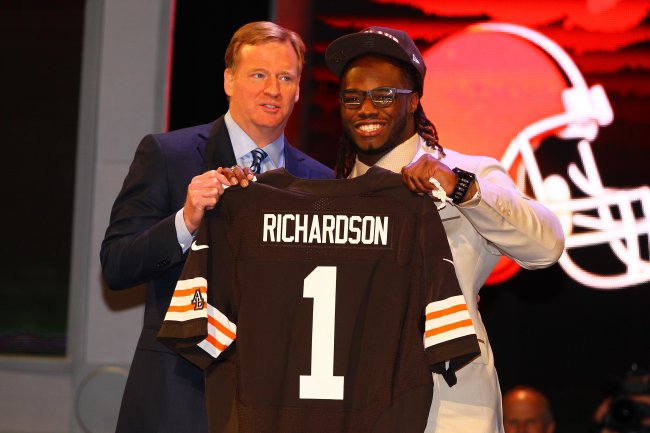 Al Bello/Getty Images
The Cleveland Browns needed to improve their running game this offseason. It became quite clear early on that they weren't interested in extending a new contract to Peyton Hillis and indeed, they let him walk away in free agency and sign with the Kansas City Chiefs.
Before the draft, that left the Browns with just the injury-prone Montario Hardesty, former Green Bay Packer Brandon Jackson (who didn't take the field last season with injury issues of his own) and Chris Ogbonnaya, who cannot handle the workload of a No. 1 back. Clearly, the team was going to make a move at the position in the draft.
And indeed they did, moving up one spot to ensure they could grab the draft's very best back, Trent Richardson, with the No. 3 overall pick. There's little question that Richardson will be the Browns' workhorse, every-down back right out the gate this season, and there also appears to be little question that he'll be able to pick up where he left off as a member of the Alabama Crimson Tide.
Predict Trent Richardson's total touchdowns for the 2012 season:
Last season, as Alabama's undisputed starter, Richardson carried the ball 283 times for 1,679 yards and 21 touchdowns. He also caught 29 passes for 338 yards and three more scores.
His combined 24 touchdowns were four more than the Browns as a team scored in all of the 2011 season, which shows just how badly the Browns needed a player of Richardson's talent and just how well-suited he is to meet this considerable challenge.
In Cleveland's West Coast offense, Richardson will be invaluable to both the passing and running games and will ease the pressure on likely starting quarterback (and fellow rookie) Brandon Weeden while he learns his new offense. He'll certainly score touchdowns—even if he's not responsible for 24 of them—and his contributions are likely to lead to wins. Wins, plural.
Last season, the Browns ranked 22nd in average rushing attempts per game, 28th in rushing yards per game, 28th in rushing first downs per game and dead last in rushing touchdowns per game. Regardless of what happens in other areas for the Browns this season, it's almost guaranteed that these won't be their rushing stats when it ends. Richardson will absolutely see to that.
VERDICT: Fact
Scenario: The Cleveland Browns have solved their wide receiver problems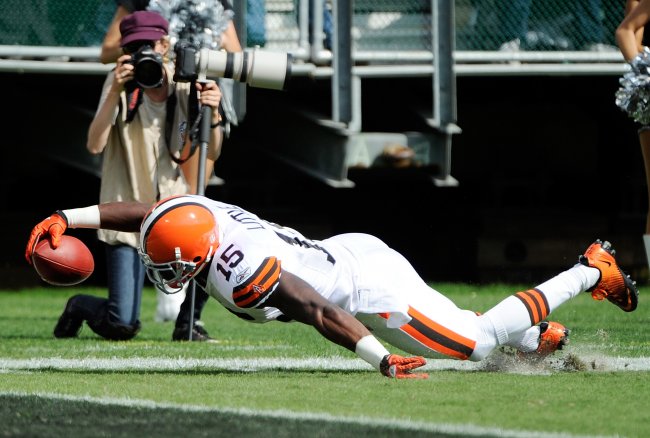 Thearon W. Henderson/Getty Images
There was much clamoring prior to the draft (and during the start of free agency as well) for the Browns to upgrade their receiving corps.
But free agency came and went with the top players being snapped up by teams not located in Cleveland, and the Browns then chose to avoid the position in the draft until the fourth round, when they selected Travis Benjamin.
By doing so, the Browns appeared to indicate that they're happy with where they are at when it comes to the receiver position. But there's a great deal of inherent risk in this happiness.
I don't think I need to remind anyone about Greg Little's issues with dropping passes last year. Though this was likely a concentration-related problem caused in part by being thrown into a starting job with little to no preparation, it's still a gamble for the Browns to assume he will have completely cured his problems.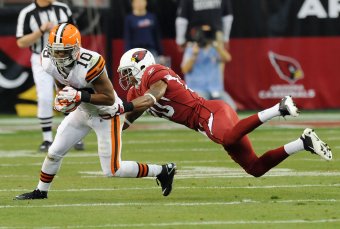 Norm Hall/Getty Images
And then there's Mohamed Massaquoi, easily the most worrisome of the Browns' receivers. He's dealt with concussions and foot problems recently, hasn't panned out to be the playmaker they'd hoped he'd be and hasn't performed well at OTAs or minicamp this year.
They'll be assisted by the aforementioned Benjamin, who is projected to be Massaquoi's backup, while Jordan Norwood and Josh Cooper, an undrafted player who was one of quarterback Brandon Weeden's targets at Oklahoma State, are battling it out for the starting slot role.
Aside from Little (granted, his drop issues have been fixed), there aren't any other truly explosive receivers on the Browns' roster. Though clearly the coaching staff believe the crew they have now can get the job done (especially with an upgrade at quarterback), it's still going to be a struggle for the Browns in the passing game this year with this group of receivers.
Perhaps what held the Browns' passing game back last year has somehow been fixed, but with the same crew of receivers from last season likely to be Weeden's primary targets this year, it's hard to say that the same issues won't arise again.
VERDICT: Fiction