NHL Trade Rumors: Latest Buzz on Targets from Around the League
June 19, 2012
Christian Petersen/Getty Images
The Los Angeles Kings completed one of the more improbable runs in Stanley Cup playoff history last week when they finished off the New Jersey Devils to win Lord Stanley's Cup.
Now, however, we set our sights towards the 2012-2013 NHL season, as the offseason is officially underway. Each team will look to ensure they make all the right moves to put them in position to be next year's Kings, and there are dozens of trade rumors going throughout the league.
With the NHL entry draft just a few days away, if teams are going to look to move up in the draft or trade their pick away for more depth in the upcoming year, their time to do so is running out.
Here are some of the latest NHL trade rumors for the draft and beyond.
Rick Nash
With Rick Nash seemingly on his way out of Columbus, the rumors that he will join the New York Rangers next season seem to be heating up.
Larry Brooks of the NY Post is reporting that Rangers general manager Glen Sather is more concerned about the lack of offensive firepower the Rangers showed in their playoff series against Ottawa, Washington and New Jersey, than he is about Nash's contract that pays him $7.8 million per year through the 2017-2018 season, making him the fifth-highest-paid player in the game.
The Rangers certainly won't be the only team interested in Nash's services, with the Hurricanes, Leafs, Flyers, Sharks and others getting in on the trade talks (h/t to B/R's Nicholas Goss). It's no surprise why Nash is a hot commodity, seeing as he has scored at least 30 goals in seven of his first nine NHL seasons.
Jordan Staal
With just one year remaining on his contract, rumors are running rampant about possible trade destinations for Penguins center Jordan Staal. 
Dave Molinari of the Pittsburgh Post-Gazette  is reporting that while there is still a question about whether Staal is interested in leaving the Penguins, if he does, it would seem as though the Carolina Hurricanes are his likely destination. 
The Hurricanes are looking for more forward depth and sending Staal to Carolina would reunite Jordan with his brother Eric. Not to mention, the Hurricanes hold the eighth pick in the upcoming draft, which looks very tempting to Penguins management.
Roberto Luongo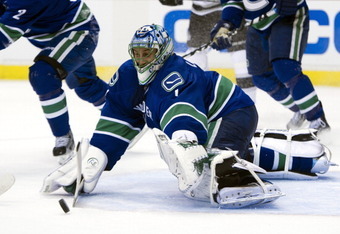 Rich Lam/Getty Images
Steve Simmons of the Toronto Sun is reporting that Roberto Luongo may now be the best option for the Maple Leafs to fix their disastrous goaltending situation. 
Now that Tomas Vokoun is with Pittsburgh and Anders Lindback has been sent to Tampa Bay, Luongo has put the Leafs on his list of trade options for Vancouver, so all signs seem to point to him as their short-term fix at goaltender next season.
Edmonton Oilers' No. 1 Pick
Despite plenty of interest, it seems as though the Edmonton Oilers will not be trading the first overall pick in this year's draft (per Sportsnet's Mark Spector, h/t to Mike Halford of NBCSports.com). Although the Oilers were open to trading the pick, their asking price was simply too high for any team to make the move.
Buffalo Sabres' Draft Picks
Darcy Regier, the Buffalo Sabres' general manager, has made it pretty clear that with four of the first 44 picks in this year's draft, the Sabres are willing to deal (via Mike Harrington of BuffaloNews.com).
Buffalo finished ninth in the Eastern Conference last season, and they are just a few players away from being contenders in a wide open conference.
The Sabres could jump into the mix for Staal or Nash, but even if they miss out on the top two names on the trade block, Sabres management will still look to get something in return for their plethora of early draft picks this season.