Tiger Woods: 14-Time Major Champion Is Just a Sideshow Attraction Now
June 19, 2012

Stuart Franklin/Getty Images
As the saying goes, "Fool me once, shame on you, Tiger. Fool me twice, shame on me."
A lot of us had hope that Tiger Woods would return to his spectacular ways after wins at the Arnold Palmer Invitational and the Memorial this year. He's responded by following those wins up with a 40th-place finish at the Masters and a 21st-place finish at the US Open this past weekend. With each glimmer of promise, there has come an embarrassing letdown for a man who used to undoubtedly be the top golfer in the world.
It's this tug-of-war that has become unbearable for Tiger fans or those who simply want him to be relevant again. Because of what he's done in the past, we almost expect Woods to get back on top after every promising tournament or every promising round.
But the reality is, this back-and-forth, up-and-down year for Tiger proves that he's become just another contender, haunted by a sport that frustrates so many, including the top professionals in the world. He made it look so easy when he won those 14 major championships that we almost forgot how incredibly difficult the game of golf is.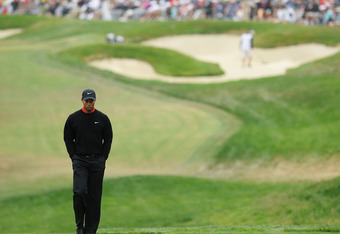 Stuart Franklin/Getty Images
When Tiger wins a tournament that isn't a major or makes a shot that reminds us of the Tiger of yore, we shouldn't look at it as a sign that he's ready to claim his throne anymore. We should look at it as a sign of a golfer who simply had a good tournament, and that is all. These days, he experiences the ups and downs of golf just like everyone else. He has three top-10 finishes on the PGA Tour this year, tied for 29th. And for every top-10 finish he's had this year, he's followed it up with a miserable outing.
Is his mental game still lagging after all the drama that came out of the woodwork in late 2009? Certainly. But that's only part of his troubles. The reality is, it's just as much his game on the links as his mental game these days. He's a different golfer now, and it's time we recognized this. Heck, it's time I recognized this, too.
It's time we stopped allowing the once-great Tiger Woods to fool us.
Follow me on Twitter. We can talk about golf together.