Euro 2012 Croatia V Spain: Winners and Losers in Spanish Victory in Group C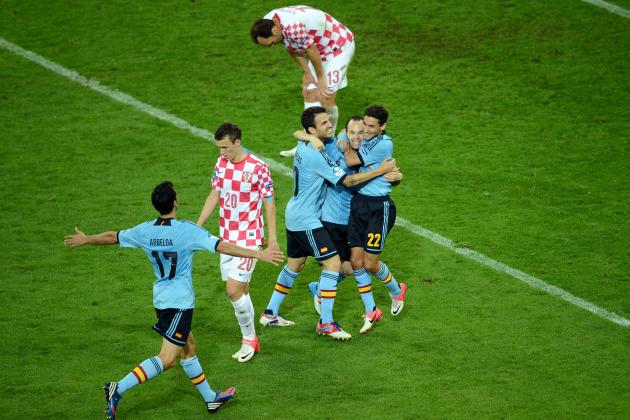 Jasper Juinen/Getty Images

No surprise, Spain beat Croatia. We all saw that coming, right?
The reigning champs finished atop their group and are now well on their way to retaining their title. Right?
They should steamroll a France team that just got beaten by Sweden, right?
Spain may have finished on top of the second-hardest group in the Euros, but they hardly look like the same side that won the 2008 Euros and the 2010 World Cup.
Their match against Croatia was typical, in that it required lots of patience to break down a defensive formation relying on a counter attack, but their weaknesses were more exposed than they would have liked.
Going forward, Spain should not be considered clear favorites.
Any team in the tournament can beat this side so long as they stay disciplined on defense and take advantage of the chances that Spain will surely allow in the second half.
With that said, here are the winners and losers from Spain's Group C, match-day three victory over Croatia.
Begin Slideshow

»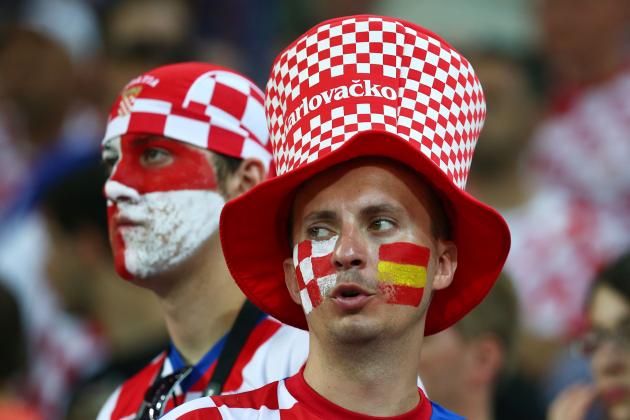 Alex Grimm/Getty Images

Going into this match, the anticipation was high. The defending champions were in the driver's seat, but Croatia had proven more than capable of an upset.
With Italy almost guaranteed a victory against the Irish, fans Spain, Ireland, and Croatia were very focused on how this match played out.
Unfortunately, this one turned out to be rather dull.
There were some moments of excitement, to be fair. Fabregas' masterful pass to Iniesta on the winning goal was a beauty.
But most of the match was boring for the neutral fan. Croatia didn't do much in the attack for the better part of an hour and Spain failed to break down a disciplined Croatian defense.
As a fan not invested in the outcome, this match was far from exciting.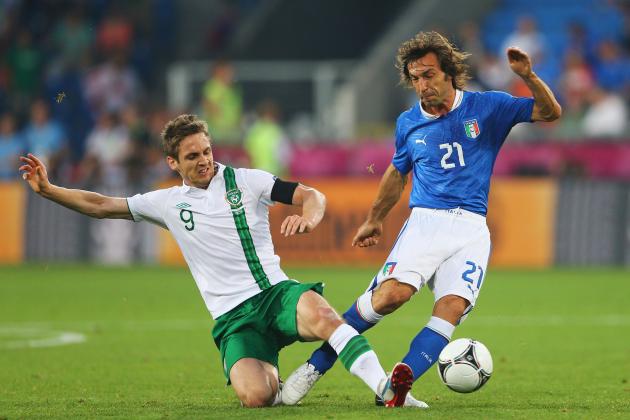 Christof Koepsel/Getty Images

The complicated tie-breaker rules for Euro 2012 has confused many people, including some ESPN analysts.
Fortunately for Italy, Jesus Navas made any debate about the merits of those rules moot when he walked in the late winner against Croatia. Gianluigi Buffon was quick to thank Spain for their victory over Croatia.
Jesus Navas scored the goal, but he was not the only man responsible for the defending champions' victory.
Even before Fabregas' phenomenal pass freed both Iniesta and Navas for the goal, Iker Casillas was solid in the second half when Croatia ramped up their attack.
Spain was not anywhere near its best against Croatia, but it was good enough for Italy.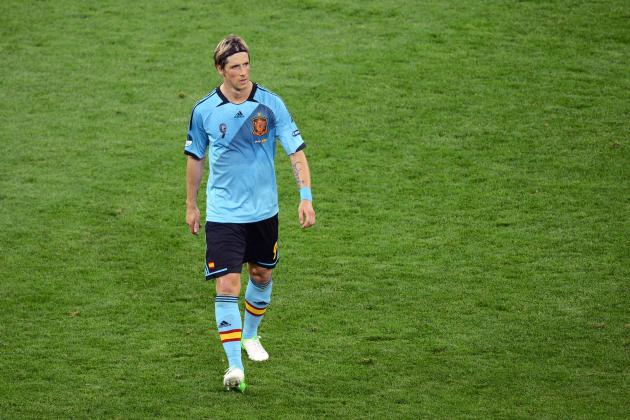 Jasper Juinen/Getty Images

Let me first say that Fernando Torres does not deserve to be blamed every time Spain fails to score—including against Croatia. Spain's issues go beyond the Chelsea man.
However, the fact that he fails to score against almost every tough defense Spain faces is worrisome.
Yes, Torres scored two goals against a hapless Irish side. But all the talk of him being 'back' is a bit premature. Ireland had one of the worst defenses in the tournament and Torres is the only Spanish striker who could have scored against them.
It is clear that a striker is needed for Spain. When Vicente del Bosque has opted to field a three-man front with an attacking midfielder utilized as a false nine, Spain has lacked bite.
But against the tougher defenses that Spain will face going forward, Fernando Torres has not at all shown that he is deserving of a start ahead of Alvaro Negredo and Fernando Llorente.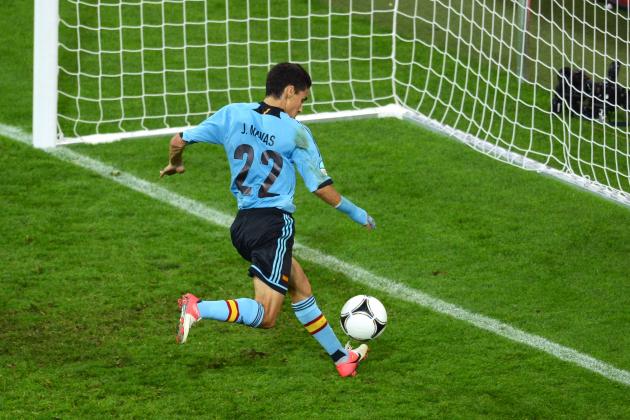 Jasper Juinen/Getty Images

Against Croatia, Navas showed once again that he can change the game for Spain.
The goal was not earned and was due to Fabregas' pass more than anything else, but Navas proved his worth all night. Even before the goal, Navas changed the complexion of Spain's attack.
Despite not having a target man when he was first brought on, Navas repeatedly found space down the right side and spread Croatia's defense—just as he did against Italy.
With his second great performance in a row coming off the bench, it should only be a matter of time before del Bosque is willing to try the 4-3-3 with Navas partnering Fernando Llorente up front.
With a tall target like Llorente to meet Navas' peerless crossing ability, Spain's attack would immediately become more dangerous.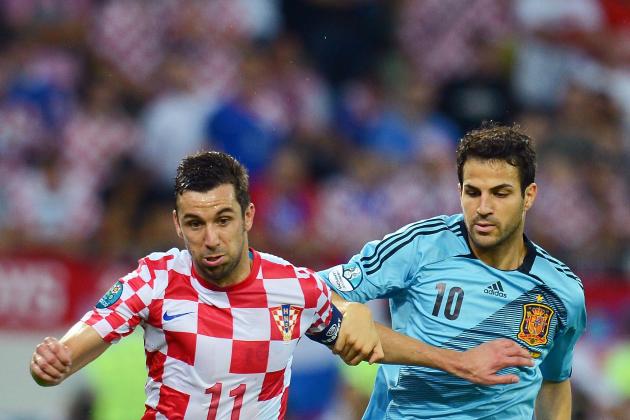 Shaun Botterill/Getty Images

Despite having an immediate impact off the bench and being the catalyst for Spain's only goal, Fabregas did not earn the right to start... as a false 9.
This is not entirely his fault, however. Just like with Barcelona this season, Fabregas continues to be played in an unnatural role that forces competition with someone who plays a different position.
Fabregas came off the bench in the 73rd minute and within five minutes had a chance to give his side the lead. In the end he failed to take the shot.
He failed to show that he should start instead of Fernando Torres, since he was no more dangerous in front of goal than the striker.
Of course, Cesc Fabregas should not be competing with Fernando Torres in the first place.
I do think Fabregas needs to start, but at the expense of Xabi Alonso, not a striker. Xavi would then slot into Alonso's role and Spain would field three of the best attacking midfielders in the world.
But del Bosque seems to think otherwise so Fabregas came out a loser against Croatia.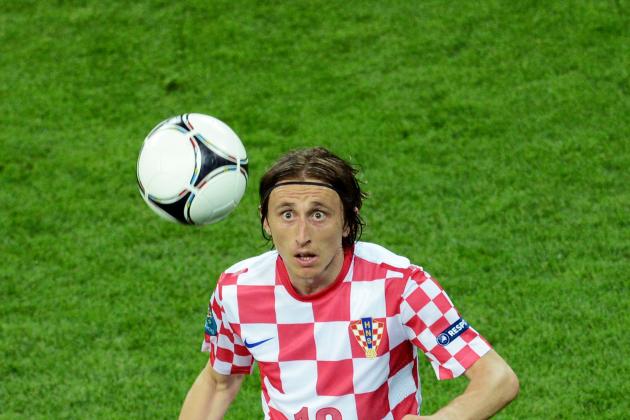 Jasper Juinen/Getty Images

For the second summer in a row, Luka Modric seems destined to be part of a transfer rumor storm.
The Tottenham midfielder continues to be noncommittal to the Spurs and looks poised for a transfer—whether it be to Manchester, Barcelona, Madrid, or elsewhere.
Modric had an impressive showing in the Euros and no performance was more solid than the one against Spain.
While sharing the same pitch as Xavi, Andres Iniesta and David Silva, the Croat looked comfortable alongside the best midfielders in football.
He did not earn Croatia a trip to the quarterfinals, but he surely kept his transfer value high and may have earned his long-desired move to first-team Champions League football with a contender.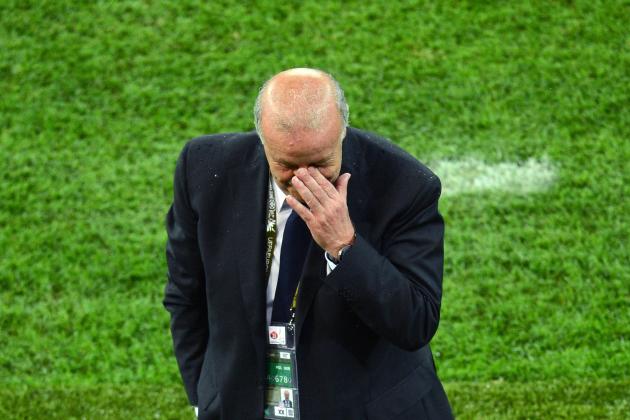 Jasper Juinen/Getty Images

After another abysmal offensive performance, some fans are losing faith in Vicente del Bosque's abilities as a tactician.
He has never really been known as a tactical genius anyway, but this year's Euros show just how limited he is creatively.
With Spain's central defense struggling, del Bosque continues to use two defensive midfielders—neither of which is an enforcer, a true No. 5. He leaves the squad imbalanced.
He has Xabi Alonso and Xavi canceling each other out when he could just put Xavi further back and field three attacking midfielders without sacrificing a striker.
It is looking more like Fernando Torres cannot be counted on to score against a tough defense. He may have done well against the worst team in the group, but there are no more easy games.
Alvaro Negredo has barely seen the pitch and Fernando Llorente—the best Spanish striker available to Spain—has yet to see the pitch. De Bosque's favoritism for Madrid and, to a lesser extent, Barcelona players is hurting Spain's attack.
With Spain's offense sputtering and the central defense so vulnerable even with a second holder, a change is needed.
Author's recommendation
Just as I suggested before the tournament, Spain should do one of two things:
1. Drop Xavi into Alonso's role and put Iniesta, Fabregas, and Silva in front of a striker (even Torres).
2. Switch to the 4-3-3 with Busquets, Xavi, and Iniesta in midfield with Navas and Silva/Fabregas sandwiching a striker (preferably Llorente).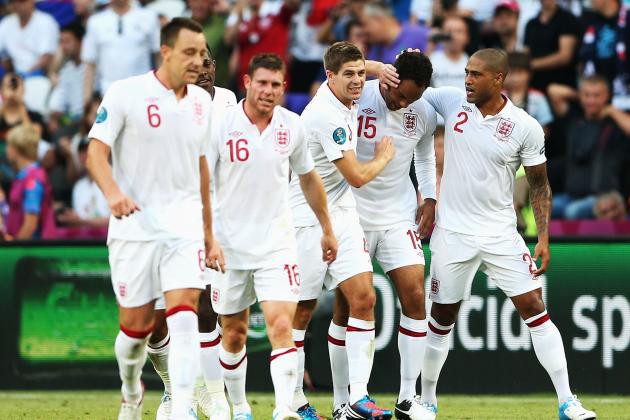 Scott Heavey/Getty Images

The group stages did nothing positive for Spain's intimidation factor.
Against Italy it became clear that the loss of Carles Puyol and David Villa were even bigger than anticipated. Spain lacked bite and the defense was constantly beaten by speed and shredded by Pirlo.
The win over Ireland masked many of Spain's problems even though the Irish still managed to break Spain's defense too easily.
The match against Croatia sent a message to the rest of Europe. That message was that Spain is no longer the intimidating opponent that teams should fear attacking.
Spain's defense is not the rock it was with Puyol and its attack is often impotent. La Roja is a team with weaknesses at both ends and that can be beaten by a number of teams.
Going into the final match of the group stages, only a convincing victory against Croatia would have warned opponents off of the reigning champions.
But after a disappointing showing that needed a late winner from Jesus Navas, this match sent a different message to the the rest of Europe.
That message is that Spain is very, very beatable.