Croatia's Euro 2012 Exit a Story of Missed Opportunities for Slaven Bilic
June 19, 2012

Handout/Getty Images
Croatian coach Slaven Bilic sought the inspiration of Winston Churchill before his side's crunch match against World and European champions Spain. The 43-year-old spoke of his players need to believe, to be brave and fight on, just as the British wartime leader had told his nation in 1940. And, like Churchill, Bilic was not left disappointed with their efforts.
In a herculean performance the Croats stifled a Spanish side that had been so rampant against Ireland, limiting Vicente del Bosque's side to half-chances and long-range efforts. The game plan was going so well that in parts of the second-half Croatia looked the likeliest to win the game. But a Jesus Navas goal in the 88th minute condemned the Croats to a cruel 1-0 defeat.
What did Bilic, who is stepping down after six years in charge blame for Croatia's early exit from Euro 2012?
"We came here to go all the way and we failed because we lacked that tiny bit of luck that makes all the difference," he said (via the Telegraph).
You can understand his viewpoint; Croatia were unfortunate not to have been awarded a penalty by referee Wolfgang Stark when Spaniard Sergio Ramos flew in recklessly on Mario Mandzukic, whilst a soft free-kick decision led to Andrea Pirlo's wonderful opener in the 1-1 draw with Italy.
Croatia's Euro 2012 story, however, is not one of luck, but one of missed opportunities.
Take Ivan Rakitic's glorious chance in the 59th minute on Monday night. There was no luck in the fact Iker Casillas saved it—the Sevilla midfielder should have scored. A downward header or one directed back across the Real Madrid 'keeper would have seen Croatia take the lead.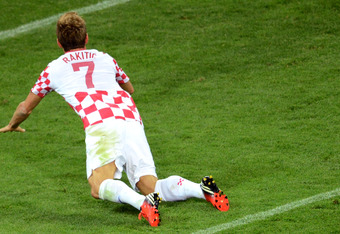 Jasper Juinen/Getty Images
Corluka had a headed opportunity too—albeit a more difficult chance than Rakitic's—just two minutes before Navas' winner, that, if cleaner contact had been made, would have put The Blazers in front.
But, what will haunt Bilic the most on the plane home from Poland was his side's second-half against the Italians. It was that 45 minutes that knocked Croatia out of the tournament.
Croatia had Cesare Prandelli's team on the ropes after Mandzukic's equaliser in the 72nd minute. They had 20 minutes in which to find a winner to guarantee their passage into the quarter-finals and avoid having to dig a result out against Spain.
As the clock ticked down in Poznan however, it seemed that Croatia were content with a draw, when, with the beauty of hindsight, they should have smelt blood and took the opportunity to take all three points against Italy.
For Croatia to come so close to qualifying from a group housing the number one side in the world and the 2006 World Cup winners underlines both the quality of the team and the job Bilic has done - after all, he is Croatia's most successful manager losing only nine of his 66 matches.
The Croatian media were satisfied with their country's campaign in Poland and Ukraine with headlines such as "Brave Croatia Head Home" and "Hats Off, Slaven" greeting their exit from the competition.
Those 90 minutes in the Gdansk Arena had made the impression the departing boss had wanted.
But, Bilic's belief in Churchillianism, meant it was the result which would only make the fight worthwhile.
"The fact that we performed admirably is not much of a consolation. We didn't come here to make a good impression, but to get a result," Bilic said.
For more, follow me on Twitter: @JournoDec