NBA Trade Rumors: Bulls Would Be Wise to Deal Luol Deng to Land Lottery Pick
June 20, 2012

Jonathan Daniel/Getty Images
The smart and proactive thing for the Chicago Bulls to do is to trade Luol Deng now. Is Deng a good player? Yes, but he isn't a great player, and he never will be. The financial burden the Bulls are in has been caused primarily by paying two good players like great players.
Mike McGraw of the Daily Herald is reporting the Bulls may have to part with Luol for financial reasons. It's easy to see the motivation for moving Deng.
The Bulls need a second potent scorer for postseason play. As versatile as Deng is, he has repeatedly proved he isn't that guy. The same can be said for the Bulls' other most overpaid roster member, Carlos Boozer.
Both of these players have some value, but on the Bulls' roster, they don't produce the offensive support Derrick Rose needs to take this team to the next level. We can point to a great regular season record the past two years. We can even talk about how far the Bulls would have gone if Derrick Rose wasn't injured in the playoffs.
The facts are that the Bulls have gone home short of reaching the NBA Finals two years in a row.
Even without Rose and Noah for much of the series, a team with Deng, Boozer and Rip Hamilton should have been able to beat the Philadelphia 76ers, at least when you look at payroll.
Boozer is scheduled to make just over $15 million next season, with two years remaining on his deal after that. Deng is scheduled to pull in $13.3 million next year, with one more year on his deal after next season.
With Rose's contract extension kicking in next year, the Bulls are cash-strapped. McGraw points out that Rose, Boozer, Noah and Deng will make $56 million dollars next season.
That's a pretty penny and this team still isn't good enough to beat Miami. People can fantasize all they want about what would have happened if Rose didn't get hurt. The Bulls weren't going to beat the Heat in the playoffs. Changes are in order if the Bulls want to take advantage of the Rose and Thibodeau combination.
In the end, they should be the only two untouchables in the organization.
Boozer is obviously the harder of the group to move. Noah is a talented and relatively young big man, so I'd hesitate to move him, but I would listen to offers. Rose is Rose, so that leaves Deng as the most logical and expendable trade chip.
A Deng deal is not without hiccups. He has that injured wrist and instead of getting surgery immediately, he has elected to play for England in the 2012 Olympics. He'll likely have the surgery after the Olympics, so that means he'll miss the early part of the season.
McGraw also mentions that as an issue that could have angered Bulls' management. The Bulls must hope he passes the physical and a team is willing to take on a player that could be out for months, as mentioned by Sam Smith of NBA.com.
If the Bulls could get the Kings to bite on a Deng trade for the No. 5 pick, they could draft Harrison Barnes to replace Deng. Is Barnes a future superstar? Not in my opinion.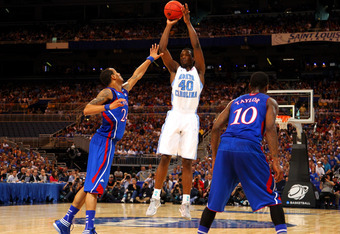 Dilip Vishwanat/Getty Images
I view him as a more athletic version of Deng, but he would be significantly cheaper. He would give the Bulls a little bit of breathing room financially and more athleticism on the wing. I wouldn't be opposed to including Noah in that deal for Tyreke Evans with the Bulls taking back another contract.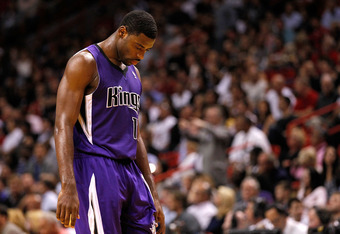 Mike Ehrmann/Getty Images
Once Rose returns, a starting five of he, Evans, Barnes, Boozer and Asik isn't bad at all. 
The Bulls could revisit using the amnesty on Boozer next year to free up more cash. Meanwhile, they would have a competitive team to put on the floor this year. The Bulls aren't going to win an NBA championship next year, that is a cold, hard fact.
The smart thing to do is to position the team to make another serious run in the 2013-2014 season. Rose would hopefully be back at full strength, and the Bulls would have some cash to bring in a capable supporting cast.
But it needs to start with dealing Deng, it's the first step towards accepting reality and moving on.
Follow Brian Mazique and Franchiseplay.net for reactions, analysis and news from the world of sports and sports video games