South Carolina vs. Kent State: Players to Watch in College World Series Showdown
June 19, 2012

One team is riding the highest of highs and the other is riding one of the lowest lows it has experienced over the last three years, and yet it will still be anyone's game when they square off in an elimination game in the College World Series on Wednesday night.
Top-seeded South Carolina is coming off a crushing 2-1 defeat at the hands of Arkansas on Monday night, while No. 3 Kent State eliminated No. 1 Florida with a shocking 5-4 victory. The win, Kent State's first at the College World Series, came on the heels of a tough 8-1 loss to Arkansas on Saturday.
The two-time reigning CWS champion Gamecocks, whose 22-game postseason winning streak was snapped at the hands of the Razorbacks, will be looking to right the ship against the underdogs on Wednesday at 8 p.m. ET (ESPN).
Here are some players to keep an eye on in Wednesday's big game.
Christian Walker, South Carolina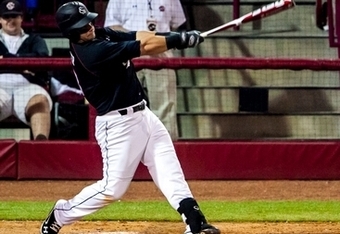 Walker was one of several SC players who was equal parts stunned and devastated to see his team's 22-game postseason winning streak come to an end at the hands of Arkansas on Monday night. As the Gamecocks' top hitter—he boasted a .315 average, 11 homers and 54 RBIs heading into the CWS—he figures to be a crucial component in helping the Gamecocks keep their dream of three straight titles alive.
The first baseman boasts a scintillating .340 career average and a .972 on-base percentage, and he's only the 25th player in USC baseball history with 30 career home runs.
David Lyon, Kent State
The catcher and team co-captain has been instrumental in helping the Golden Flashes achieve the impossible this postseason: knocking off Florida, even after a devastating opening-game loss.
His team may be the underdog, but it isn't one to be taken lightly: The Golden Flashes have won 21 consecutive games through April, May and June, so despite the fact that no one expected them to be facing off against Goliath South Carolina in an elimination game on Wednesday, it's not all that much of a shock.
As Lyon told ESPN.com's Mitch Sherman after the big win over Florida, "Yeah, we definitely feel like we deserve to be here, and hopefully, we showed that out there today. After Saturday night['s loss to Arkansas], we probably left a lot of doubt in people's minds."
There's nothing more dangerous than an underdog that feels disrespected.
Matt Price, South Carolina
The Gamecocks closer is someone who thrives under pressure, and given the fact that SC must either win on Wednesday or end its bid for a third straight championship, this is as much of a pressure situation as the favorites are going to see.
Price was excellent in the Gamecocks' opening-game victory over Florida on Saturday, as he became the SEC's all-time saves leader with his 42nd. But the redshirt junior refused to get caught up in the hype; he simply shrugged his shoulders, acknowledged that it was pretty cool and then got right back to thinking about how he is going to help the reigning champions advance the next time he's called upon.  
In a tight elimination game, there is nobody that any team in the College World Series would rather have on the mound in the final innings. If this one comes down to the wire, Price gives the Gamecocks the edge.