Floyd Mayweather as World's Highest-Paid Athlete Is a Disgrace to Sports
June 19, 2012

David Becker/Getty Images
Despite currently being in jail for domestic violence, undefeated boxer Floyd Mayweather has received an honor that he does not deserve: the title of wealthiest athlete in the world.
The fact that someone who beat his ex-girlfriend in front of his own children made over $80 million in 2011 is not only a disgrace, but a microcosm of what is so wrong with this country.
Don't forget, this is the man who sucker-punched Victor Ortiz in a title fight and ripped into veteran boxing analyst Larry Merchant because he questioned his methods in handing Ortiz the loss.
As people struggle to make ends meet across the nation, this list just goes to prove once again that athletes make far too much money.
The Associated Press reports on the Forbes list and who the two top-grossing athletes are for 2011:
Forbes has released its list of the 100 highest paid athletes, and boxer Floyd Mayweather Jr., nicknamed "Money," is No. 1…Mayweather, who made $85 million for two fights last year, is currently serving a three-month jail sentence in Las Vegas for domestic battery…Boxer Manny Pacquiao is second on the magazine's list at $62 million from earnings and endorsements.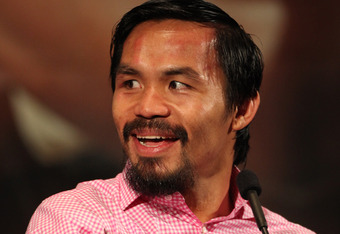 Jeff Bottari/Getty Images
While many fans will look to Manny Pacquiao and say that it is no different for him, those people need to realize just how much time, money and effort this man put into making his home country a great place to live.
Unlike Mayweather, Pac-Man has used his riches to make serious change in his community instead of buying material goods and flaunting them to the fans that paid for it all.
The youth of this country should be looking up to athletes like Tim Tebow who exemplify work ethic and class. Unfortunately, this Forbes list lends credibility to the idea that the lifestyle Mayweather leads is acceptable. 
It's not.
Check back for more on boxing as it comes, and don't miss Bleacher Report's Boxing page or listen to Ring Rust Radio for all of the hot topics.