Anchorage Mayor's Marathon 2012: Route, Date, Start Time and More
June 19, 2012

The Mayor's Marathon and Half-Marathon are fast approaching, so if you live in Anchorage and dream of winning a marathon but aren't willing to travel to New York, Boston, Los Angeles or Chicago, here's your chance.
The incentives for the Mayor's Marathon aren't your average incentives, either. You might not be racing for a gold medal and international fame, but the top men's and women's finishers get round-trip airline tickets for two, courtesy of Alaska Airlines.
If you break the women's or men's full-length marathon record, you get a $5,000 cash award, and if you break the half-marathon records, you get $1,000.
Of course, there's a prize for finishing, too: Everyone gets a medal, as long as you finish before 4:30 p.m.
The course is certified by USA Track and Field, and participants can use their results at the Mayor's Marathon to qualify for Boston.  

Where: Anchorage, Alaska 
When: Saturday, June 23, 2012 at 8 a.m. 

Route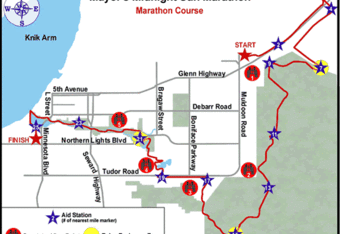 The marathon route is 26.2 miles and begins at Bartlett High School. It travels throughout Anchorage and across the eastern foothills to the finish line at West High School, and it covers a variety of surfaces—bike trails, gravel, paved roadways and more. Good news for runners: It's a downhill course. 
There's also a four-person Mayor's Marathon relay race, and the exchanges occur at the 7.1-mile mark, the 15-mile mark and the 21-mile mark.

Complete Course Breakdown (via EveryMarathon.com)
Here's a complete breakdown of each mile of the Mayor's Marathon course:

—The first mile begins on the track at Bartlett High School.
—Miles 1-4 are on pavement from Gleen Highway to Fort Richardson, and though there are scenic woods on your left, there's a highway on your right. Don't worry, drivers tend to be supportive.
—Miles 4-7 are a tough uphill stretch along paved roads.
—Miles 7-14 take place along a gravel road at the army base.
—Miles 14-15 are a runner's favorite because they're easy and scenic.
—Miles 15-19 take place along a paved road, a sidewalk of a highly-trafficked road and a bike path.
—Miles 19-21: More sidewalk, more bike path and some nice scenic ponds.
—Another favorite stretch takes place from miles 21-25, which leads to the Westchester Lagoon. There are several lakes to run around and some scenic unpaved trails.
—Miles 25-25.5 continue along the Westchester Lagoon trail.
—Mile 25-26 is another tough stretch up a steel hill toward West High School, but it's OK because you're almost done. 
—In mile 26-26.2, you end on another high school track. Congratulations!

Fun Fact
According to the Mayor's Marathon official website, the average race day weather forecast calls for partly cloudy skies with winds averaging up to 10 mph. The temperature shouldn't get lower than 55 or higher than 70, but there tends to be 40 percent humidity. Overall, not bad conditions for a marathon.
Plus, it's only rained seven times on race day in 31 years.