NL Best of the Night: R.A. Dickey Pitches Second Straight One-Hitter for Mets
June 19, 2012

Mike Stobe/Getty Images
Is there anything more compelling, more fascinating to watch in baseball than a pitcher dominating an opposing lineup and making it look easy? As exciting as home runs and extra-base hits can be, the game never seems more beautiful than when a pitcher is at his best, doing just about whatever he wants on the mound.
That's where R.A. Dickey is right now.
Facing the Baltimore Orioles Monday night, Dickey pitched his second consecutive complete game, allowing just one hit for the second straight appearance. With two shutouts in a row, Dickey has now gone 42.2 innings without allowing an earned run (amazingly, that's the second-longest streak in Mets history, behind Dwight Gooden's 49 innings).
Dickey is the first pitcher since 1988 to throw two consecutive one-hitters (a National League pitcher hadn't done it in 68 years). And when Dave Stieb did it for the Toronto Blue Jays in his last two starts of that season, he didn't strike out the same number of batters Dickey did. Stieb had 12 strikeouts (versus three walks) in his 18 innings. Dickey has racked up 25 strikeouts (with two walks) in his past two appearances.
Aren't knuckleballers supposed to be soft-tossers who adopted a quirky pitch as a last resort toward salvaging their careers? No one looked at the likes of Charlie Hough, Tom Candiotti and Tim Wakefield and expected them to shut down the opposition.
Dickey has blown those perceptions up. While he may throw a knuckleball, he's hardly what we've come to think of as a knuckleballer. With 103 strikeouts on the season, Dickey is there with Justin Verlander, Stephen Strasburg and CC Sabathia, pitchers we think of as flamethrowers, who throw untouchable stuff.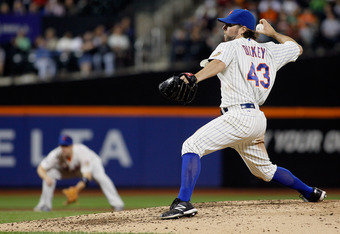 Mike Stobe/Getty Images
Of course, Dickey's stuff is untouchable too, but for reasons we're not used to seeing. He doesn't overwhelm with pure velocity and power. His knuckleball messes with the mind, showing a hitter something he doesn't know how to confront.
At Fangraphs, Carson Cistulli illustrates this wonderfully with three GIFs of Dickey knuckleballs from Monday night's game. Presumably, a batter can eventually catch up to a fastball—even if it's 100 mph—if he knows it's coming and can time the pitch. How do you time a pitch that could dart left or right or take a sudden drop?
(Oh, and by the way, Dickey still hasn't thrown a wild pitch this season.) 
As you can see from the last of Cistulli's GIFs, the path Dickey's knuckleball takes even amazes the pitcher. 
Watching something you've never seen before, anticipating something you can't predict, is why we're sports fans. Nothing is more exciting. Last night on Baseball Tonight, ESPN was giddily bouncing in its collective seat to tell you that Dickey is scheduled to pitch on "Sunday Night Baseball" against the New York Yankees.
Dickey is the story we all love to watch, the late bloomer who finally achieves success after years of struggle. He appreciates his achievements so much more because of how improbable they may have seemed years ago.
But backstory aside, Dickey is just a great pitcher right now. He's become must-see TV. Who knows what we'll see from him next? Nothing in baseball is more fun to watch than that.
Follow @iancass on Twitter