Why Manchester United's Owners Are Not as Bad as Some Fans Think
June 20, 2012

Laurence Griffiths/Getty Images
OK so hardly anybody likes the Glazers. That's not entirely surprising—xenophobia apart.
But why the intense hate? Martin Edwards almost sold the club to Michael Knighton for next to an
M.U.S.T. and the Red Knights were keen that true supporters should own the club, but it is beyond doubt that true supporters must have sold their shares to the Glazers even before they had 90 percent of the shares.
It is fashionable to complain about the estimated £500 million taken out of the club through capital and interest payments on the debt, but that is actually "jobbing backwards" in the main.
And as I have previously pointed out, leveraged buyouts and debt-funded takeovers are hardly unusual in the real world. Nor is debt for corporations. Before the financial crisis, it was routine for companies to borrow money rather than issue equity; also, debt-based takeovers were commonplace.
There is no shortage of conspiracists—especially it seems where Manchester United are concerned. And there are plenty of people to accuse the Glazers of putting United's whole future at risk. Frankly, that is a nonsense.
If United were put up for sale, there would be no shortage of takers. The Glazers are already reputed to have turned down a $2.4 billion offer from Qatar.
Alternative business models
Though why Duncan Drasdo would welcome a Sheikh as having a "more sustainable business model" is hard to fathom. Perhaps he means bottomless pockets?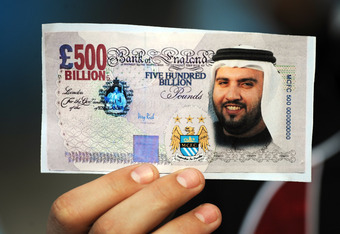 Shaun Botterill/Getty Images
And even then, "true supporters" would not be owning the club. Sheikh Mansour is never in Manchester, and there is no long-term tradition of football at a comparative level anywhere across the Middle East.
So the figure of £500 million is bandied around as the amount the Glazers have taken out of the club, but United's commercial revenues increased by a cumulative €600 million between 2005-06 and 2010-11 (via Deloitte Football Money League).
Indeed, they almost doubled during that period and may well top €500 million in 2012-13.
The period since the Glazers took over the club has been one of success on and off the field.
The most valuable sports club in the world
Manchester United has become the most valuable sports club in the world, with the most valuable sports brand in the world, as well as commensurate positions in football of course.
A recent survey showed that the number of supporters at United has doubled in the same period to 659 million. Now people can rubbish that figure as much as they want, but it was done on the basis of a global survey, not just made up on the spot.
United also have more than 10 times the number of Facebook followers of their Manchester rivals, at 25 million. Again, supporters of other clubs rubbish such figures as being meaningless—well, they would, wouldn't they?
Almost unparalleled success after a barren period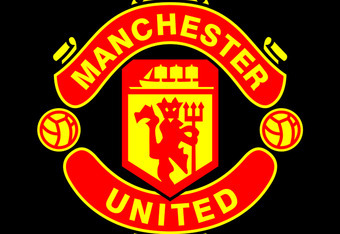 On the pitch, the period of the Glazers' ownership has coincided with one of the most successful mini-eras ever, winning no less than 13 major trophies out of the all-time total of 62. During the two seasons 2003-05, only one trophy had been won.
Again, the doubters claim that is all down to Sir Alex Ferguson. But here is the key point: The owners have not interfered at all with his and David Gill's running of the club. 
This is in stark contrast to the period of public ownership, when every major deal or contemplated material deal had to be pre-announced to the Stock Exchange. Imagine now, having to tell the whole world about all the players United have made an offer for?
Anti-Gazer sentiment
Just writing this article I shall be accused of being a Glazer family "apologist." In other words, "disloyal" or "not a true United supporter."
I neither know nor have any connection with the Glazers or anyone connected with them, nor even Manchester United Football Club. I couldn't write an independent column if I did.
Frankly, I got fed up with the green and gold scarves yonks ago. Every time I see one I want to ask the owner why they are wearing it?
They would probably say "because I hate the Glazers." Why? Have you ever met them? Or is it all the propaganda fed to you by the anti-Glazers?
How not to run a football club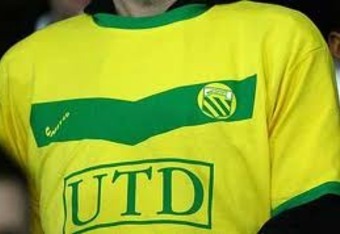 And why would one set of owners be any better than any other? Manchester United is an established successful business, unlike Manchester City or Chelsea. How can Drasdo implicitly belittle the United 'business model' when City lost £197 million last year on turnover of £153 million. That's nuts!
What sort of business model is that? Charity is what it is, to the tune of £930 million so far.
So then the anti-Glazers complain about ticket prices. Their most ardent researcher is "Andersred." Plenty of people have blamed the Glazers for ticket price hikes, and Andersred details where the money has gone.
In that article, the author calculates that ticket prices at Manchester United rose by 48 percent in the period under review. Scandalous!? Well, not really, because they failed to point out that at the bottom of the same analysis, the average cost of attending away matches rose by....48 percent.
Meanwhile, United's wages-to-turnover ratio is 46 percent.
City's is approaching 100 percent. How on earth can you run a football club when you're losing £161 on every ticket you sell?
The real risk of going bust
So, those who bemoan the debts that the Glazers have saddled on the parent club (not the football club), overlook a fundamental truth: If the Glazers went bust, United would still continue in business.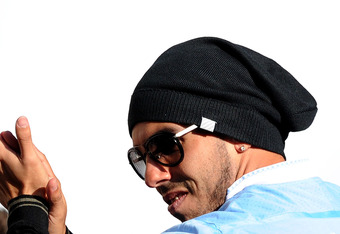 Chris Brunskill/Getty Images
If Sheikh Mansour or Roman Abramovich walked away from their ownership, City and Chelsea would go bust.
Why? Because there would be a queue of buyers for United at a value probably approaching £2 billion, based on the projected IPO. Whereas in the City and Chelsea cases, who would pay more than a few hundred million with the unsustainable business models; and how on earth would they balance the books commercially without selling the playing staff?
More to the point, how can the business model become anything less than unsustainable if either City or Chelsea fail the FFP tests and are banned from Europe?
The City model is apparently built on a property development project. How on earth is that going to be commercially viable in a global financial crisis where half the countries in Europe are on the verge of bankruptcy?
The Chelsea model may be predicated on selling the ground, but the supporters don't want that. And as Arsenal have found, it may take many years to sell the subsequent properties and pay off the debt.
How would United supporters feel about selling Old Trafford?
So, the bugbear is the debt and debt repayments, because the anti-Glazer supporters have to have something to hang their hat on. What will they do if the IPO goes ahead and the debt is paid off? Any complaints against the Glazers then would be pure xenophobia.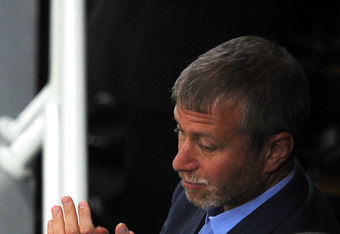 Christopher Lee/Getty Images
The owners have had a 'hands-off' approach, leaving Fergie and Gill to get on with it. Then the critics wade in and complain that the owners are preventing Sir Alex from spending money on players and that's why we lost the title last year.
Get real. The reason we lost the title last year was because we conceded two late goals to Everton. Otherwise we would have walked it. Blame the manager or the players, but the owners were in the US and Malcolm was alive, despite rumours to the contrary.
It seems inevitable that we shall never see Malcolm in the UK ever again, as the sons have run the business since he had a stroke in 2006. They also hardly ever travel over, but no doubt would have appeared if United had won the League.
Better the devil you know
As owners, of course they have to approve significant deals like Rooney's new contract or major transfers, simply because of the materiality, but to all intents and purposes, Ferguson and Gill make the decisions.
Unlike other absent-owned clubs, United do not have a coach and a Director of Football. Spurs seem likely to be the next club to follow that route, if they appoint Andre Villas-Boas to succeed Harry Redknapp.
That model has also been employed at Chelsea and Liverpool. We shall see whether it is successful.
It will be interesting to see, for example, who will follow Sir Alex. Even then, I think it is unlikely that United will adopt that model. They certainly wouldn't if Jose Mourinho was appointed, and even if, as hoped, Pep Guardiola gets the job, he will probably be supported by Sir Alex as long as he wants, as Sir Matt did for him.
Getty Images/Getty Images
But again, the pattern is likely to be two "gaffers"—one running the football and one the business, with the two working in tandem to ensure both sporting and commercial success.
So finally, if we take out the personalities and the debt, how else do the Glazers stack up?
Better than Randy Lerner at Villa;
or Kroenke Sports at Arsenal;
Hicks and Gillett at Liverpool (or Fenway Sports for that matter);
Abramovich at Chelsea (look at the outrageous way he burns through managers); 
Mike Ashley at Newcastle (Nike Arena rather than Old Trafford, anyone?); 
Gold and Sullivan at West Ham; 
Venkys at Blackburn;
Bill Kenwright at Everton (never any money to spend);
Phil Gartside at Bolton (similar);
Mohamed al Fayed at Fulham;
Steve Morgan at Wolves (sacked McCarthy—result, relegation);
Etc.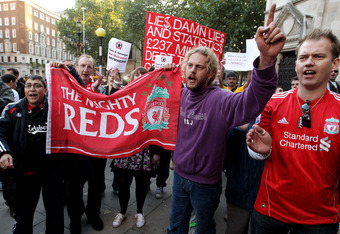 Oli Scarff/Getty Images
Sometimes you don't know when you're well off.
So, in conclusion, if the United IPO goes ahead and the debt is paid off, maybe we should be grateful for "hands-off" absentee landlords. United are now the most valuable, most popular and best known sports club in the world.
There will always be jealous rivals who talk about "away day" supporters. I, for one, am proud to have renewed my season ticket yet again.
Unless a wealthy Arab comes in and puts the football club and the whole of football at risk with obscene and irresponsible spending, I won't care who owns my club.
Why? Because without me and 75,000 faithful, plus up to 659 million across the globe, there would be no Manchester United left to own.