New York Yankees: Breaking Down the Hottest Starting Rotation in MLB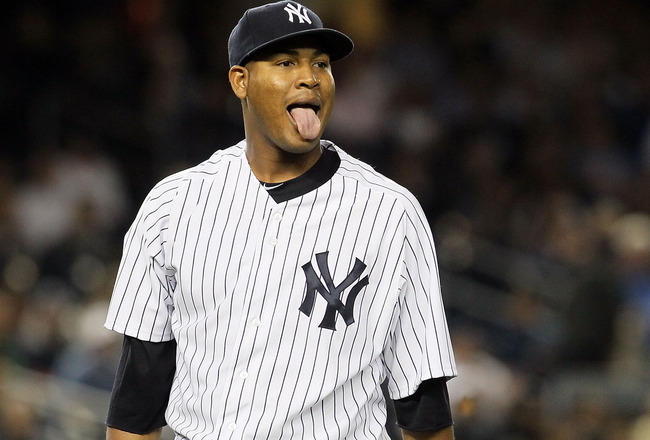 Jim McIsaac/Getty Images
With a win on Monday over the Atlanta Braves, the New York Yankees are currently enjoying a 10-game winning streak that has propelled them into first place in the American League East and the best record in the American League.
During this latest stretch, the Bombers' rotation has been smoking hot.
New York's starters are a combined 12-1 in June and are pitching to a 1.84 ERA. It's safe to say they are sporting the best rotation in baseball at the moment.
Let's take a look at how the Yankees got to this point.
CC Sabathia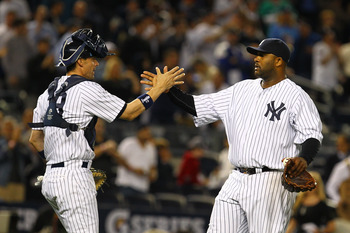 Al Bello/Getty Images
June Stats: 3-1, 3.30 ERA
2012 Stats: 9-3, 3.55 ERA
Believe it or not, Sabathia's numbers are the worst in the Yanks' rotation this month and he is responsible for the starting five's only loss in June which came against the Tampa Bay Rays.
The Yankees' ace has been mostly inconsistent this season, but has still managed to pick up nine wins with a great offense behind him. A perfect example of his inconsistency comes in looking at his last two starts, both against the Braves.
In his first start against Atlanta, he allowed four runs on 10 hits over seven innings and despite winning the decision, it was easily one of his worst starts of the year. But on Monday night, Sabathia was stellar. The big lefty threw a complete game, allowing two runs on seven hits and 10 strikeouts.
A win against the Detroit Tigers to start the month rounds out his three wins in June.
Sabathia hasn't hit his stride yet, but when he does, this rotation will get even scarier.
Hiroki Kuroda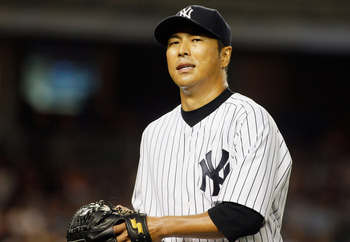 Mike Stobe/Getty Images
June Stats: 2-0, 1.80 ERA
2012 Stats: 6-6, 3.43 ERA
Hiroki Kuroda appears to be getting stronger as the baseball season makes its way through June and he has looked like the No. 2 starter the Bombers thought they were signing this past offseason.
There's no question Kuroda allows a lot of hits, but he does a good job at keeping the damage to a minimum. In two of his three starts this month, Kuroda has allowed only four runs but surrendered a total of 16 hits in the process.
However, Kuroda's best performance in pinstripes came against crosstown rivals, the New York Mets. That outing was truly Kuroda's best foot forward as he dominated a young Mets' lineup with a one-hitter over seven innings.
If a pitcher wants to earn his pinstripes, that's exactly how he would go about it.
Kuroda must do a better job keeping runners off the basepaths in the future, but at least manager Joe Girardi has seen the right-hander has the ability to dominate a lineup.
Andy Pettitte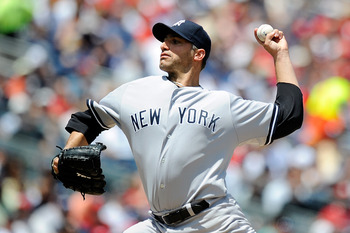 Patrick McDermott/Getty Images
June stats: 1-0, 1.77 ERA
2012 stats: 3-2, 2.77 ERA
Welcome back, Andy Pettitte!
With all the wheeling and dealing general manager Brian Cashman did over the winter, Pettitte coming out of retirement was the saving grace for this rotation.
Sadly for the 40-year-old, his Cy Young-caliber 1.77 ERA in the month of June has been met with a lack of offense from his teammates. The Yankee legend's last start was the 14-inning marathon victory the Bombers had over the Washington Nationals.
Pettitte has been the Yanks' most impressive starter during the span of a month and even when he hasn't been at his best, he's still keeping his team in games. Pettitte has also been striking out an outrageous amount of hitters lately, at least by his standards.
The 10 strikeouts Pettitte racked up against the Rays were the most in a home game for the left-hander since 2003.
Odds are Pettitte will be a major contributor the rest of the way and especially in the postseason. His presence in the rotation gives New York a reliable arm come October.
Ivan Nova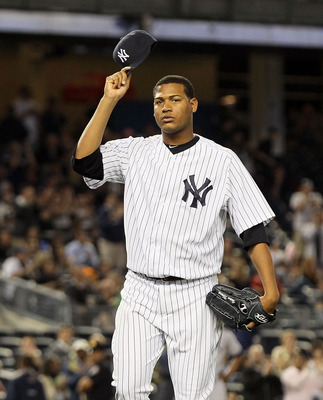 Jim McIsaac/Getty Images
June Stats: 3-0, 0.79 ERA
2012 Stats: 9-2, 4.32 ERA
Ivan Nova is no stranger to winning decisions as a member of the Yankees and after his last streak of consecutive winning decisions was snapped, it appears the 25-year-old is looking to start another.
Nova has won his last five decisions with four of them being impressive starts. In those four starts, Nova has gone seven innings or more and has been far more consistent than the rocky beginning he had to this season.
He's done a great job at keeping the ball down which is where the young right-hander enjoys most of his success. It comes as no surprise that Nova's season has improved as his groundball numbers have gone up.
Nova failed to break the 10-groundball mark in four straight starts before hitting double digits in each of his last four outings, having topped out at 13 twice. After allowing at least one homer in six straight starts, Nova has only allowed one in his last three outings.
Nova looks primed to make the same second half run he made in 2011 as he continues to heat up in June.
Phil Hughes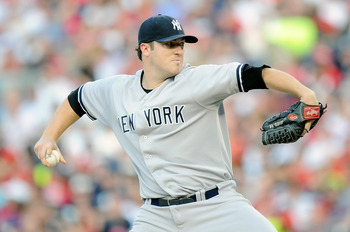 Greg Fiume/Getty Images
June Stats: 3-0, 1.69 ERA
2012 Stats: 7-5, 4.50 ERA
With a complete game of his own, the worries about Phil Hughes' future in the Yankees' rotation have subsided for now. Thanks to June, Hughes has lowered his ERA a full run. In reality, Hughes has been pitching well for over a month now with the exception of one start.
Hughes has seen his strikeouts go up this month and has already surpassed his April total of 17. With 23 strikeouts in three June starts, Hughes is just nine shy of his May total with three probable starts left. In his last outing, Hughes struck out nine against the Nationals, so it's possible he has his best month making hitters whiff with starts to spare.
That's a good thing for a pitcher like Hughes who tends to keep the ball up and become a victim of the long ball.
Hughes has also been giving the Bombers more innings having gone six or more in each of his three starts, one of which was the complete game against the Detroit Tigers that I mentioned before. It was clearly a sign of things to come for Hughes.
He isn't out of the woods yet with a long way to go in the 2012 campaign, but it looks like Hughes has at least begun the process of righting the ship.
Keep Reading

New York Yankees: Like this team?