Kansas City Chiefs: Brandon Carr & Former Chiefs That Fans Should Follow in 2012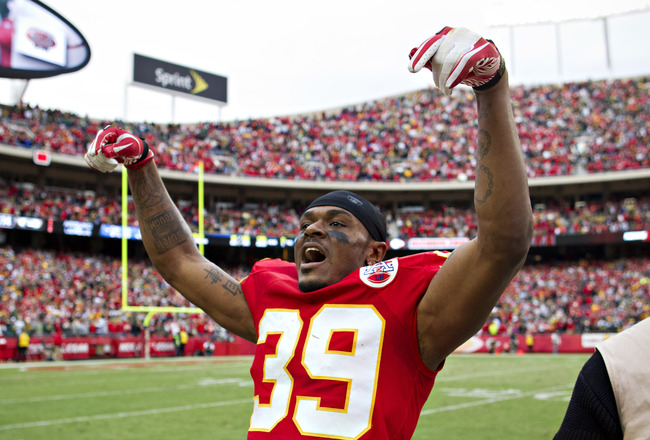 Wesley Hitt/Getty Images
Whether players are drafted, signed via free agency or acquired in a trade, fans go all-in with supporting any name on the back of the jersey that represents their favorite teams.
Rare is the day, however, when players are afforded the luxury of waking up in the same city and donning the same jersey for their entire playing career. But, however long certain stays are, fans tend to latch on and follow particular players wherever they may call home.
Over the last few seasons, the Kansas City Chiefs have had a handful of players that, when their time in Kansas City had expired and for various reasons, fans still considered them a part of the Chiefs' culture (Tony Gonzalez and Jared Allen being the most evident) or simply wanted to track their progress for the sake of comparison.
As the Chiefs look towards the 2012 campaign, some players and coaches were left behind for the greater good of the team.
Here are three former Chiefs that fans should keep a close eye on during the 2012 season.
Brandon Carr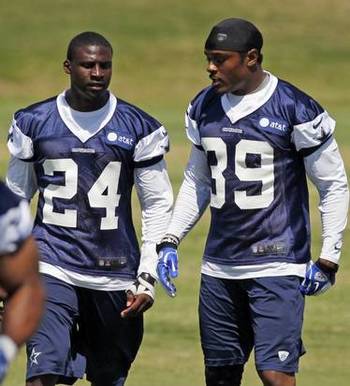 www.dallasnews.com
Brandon Carr's career as a Kansas City Chief fell victim to finances.
With another high-priced cornerback under contract (Brandon Flowers), general manager Scott Pioli decided to let Carr test the free-agent waters, and he eventually landed with the Dallas Cowboys.
While Chiefs' fans have been accustomed to the two Brandon's manning the defensive edge in Kansas City since both were drafted in 2008, it will be interesting to see how both players respond to new sidekicks in 2012.
It seems that Carr is doing his best to prove that the money Jerry Jones threw at him this offseason was not a waste, as he is impressing everyone during OTA's.
The pressure in Dallas is far more intense than what Carr is used to, but the praise should be just as heightened if he is able to help fix the Cowboys' secondary woes.
Jared Gaither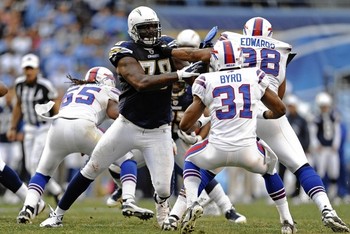 blog.thescore.com
The Kansas City Chiefs brought in offensive tackle Jared Gaither last season, but rarely used him before eventually releasing him after a 13-9 loss to the Pittsburgh Steelers in Week 12.
Gaither was quickly signed by the San Diego Chargers, going on to start the final five games of the season.
Leaving such a good impression on the Chargers with his trial run at the end of last year, Gaither was signed to a four-year deal to be the starting left tackle.
Always considered extremely talented, Gaither's proneness to injury and his lack of drive have held him back. But his stretch at the end of last year with the Chargers could be the wake up call he needed to turn his career around.
Todd Haley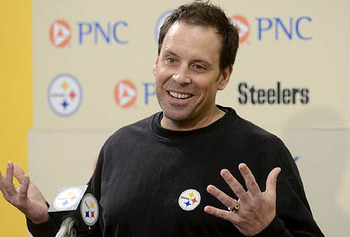 www.post-gazette.com
Todd Haley's time as head coach of the Kansas City Chiefs lasted just shy of three seasons (fired prior to Week 15 of last year).
Brought in prior to the 2009 season from the Arizona Cardinals—where he was the offensive coordinator—Haley and Scott Pioli never seemed as good fits together as the leaders of the Chiefs franchise.
Haley, now offensive coordinator with the Pittsburgh Steelers, has a chance to revive a coaching career that may never see him as an NFL head coach again. But if he can find success with quarterback Ben Roethlisberger and the Steelers' offense, he can still endure a long career on the sidelines.
Contact Jeremy at jeremy@popflyboys.com, on Twitter @KCPopFlyBoy and at popflyboys.com.
Keep Reading

Kansas City Chiefs: Like this team?