Boston Red Sox Trade Scenario: Want to Free Up Capital? Trade Adrian Gonzalez
June 19, 2012

Winslow Townson/Getty Images
Allow me to begin by saying that there is absolutely NO known speculation surrounding the trade discussion I am about to detail. It is purely fodder for thought for those Red Sox fans who are looking to blow up the team and start from scratch.
If the Boston Red Sox should come to the conclusion that they are going to be sellers this year, the team would be forced to eat a lot of bad money from bad contracts.
At this stage, there is little interest in Kevin Youkilis. Can you really blame any team that has kicked the tires on the 33-year-old first baseman? He is batting an abysmal .215 and is five for his last 38 through the month of June.
The problem the Red Sox are facing is the question of Youkilis' health. Sure, he can get out on the field every day. But his power and his ability to hit have seemingly escaped him.
Think back to the days of Nomar Garciaparra before his wrist surgery. Then look at him after it. His power disappeared.
Nobody in their right mind would touch Carl Crawford's contract.
Josh Beckett is obviously a problem in the clubhouse. Not many teams would willingly take on the headache without Boston eating most of his salary.
That said, one player sticks out as a real value for trade bait: Adrian Gonzalez.
Why in the world would Boston trade their coveted first baseman? That's easy—he has incredible value on the market. Specifically, he has incredible value to one Theo Epstein.
If the Red Sox want to cut some salary, it would make sense to ship out Adrian Gonzalez. And the Chicago Cubs would be a perfect landing spot. Chicago has the money to pay his contract, and Epstein has long coveted Gonzalez. The fit would be perfect.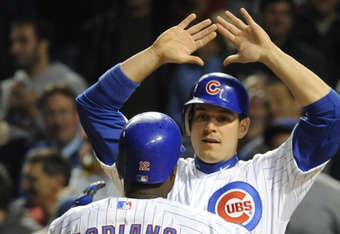 David Banks/Getty Images
What, then, could the Red Sox get in return?
Well, this is where we have to be wise. Obviously, a move like this would be for the purpose of building for the future, while dropping some salary now.
That said, the team should ask for Bryan LaHair and Anthony Rizzo in return.
Rizzo would return to the Red Sox organization and continue to develop in Pawtucket, while LaHair could take over at first for the remainder of the season.
LaHair is 29 years old and appearing in only his third season in the majors. In 57 games this season, he is batting .297 with 12 home runs and 26 RBI. He owns a .380 OBP, .560 SLG and .940 OPS.
Rizzo, on the other hand, was awful in the majors last season for San Diego before being traded to Chicago. However, this year in Iowa, he is raking. He is batting .364 with a .426 OBP, .745 SLG and 1.170 OPS with 23 home runs, 59 RBI and 84 total hits in 63 games.
LaHair would obviously keep the seat warm for Rizzo as the first baseman of the future.
The best part is that the Red Sox would be paying less than $1 million per season for both players, versus the $21 million they'll be paying Gonzalez per year.
Of course, it is all relative. Do the Red Sox want to break down and start over? Probably not. If they do, though, the chips dealt away would likely be unpopular among Red Sox fans initially, but could offer an awfully bright future.