Analyzing Each TUF Competitor's Fight at UFC 147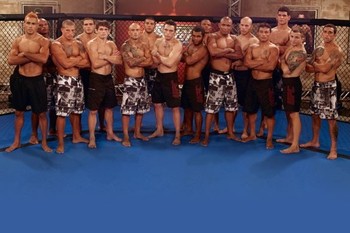 graciemag.com
UFC 147 serves as the finale for the Brazilian version of The Ultimate Fighter. Headlined by coach Wanderlei Silva and replacement Rich Franklin, who is filling in for Vitor Belfort, the card will the second put on in Brazil this year.
In the featherweight final, Rony Jason meets Godofredo Pepey. As for the middleweight final, Cezar Mutante meets replacement Sergio Moraes, who fills in for original finalist Daniel Sarafian.
Here is a look at each cast member versus cast member matchup, giving a quick look at the fights for those unfamiliar with the fighters from the show.
Marcos Vina vs. Wagner Galeto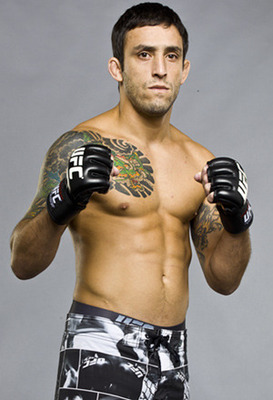 mmajunkie.com
In the lone Facebook prelim for castmate versus castmate fights, Team Silva teammates Marcos Vina and Wagner Galeto meet in the featherweight division.
Vina, a 23-fight veteran of the sport, holds a 19-3-1 record in his career. Vina is very well-rounded, owning 13 submissions and six knockouts. If you do the math, Vina has finished every opponent he has beat.
As for the show, Vina went 1-2, as he was an injury replacement after he was already eliminated. He won via knockout over Pedro Norbre, while dropping a decision to Hugo Wolverine and a submission loss to Godofredo Pepey.
On the other side of the cage will be Wagner Galeto, a less experienced but equally talented fighter. Galeto is 11-3, finishing nine opponents by knockout or submission. He has notably mixed it up with John Lineker, who is currently a flyweight in the UFC (Galeto lost via knockout).
On the show, Galeto was 1-1. He won his fight to get in the house against Fernando Duarte Guerra by decision. He was then eliminated by Godofredo Pepey by decision.
Vina is far more experienced and looked to be the more well-rounded fighter. He will take this fight and earn his spot with the UFC.
Prediction: Vina def. Galeto via submission
Leonardo Macarrao vs. Thiago Bodao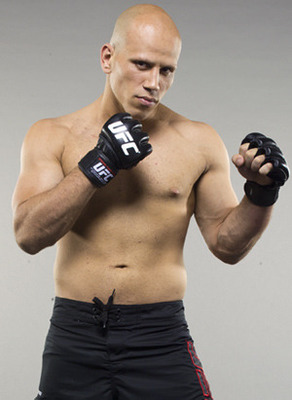 mmajunkie.com
On FX, middleweights collide as Thiago Bodao of Team Belfort meets Leonardo Macarrao of Team Silva.
Bodao is 8-1-1 in his career, as the scrappy Brazilian has knocked out six adversaries in the process. The Jungle Fights veteran is a good striker, who uses power punches and accuracy to break his opponent's will.
On the show, Bodao made it all the way to the semifinals, before he lost to Cezar Mutante via knockout. Previous to that, Bodao earned a decision victory over Joao Paulo de Souza and forced Francisco Massaranduba to quit between rounds.
Bodao's opponent, Leonardo Macarrao, will be putting his undefeated 5-0 record on the line this weekend. He has the style to match up with Bodao nicely, as he is a striker with knockout power (three career wins by knockout).
During his run on the show, Macarrao earned a hard-fought decision victory over Samuel Trindade before succumbing to submission against Cezar Mutante. Though he lost to Mutante, he put up a solid fight against arguably the best middleweight on the show.
Both men will stand and bang, and only one of them will walk out of the cage a winner.
Prediction: Bodao def. Macarrao via knockout
John Macapa vs. Hugo Wolverine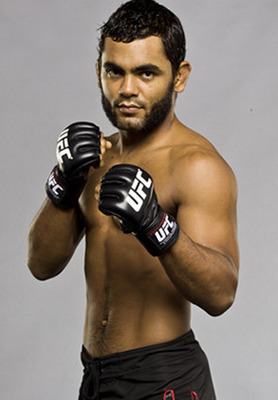 mmajunkie.com
In the first featherweight fight on the FX card, Hugo Wolverine of Team Belfort meets Team Silva's John Macapa.
Wolverine has only five career fights, but he has won them all by decision. Wolverine is a grinder with a fantastic ground game. He has the submissions and striking to compete with many a man in the featherweight division.
On the show, Wolverine made it to the semifinals before falling to a decision against Rony Jason. Before that, Wolverine knocked out Alexandre Ramos and earned a decision victory over Marcos Vina.
His opponent, John Macapa, is equally impressive in his career. Macapa is 13-0-1 thus far, winning nine times by submission. Six of those submissions have come by arm locks (armbar or kimura).
During his run on the show, Macapa went 1-1. He beat Giovanni da Silva Santos Jr. by submission, before falling to Rodrigo Damm via split decision.
This matchup may come down to who's the better striker. Both men are talented grapplers and solid ground workers, which may set up a kickboxing match.
Prediction: Wolverine def. Macapa via decision
Delson Heleno vs. Francisco Massaranduba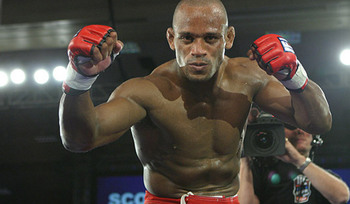 MMAweekly
In another FX middleweight bout, Team Silva teammates square off as Delson Heleno meets Francisco Massaranduba.
Heleno is a big-league veteran of the sport, having fought in such organizations as M-1 and the IFL. At 23-6, Heleno has submitted 12 men put in front of him. Though fighting at middleweight, Heleno usually fights at welterweight, which is 15 lbs. lighter.
On the show, Heleno went 1-1. He earned a decision over Gilberto Galvao before losing by submission to Sergio Moraes. Heleno looks to get on track and earn his way into the UFC in this fight.
Massranduba, normally a lightweight (30 lbs. lighter), is 10-1. He is a well-rounded fighter, as showcased by his record, which has seen him knock out four and submit three.
During his time in the house, Massaranduba went 1-1. He viciously knocked out Charles Maicon before quitting in-between rounds against Thiago Bodao.
This fight is an interesting matchup. Heleno is clearly the better ground fighter with big fight experience, while Massaranduba is the better striker. Experience prevails.
Prediction: Heleno def. Massaranduba via decision
Rodrigo Damm vs. Anistavio Gasparzinho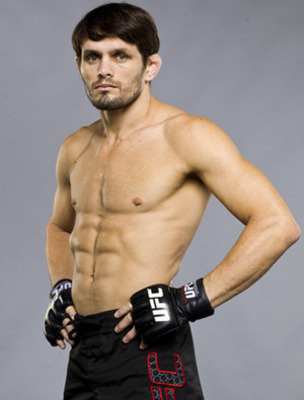 mmajunkie.com
Team Belfort featherweights collide when Rodrigo Damm and Anistavio Gasparzinho, two men who butted heads in the house, meet to settle things with their fists.
Damm, who was supposed to be a semifinalist before he left the show due to sickness, is 9-5 in his career. The Strikeforce veteran has submitted five and knocked out two in his time as a professional. He has stepped in the cage with the likes of Maximo Blanco, Gilbert Melendez and Jorge Masvidal.
In the competition, he was 2-0. He submitted Fabricio de Assis Costa da Silva in the opening round, before earning a split decision win over John Macapa.
Gasparzinho is 15-7 in his career, as the 24-year-old has finished all of his wins (12 by submission). He is a teammate of finalist Rony Jason, who submitted him in his second fight in the house. He won his first fight on the show, which was a unanimous decision over Rafael Bueno.
Despite all the submission wins by Gasparzinho, Damm has the advantage on the ground. In terms of striking, neither man has shown especially polished hands. Damm has the experience advantage, which will help him earn the win.
Prediction: Damm def. Gasparzinho via decision
Rony Jason vs. Godofredo Pepey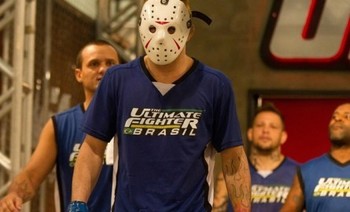 bleacherreport.com
On the pay-per-view portion of the card, the featherweight finalists meet as Team Belfort's Godofredo Pepey meets Team Silva's Rony Jason.
Jason, probably the most well-rounded featherweight from this season, is 10-3 in his career. He has finished all ten victories by either knockout or submission. He has stepped in the cage with the likes of UFC veterans Renan Barao and Felipe Arantes, as well as Bellator veteran Genair da Silva.
On the show, Jason dominated. He knocked out Dileno Lopes, submitted Anistavio Gasparzinho and decisioned Hugo Wolverine. In every fight, Jason was extremely impressive in his performance.
Pepey is an undefeated prospect with an 8-0 record. He has finished every fight, with six submissions and two knockouts.
On the show, he was equally impressive. The jiu-jitsu ace submitted Johnny Goncalves and Marcos Vina, while decisioning Wagner Galeto.
Jason's striking will make the difference here, as he is also very well-versed on the ground.
Prediction: Jason def. Pepey via decision
Cezar Mutante vs. Sergio Moraes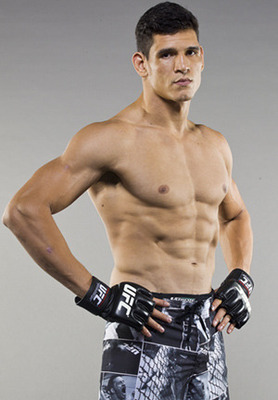 mmajunkie.com
In the middleweight final, Cezar Mutante meet Sergio Moraes for title of "The Ultimate Fighter" in the middleweight division.
Mutante, an Xtreme Couture representative, is 4-2 so far in his career. He has finished every fight that he has won, with three by knockout and one by submission.
On the show, Ferreira ran through the competition. He submitted Gustavo Sampaio and Leonardo Macarrao, as well as knocked out Thiago Bodao. The knockout was picked as the best of the season, earning Mutante $22,000.
Moraes, an Alliance jiu-jitsu representative, is 6-1 to date. He has submitted five opponents with his world class grappling.
Through the taping of the show, Moraes went 2-1. He submitted Thiago Rela and Delson Heleno, while falling victim to a knockout at the hands of original finalist Daniel Sarafian.
Mutante is much more well-rounded and will use his striking to win the fight.
Prediction: Mutante def. Moraes via knockout
Keep Reading