Italy vs. Republic of Ireland: 6 Things We Learned from Euro 2012 Group C Finale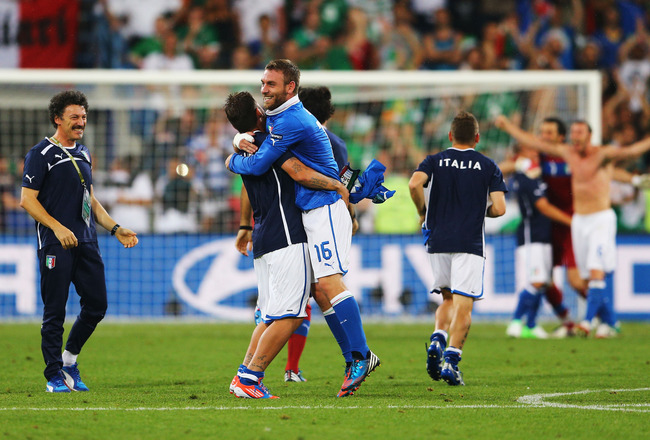 Nice mustache, man!
Christof Koepsel/Getty Images
Italy had to sweat, but in the end, victory came comfortably.
In both teams' final group match at Euro 2012, Italy blanked the Republic of Ireland 2-0 on Monday in Poznan. The result, coupled with Spain's victory over Croatia, sent the Azzurri into the quarterfinals as Group C runner-up.
After 90 minutes, the two-goal margin seemed more than secure for Cesare Prandelli's team, but until the final whistle ended the Spain-Croatia match, Italy's hopes of progressing were far from certain.
Goals from Antonio Cassano (a near-post header) and Mario Balotelli (a brilliant over-the-shoulder volley) provided the necessary offense, and Andrea Pirlo turned in another towering midfield performance.
Italy will now play the winner of Group D in the quarterfinals on Sunday in Kiev.
First, though, here are six things we learned from Monday's match.
Playing for the Result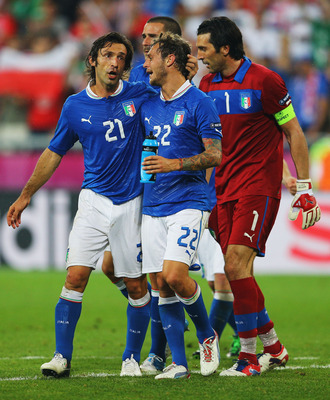 Christof Koepsel/Getty Images
Italy entered Monday's match with a shuffled lineup and a new formation.
Andrea Barzagli, Ignazio Abate and Federico Balzaretti slotted into a new-look back four (instead of the previous three-man line), while Daniele De Rossi moved into the midfield and Thiago Motta occupying the advanced midfield slot ahead of deep-lying playmaker Andrea Pirlo.
The formation was a 4-3-1-2 or a 4-1-3-2, depending on how you viewed the midfield, but the result was trademark Italy.
What does that mean? It means the defense held firm, the strikers converted a couple key chances, Andrea Pirlo orchestrated everything and, most importantly, Italy won the match.
The formation and some of the players felt unfamiliar, but the efficiency and the victory were not.
So while Italy sweat through qualification from Group C, opposing teams in the knockout stage must remain wary of how tactically efficient and flexible Cesare Prandelli's side looked against Ireland.
Lots of Options, Pt. I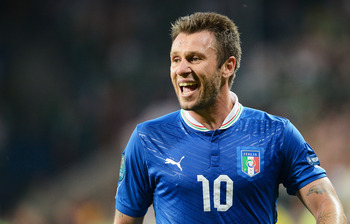 Claudio Villa/Getty Images
Here's a non-traditional Italian conundrum: too many talented strikers for two spots in the starting lineup.
Antonio Cassano (pictured) opened the scoring Monday, flicking a near-post header past Irish goalkeeper Shay Given at close range. And during a dangerous 10-minute spell leading up to the goal, Val Kilmer's doppelgänger marauded Ireland's defense with runs, crosses and shots.
Mario Balotelli—who we often forget is only 21—added Italy's second with a brilliant over-the-shoulder volley near the end of the match. Antonio Di Natale did the honors in last week's opener against Spain (he also had a shot cleared off the line by Ireland).
One could argue that Italian manager Cesare Prandelli is a bit spoiled for options regarding his strikers.
Lots of Options, Pt. II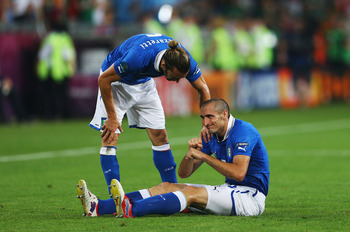 Christof Koepsel/Getty Images
Andrea Barzagli, Ignazio Abate and Federico Balzaretti all started for the first time against Ireland, and all three defenders acquitted themselves well.
Giorgio Chiellini (pictured) left the match with an injury early in the second half. No matter: Leonardo Bonucci slotted in effortlessly.
Daniele De Rossi, meanwhile, moved to the midfield, where he again performed well after providing much-needed experience in the Italian defense for the opening match against Spain.
All together, they form a solid defensive bloc for Italy and manager Cesare Prandelli, who once again appears a bit spoiled for options.
As Euro 2012 heads into the knockout stages, that can only bode well for Italy.
Buffon on Call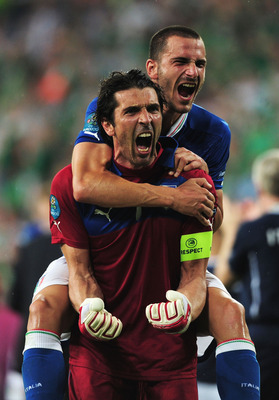 Jamie McDonald/Getty Images
Italian goalkeeper Gianluigi Buffon was not terribly busy for most of Monday's match, but when called upon, the 34-year-old veteran proved more than equal to anything Ireland could kick at him.
Keith Andrews produced perhaps Ireland's best scoring opportunity in the 79th minute. Damien Duff back-heeled a free kick just outside the Italy box, and Andrews blasted a swerving shot at Buffon.
As wicked as the spin made Andrews' shot appear, it presented no problem to a keeper of Buffon's class and experience.
No surprise here: Buffon will play a vital role in whatever run the Italians can muster in the knockout stages.
Italy's Beating Heart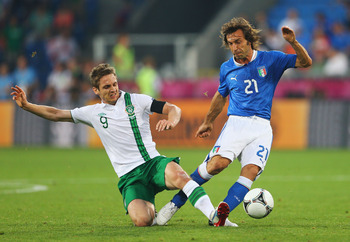 Christof Koepsel/Getty Images
Midfielder Andrea Pirlo is perhaps the only player who can rival Gianluigi Buffon's importance to Italy.
Pirlo, a 33-year-old central midfielder, helped guide Juventus to the Scudetto this past season, his first after being deemed surplus to requirements at AC Milan.
His importance to the Bianconeri's title run cannot be understated, and the same is true for his contributions to Italy. On Monday, he supplied two more assists, both from corners, and he has had a hand in every single Italian goal at this tournament.
Pirlo is, by some margin, the Azzurri's most important field player and he's probably their best, too.
At 33, he's probably not quite the same player he was in years past, but his passing, vision and distribution still make him world class.
The Irish Were Completely Overmatched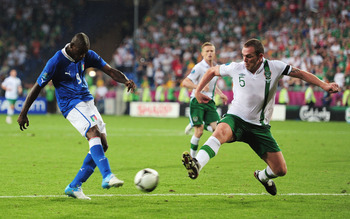 Jamie McDonald/Getty Images
Ireland turned in its best performance of Euro 2012 on Monday.
Even so, it lost by two goals and deserved to go home with its third straight defeat.
In its defense, Ireland mustered nine shots and threatened Gianluigi Buffon's net for much of the closing 20 minutes (or until Mario Balotelli's game-killing goal, that is). And the back line held Italy at bay for long periods, with Sean St. Ledger contributing a number of key blocks and interceptions.
On the other hand, Italy peppered Shay Given's goal with 26 shots and held possession for two-thirds of the game (67 percent).
So while Italy and Spain move on, Ireland's final contribution at Euro 2012 will read thus: one goal scored and nine conceded, with three losses, no wins and no points.
Even more troubling, Ireland looked vulnerable on set pieces throughout the group stage. So perhaps it's not surprising that after keeping 11 clean sheets in 14 matches leading up to the tournament, the Irish defense was Euro 2012's leakiest (pending Group D's matches Tuesday).
And to compound the agony, Keith Andrews was sent off in the 89th minute against Italy for his second bookable offense.
There was some good news for Ireland, though: Its fans were easily the best of the tournament, routinely drowning out opposing supporters and giving neutrals goosebumps with impassioned singing and chanting.
Too bad the on-field product wasn't quite so brilliant.
Keep Reading