Spotlighting Pittsburgh Steelers RB Position Heading into the 2012 Season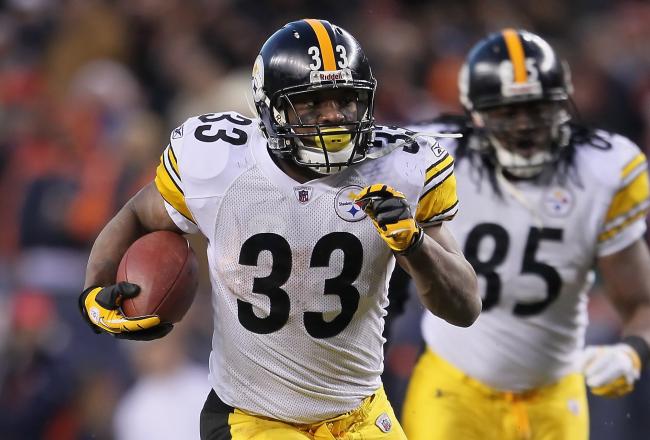 Isaac Redman will be the Steelers' primary back at the start of the season, but he won't be the only one to get touches this season.
Jeff Gross/Getty Images
The Pittsburgh Steelers need to improve at running the ball, clearly, but their struggles in this area last year cannot solely be pinned to the running backs themselves. With a constantly shifting offensive line rotation, no Steelers back had consistent success on the ground last year.
This season, the running game will see a number of significant changes. The Steelers' top running back, Rashard Mendenhall, likely won't be ready to take the field until mid-season, meaning the other five backs on the roster (primarily Isaac Redman) will have to pick up his slack.
The team also has a new offensive coordinator, Todd Haley, who has a quite different approach to the run game than his predecessor, Bruce Arians.
So what does all of this mean for the Steelers' cadre of backs? Let's take a look at each one they have on the roster and what we can expect them to contribute to their new-look offense this year.
Rashard Mendenhall
This Rashard-Mendenhall-to-the-PUP-list thing seems to be picking up steam, and it makes sense. Mendenhall, generally known as the Steelers' No. 1 running back, tore his ACL in Week 17 of last season and is still very much recovering from the injury and surgery.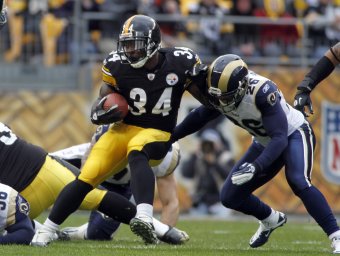 Justin K. Aller/Getty Images
Though his recovery does seem to be right on schedule and there's little risk of him missing the entirety of 2012 because of it, he's likely going to be sidelined for the first six weeks of the season and may not take the field in a significant way until perhaps Week 8 or later in order to reduce the risk of re-injury.
This being a contract year for Mendenhall, chances are unless he impresses upon his return (or Isaac Redman, his likely replacement, falters), he won't get a new deal from the Steelers in 2013.
He's not over the hill by any means, but for a team as cash-strapped as Pittsburgh is about to be, and having a number of other backs who could take over full time, 2012 may be Mendenhall's last hurrah in black and gold.
Isaac Redman
Though other Steelers' running backs are likely to see more than just a marginal amount of carries this season, most of Mendenhall's duties will fall to Isaac Redman, who stepped in as starter last season when Mendenhall was dealing with a hamstring injury.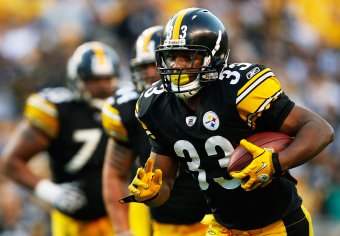 Jared Wickerham/Getty Images
Redman had 110 carries for 479 yards and three rushing touchdowns last year, as well as 18 receptions for 78 more yards. With Todd Haley his new offensive coordinator, expect that number of targets to go up exponentially—he's a huge fan of passing to running backs.
Redman had nearly twice as many carries last year as he did in 2010, but his yards-per-carry average dropped only slightly, from 4.8 to 4.4, which means that behind the Steelers' much-improved offensive line, he should have a successful season.
The only question is whether Redman will continue to hold onto the team's No. 1 job once Mendenhall returns to action. I think it's quite possible he does—if he's playing well, there's no reason to thrust Mendenhall into potential overuse after coming off of such a serious injury. And if Pittsburgh chooses to move on from Mendenhall in 2013, this will be Redman's show for seasons to come.
Jonathan Dwyer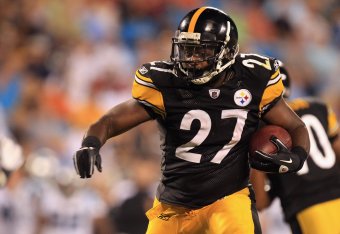 Streeter Lecka/Getty Images
Third-year player Jonathan Dwyer broke his foot last season, an injury that landed him on IR. He's still rehabbing that injury, but he's able to run and cut, good signs that he'll be ready to go once training camp starts next month.
Dwyer had just 16 carries last year for 123 yards and a score, and he caught just one pass for six yards. As long as he is fully healthy once the season starts, he should serve as Redman's primary backup.
Redman should be getting around 15 carries per game, with another five or 10 being split up by other backs, meaning that Dwyer should have a shot at getting more carries—and more passing targets, certainly—than he did last year.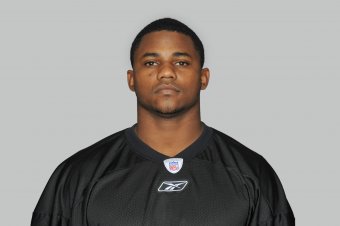 Handout/Getty Images
Baron Batch
Baron Batch was a 2011 seventh-round draft pick who was impressive in training camp before a torn ACL effectively ended his year before it really started. Because of this, he'll be fighting yet again for a roster spot, but if he looks good in camp he should earn one and be used as the Steelers' third-down and goal-line back this season.
John Clay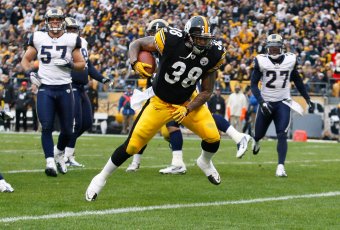 Jared Wickerham/Getty Images
If any Steelers back is an odd man out this year, it's either Batch or John Clay. Clay spent most of his rookie season on the practice squad, but he was activated for two games when Dwyer went on injured reserve and Mewelde Moore (who is still an unclaimed free agent) was dealing with an MCL sprain.
In those two games, Clay had 10 carries for 41 yards and a score—not bad, certainly, but without impressing in camp, he should find himself on the practice squad yet again. Clay isn't very speedy, but his size (6'1", 248 pounds) makes him ideal in goal-line situations and in pass protection.
Chris Rainey
Chris Rainey is going to be used in a hybrid running back/wide receiver role similar to that of Dexter McCluster in Kansas City, where Haley used to coach.
The fifth-round pick has reportedly been impressive in camp and OTAs, and as such, there's little question that he'll be a major situational player for the Steelers offense this year.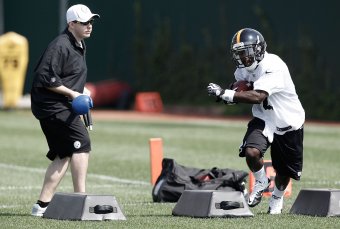 Jared Wickerham/Getty Images
A hybrid receiver/running back is a new concept for the Steelers, but one that should add another much-needed dimension to their offense. Speed is the name of the game for the Steelers' passing game, but it hasn't been a priority on the ground. Rainey may just be the fastest player in the Steelers' field this year, presenting them with ample opportunities to pick up big chunks of yardage if they utilize him intelligently.
That intelligent use is the key, however. Rainey is not a blocker, so they'll need to find ways to disguise their offense when they intend to get him the ball. Considering Haley is adept at these tricks, the five or six carries and targets Rainey will likely see per game will bear some serious fruit.
This article is
What is the duplicate article?
Why is this article offensive?
Where is this article plagiarized from?
Why is this article poorly edited?