Olympic Soccer 2012: No US Men's Team, No American Interest
June 18, 2012

Frederick Breedon/Getty Images
I'm as active a proponent of rational discussion as you'll find, and yet in the wake of Team USA's failure to qualify for the 2012 Olympic soccer tournament, even I'm left wondering: Where's the outrage?
Where's the prideful resentment? Where are the pitchfork demands for retribution?
More than that, did anyone even notice?
Let's revisit the facts.
Entering 2012, the U.S. had qualified for six of the past seven Olympic tournaments and was one of just two teams in a region with a FIFA ranking higher than 45.
In late March, those same vaunted Americans were eliminated from Olympic contention via a 3-3 draw with El Salvador (pop. 6.1 million, two World Cup appearances). And on home turf, no less.
To not qualify for an international tournament under those conditions borders on absurd.
So why didn't this stunning setback merit anything more than a perfunctory 200-word notice in USA Today?
Before answering that question, let's first rule out the whole Americans-don't-like-soccer-and-never-will line of logic. As B/R's Dan Levy pointed out in a recent post, soccer is riding all sorts of positive momentum stateside.
The 2010 World Cup drew record ratings in the U.S., FOX recently broadcast a full slate of English Premier League games on the final Sunday of the 2012 season, and ESPN is awash this week with coverage of Euro 2012.
Euro 2012?! America isn't even in that tournament.
And that right there is the paradox: Soccer's growing popularity in the United States has nothing to do with U.S. soccer and, in a roundabout way, it's actually depressing interest in the Olympic soccer tournament.
I'll explain.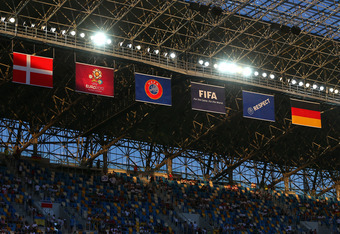 Martin Rose/Getty Images
While Americans are growing a taste for soccer, they are simultaneously refining their palettes. Savvy U.S. fans can identify the difference between top-tier soccer and lower-quality play, and, like fans in most other sports, they gravitate toward the former.
Levy angles at that sentiment when he writes, "While MLS still struggles to find a television foothold, the international game is more popular than ever in America."
The Olympics are the MLS of the international soccer world, a decidedly low-prestige entity that struggles to attract prime talent.
Survey a crowd of self-identified soccer fans, and I bet you'll find a fair number who actively dislike Olympic soccer. To them, it is a nuisance, a developmental scrum that regularly leaves out some of the world's best footballing nations (bid allotment makes it particularly difficult for European countries to qualify).
As more and more Americans file into that self-identified-soccer-fan contingent, more and more of them are adopting that disdain.
The Olympics aren't the World Cup, the European Championships or even the Confederations Cup.
They are inferior.
America's maturing soccer fanbase would rather watch European Championship action—even if it has zero national implications—than plod through a sloppy Olympic match featuring Team USA.
Perhaps at some point soccer's popularity will reach a critical mass whereby the rising-tides parable will apply, and all soccer competitions will inspire fervent fandom. But we haven't reached that point.
Right now, the nation's nouveau soccer fans don't just crave soccer. They crave good soccer.
The Olympics, it would appear, do not qualify.