Asdrubal Cabrera: Cleveland Indians SS Takes Home AL Worst of the Night Honors
June 18, 2012

Rich Pilling/Getty Images
Most days, Asdrubal Cabrera is a darn good player. He can make all the plays at shortstop, and he hits for both average and power at the plate. The Cleveland Indians are truly lucky to have him.
But, like I said, this is "most days." On Sunday, well, let's just say that the Indians were probably wishing Cabrera was somewhere else.
The Indians lost to the Pittsburgh Pirates, and Cabrera more or less single-handedly cost them the game with his horrific play in the field. He entered the day with three errors on the season, and he made three more throughout the course of the game. Each of them proved to be costly.
Cabrera's first error came in the top of the fourth with two men out and the Tribe up 2-0. He gobbled up a ground ball off the bat of Casey McGehee easily enough, but his throw to first was well off the mark. McGehee advanced to second, and Garrett Jones advanced to third.
Pedro Alvarez then hit a two-out, three-run home run that gave the Pirates a sudden 3-2 lead. 
And to think they could have been out of the inning unscathed...
That wasn't the end of Cabrera's nightmare. The very next inning, he had a chance to get Jeanmar Gomez out of a bases-loaded jam when McGehee hit a tailor-made double play ball in his direction. But he couldn't field the ball cleanly. He tried to recover by swatting the ball to second base, but that failed miserably.
Cabrera was given two errors on the play, and two runs scored to make it 6-4 in favor of the Pirates. MLB.com has the video highlight if you're in the mood for a good midday facepalm.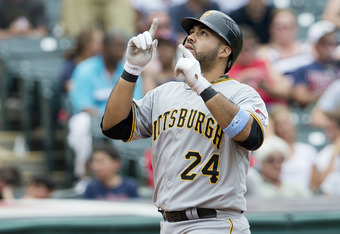 Jason Miller/Getty Images
Alvarez then hit another three-run home run to make it 9-4. At that point, there were quite a few eyes in Progressive Field that were glaring directly at Cabrera. And rightfully so.
Against all odds, things only got worse for Cabrera. He came up with one out and nobody on in the ninth inning with the Indians down 9-5, and he promptly smacked a hard line drive deep to right field off of Joel Hanrahan.
Apparently thinking the ball was going to clear the fence, Cabrera didn't exactly run hard out of the box. When the ball clanked off the right field wall, he tried to make up for his assumption by running hard to second base. Pirates right fielder Jose Tabata uncorked a perfect throw to second base, and Cabrera was tagged out easily.
MLB.com has the highlight of the play as well if you feel like a good double-facepalm.
The Indians ended up losing 9-5. Of the nine runs Pittsburgh scored, only five were earned. The four runs that made up the difference in the game were gifts from Cabrera.
Paul Hoynes of the Plain Dealer wrote an excellent lede that summed up Cabrera's afternoon quite perfectly: "To err is human, to forgive divine. But this was ridiculous."
In a bit of perfect timing, Monday's game against the Cincinnati Reds just so happens to be Asdrubal Cabrera bobblehead night at Progressive Field. Cleveland freelancer Brad VanFossan came through with a (not real) scoop about that on Twitter:
Tribe interns are rumored to be removing the gloves from tomorrow's Asdrubal Cabrera bobbleheads.

— Brad VanFossan (@BradVanFo) June 17, 2012
Golf clap, sir. Golf clap.
By virtue of his epically horrid performance on Sunday, I am giving Cabrera today's American League "Worst of the Night" award. In fact, I feel like giving him two of the blasted things, just so he gets the point.
Don't worry, Tribe fans. He'll be better.
Shoot...It's not like he can be any worse.
If you ever want to nominate somebody for American League "Worst of the Night" honors, hit me up on Twitter.