WWE Raw: Santino Marella and Titles That Need to Change Hands
June 18, 2012
With Sunday night's No Way Out pay-per-view, the need for change with two of WWE's major championships became clear.
Sunday night, we saw United States Champion Santino Marella waste more minutes with the belt around his waist in a pointless Tuxedo match.
We were also treated to a great four-way tag team match—though it is a shame the current champions R-Truth and Kofi Kingston were not even involved.
Although the current tag team champions are supposed to be carrying injuries, now would be the time to spice up the U.S. Championship and Tag Team Title scenes.
Of course, both these titles have been struggling for a long time. The tag team divisions potential revival has been documented for years, but has never came to fruition. Whereas the U.S. title has became part of Santino Marellas comedy act, and has lost any real prestige it had.
Now it is time for change.
Relaunching the tag titles could be a fairly simple task. With A.W. aligning himself with the Prime Time Players, and turning on Epico and Primo, Monday's show would be a perfect time to take the titles off Kofi and Truth.
After they earned a title shot Sunday, the match is already set up. No Way Out also made strides to turning both Epico and Primo face, which would easily lead into a great new rivalry to spark the tag team division between themselves and the Players.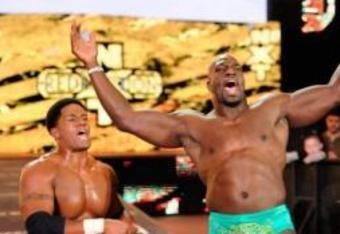 Santino is more curious case. He is clearly not being pushed by Creative, and while he is good comedy relief, it seems like a title is being wasted.
This is why the championship should change hands as quickly as possible, on Monday's show. And in my opinion there is a champion in waiting.
Former Intercontinental champion Cody Rhodes is a great talent, but is better holding a belt rather than chasing it.
Now would be a great time to move him over to the main show and give him a chance to have another run with a mid-card titles.
He has already started a small rivalry with Santino, when he claimed he was not worthy to hold the belt, why not relight that fire?
Raw will be full of excitement with a new GM set to be announced, but are these two changes in titles that you agree should change hands Monday?
Let me know your views below, or you can contact and follow me on my Twitter @markpirie.https://twitter.com/#!/markpirie