LaDainian Tomlinson Retirement: Highlights and Twitter Reaction to Epic Career
June 18, 2012

Jed Jacobsohn/Getty Images
The NFL lost one of its greatest superstars to retirement on Monday, but that just means the Hall of Fame will soon gain one of its most deserving candidates.
That's because running back LaDainian Tomlinson—after signing with the San Diego Chargers—announced his retirement from the game he so often dominated.
It was a sad moment to see Tomlinson go, sure, but it was right to see him retire as a Charger, the team that drafted him with the fifth-overall pick back in 2001. 
First, here's a look at Tomlinson's retirement presser, which comes courtesy of nfl.com:
Career Stats (via NFL.com)
The dual-threat running back out of TCU started 141 games during nine seasons with the Chargers. That comes out to 15.67 games per season, which speaks to his insane durability. 
During his time in San Diego, Tomlinson racked up 12,490 rushing yards, 3,955 receiving yards on 530 catches and 153 total touchdowns. Those numbers rank him first in the franchise in rushing yards, first in rushing touchdowns and Top 10 in both catches and receiving yards.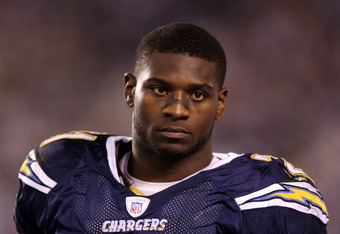 Donald Miralle/Getty Images
Most people might remember Tomlinson as the most dominant fantasy football player of the decade, but Chargers fans will remember him as one of the best running backs of all-time and someone who was the key part in turning the franchise around.
The Rosebud, Texas native went on to play two more productive seasons with the New York Jets, where he upped his rushing yardage total to 13,654, ranking him fifth on the all-time list. 
In addition to the gaudy stats, Tomlinson holds the record for touchdowns (31) and rushing touchdowns (28) in a single season. He was named to the Pro Bowl five times, earned first-team All-Pro three times, led the league in rushing twice, captured MVP in 2006, won several ESPYs and was named to the NFL 2000s All-Decade Team. 
Whew.
Highlights
If numbers aren't necessarily your thing, that's OK, because we've got video evidence of just how dominant Tomlinson was during his NFL career:
Tomlinson's pure athleticism, which is evidenced by his ridiculous cuts, home-run speed and ability to hop over the offensive and defensive lines with ease, combined with his nose for the end zone, is truly something that doesn't come around too often. 
Oh, and he could throw the ball pretty well, too. 
Twitter Reaction
ESPN Stats and Info gives us a better idea of just how good Tomlinson was at finding the end zone:
LaDainian Tomlinson announced his retirement today. "LT" scored 162 career TD, Only Jerry Rice and Emmitt Smith have scored more.

— ESPN Stats & Info (@ESPNStatsInfo) June 18, 2012
And that was in just 11 seasons. 
While Tomlinson was a franchise-saver for San Diego, he was a fantasy-football winner for everyone else in the country. ESPN's Kevin Negandhi and Matthew Berry point that out:
just talked to @MatthewBerryTMR about LaDainian Tomlinson.. he says LT's 2006 season was the best fantasy season ever in football..

— Kevin Negandhi (@KNegandhiESPN) June 18, 2012
Even Faux John Madden, who usually takes to Twitter for sarcasm and jokes, found time to honor Tomlinson, who was just as good of a human being as he was a football player:
Thank you to one of the leagues greatest athletes and men, LaDainian Tomlinson.Show LT your support as we say goodbye fauxjohnmadden.lockerdome.com/media/98379530

— Faux John Madden (@FauxJohnMadden) June 18, 2012
Here's evidence from Michael Gehlken of Tomlinson signing his final contract with the Chargers:
LaDainian Tomlinson has signed with the Chargers. twitter.com/UTgehlken/stat…

— Michael Gehlken (@UTgehlken) June 18, 2012
The New York Daily News' Manish Mehta gives us this quote from Tomlinson, who said he had opportunities to keep playing:
LaDainian Tomlinson says he "did have opportunities to continue to play football," but chose to retire."I don't anticipate coming back" #nyj

— Manish Mehta(@TheJetsStream) June 18, 2012
Mehta also gives us this quote from Tomlinson about the running back's wife:
LaDainian Tomlinson on his wife, Torsha: "She always encouraged me. I really appreciate her. She pushed me. She also kept me humble." #nyj

— Manish Mehta(@TheJetsStream) June 18, 2012
The NFL's Twitter account gives us this Tomlinson quote about having no regrets:
Tomlinson: "I have no regrets at all. So I don't anticipate coming back." (Watch presser here: chargers.com/media-vault/li…)

— NFL (@nfl) June 18, 2012
Finally, Marty Caswell gives us this quote from Tomlinson, who talked a little bit about Junior Seau at the press conference:
LT "Today I take the words of Junior Seau. I feel like I'm graduating. I really do...I'm excited to now be a fan."

— Marty Caswell (@MartyCaswell) June 18, 2012
Tomlinson's Legacy
There has been a lot of talk about where LaDainian Tomlinson stacks up with other great running backs in history. 
While it's hard to perfectly compare different backs from different eras, I feel extremely comfortable putting the "other" LT in the top five of all-time. 
Why? Because he was so incredibly unique. 
Not only was he unstoppable on the ground, as evidenced by his Top Five ranking in rushing yards, but he was also one of the best pass-catching running backs of all time. 
Tomlinson had the ability to break 80-yard runs through the middle of the defense, but he was also just as dangerous as most wide receivers. Throw in his durability, and those types of players just don't come along very often. 
Perhaps no one deserves the success as much as LaDainian Tomlinson, who, according to most people, is not only one of the greatest players in history, but one of the greatest human beings. His humility and kindness became apparent when he thanked everyone, including the equipment manager, during his final press conference. 
It is sad to see Tomlinson go, but the 11 amazing years in the NFL he gave us more than make up for that sadness.