USA Olympic Basketball Team: Why Team USA's Lack of Bigs Is No Concern
June 18, 2012

Harry How/Getty Images
A rash of injuries to Team USA's men's basketball team has set the panic meter for this summer's Olympic tournament somewhere between bemusement and mild concern.
For those tending toward "mild concern," the main charge has been that Uncle Sam lacks the quality bigs needed to defeat credible challengers like Spain, Brazil and France. Indeed, injuries incurred by Dwight Howard, Andrew Bynum and LaMarcus Aldridge have ravaged Team USA's crop of back-to-the-basket types.
But what appears as a weakness on paper should be of little concern to those who've watched the American squad over the past Olympic cycle. Simply put, Team USA doesn't need low-post scoring to flourish in international play—never has.
Look back to 2008, and you'll see abundant evidence for that claim.
Team USA averaged 106.25 points per game in Beijing. Just over 78 percent of those points were scored by what I'd call face-up players, guards and forwards who primarily catch the ball on the perimeter or in the mid-range areas. That includes Team USA's top four scorers: Dwyane Wade, LeBron James, Kobe Bryant and Carmelo Anthony.
In the gold medal game against Spain, the team's primary post players—Howard, Chris Bosh and Carlos Boozer—combined for just 16 of Team USA's 118 points.
Anecdotal observation of the team's 2008 Olympic triumph corroborates the numbers. Team USA rarely ran its offense through the post, preferring to let its guards and wings generate scoring.
The same held true for America's first-place effort at the 2010 FIBA World Championships. If anything, strategy was more slanted toward the perimeter, with a bit over 83 percent of scoring coming from guards/wings. Lamar Odom was the only big that finished among the top half of the team in scoring—and even he was just sixth out of 12.
So, why have a big man at all? Why not just run five combo guards and call it a gold medal?
Well, even if they aren't scoring, post players have utility—specifically when it comes to help defense and rebounding.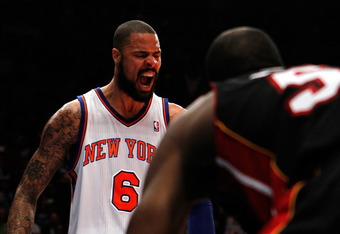 Jeff Zelevansky/Getty Images
But lucky for America, the class of players able to fill those roles is many times larger than the elite cadre of two-way post threats.
Tyson Chandler, for example, is among the world's best at defending the low post. Kevin Love is a rebounder par excellence. Anthony Davis, were he to make the team, performed both of those tasks in a manner of dominance the college game has rarely seen.
Even Blake Griffin, the most offensive-minded big of the group, is a capable rebounder. He's also a master at exploiting the spaces created by dribble penetration, which should be ample given Team USA's stupid-good roster of guards.
And we haven't even mentioned Chris Bosh, who has played ferocious defense thus far in the NBA Finals.
Through some combination of matchup and scheme, Team USA should be able to create a reasonable facsimile of the production Dwight Howard gave them in Beijing.
No, the Americans can't dump it down to any of the aforementioned five and expect him to bully his way to the hoop like Howard often does for the Orlando Magic. But again, they don't need that.
They need a guy to play solid rotational defense, body up a Spanish big like Marc Gasol or Serge Ibaka on occasion and rebound well.
The roster, as it's currently constructed, is proficient enough in those areas to grab a second consecutive gold medal.