St. Louis Cardinals: Why Team Will Come out on Top in NL Central Race This Year
June 18, 2012

Dilip Vishwanat/Getty Images
The Pittsburgh Pirates are off to another hot start, while Joey Votto and Ryan Braun are neck and neck for NL MVP. We've seen this picture before, and that's why the St. Louis Cardinals will still come out on top in the NL Central race this year.
May and June have been lousy months for the Cardinals—St. Louis lost its division lead, dropping all the way to third, thanks in part to its ever-increasing disabled list and mediocre bullpen. 
But time is on the Cardinals' side.
After the All-Star break, Lance Berkman and Chris Carpenter will be healthy for the first time in forever. Throw in John Jay, Matt Carpenter and Skip Schumaker, and St. Louis is back in business.
The only problem will be how to fit so many great hitters into eight spots. Will Matt Adams drop back down to the minors? Does Lance Lynn remain the ace of the rotation? Do you try to play Allen Craig at second base? Manager Mike Matheny finally gets a chance to play chess now that all of his pieces are on the table.
The Cardinals' odds of winning the division are so high because Pittsburgh, Cincinnati and Milwaukee are playing so well. Doesn't make sense? Trust me, it's science.
What goes up must come down. Joey Votto can't continue to hit this well, can he? He has a .525 average (.885 slugging) in his last 17 games. And then there's Ryan Braun, who leads Milwaukee in just about every hitting category (batting average, home runs, RBI, hits, OBP, you name it).
These guys are putting up numbers comparable to only Benny "The Jet" Rodriguez. 
[I refuse to talk about any Pittsburgh Pirate's bat outside of brackets. For all you Sandlot fans—if you don't like that movie, you have lost all reading privileges and any sense of self-worth you once had in this world—it's not unfair to compare the Pirates to Scotty "Smalls." They rank 30th in runs, 29th in batting average and 28th in slugging percentage.]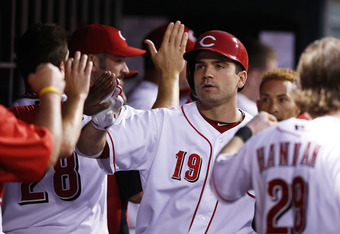 Joe Robbins/Getty Images
Pitching, however, is how the Pirates have earned a living this season. A.J. Burnett has won six straight games and has an ERA under four for the first time since 2007. James McDonald has a WHIP under one, an ERA under three and a team-high 78 strikeouts.
Burnett, McDonald, Votto and Braun could not be playing any better; the Cardinals, on the other hand, could not be playing much worse.
Pittsburgh, Cincinnati and Milwaukee have been riding the coattails of two or three players all season. But what happens when those players wear down late in the year? Their GMs might add an arm or a bat at the deadline, but all three teams' fates will still rely too heavily on their stars. 
St. Louis may be down right now, but its problems are much easier to solve.
Remember, health is only a temporary issue. St. Louis' lineup won't be filled with minor leaguers for much longer. The Cardinals won't have to rely on the .200 averages of Adron Chambers and Shane Robinson. Reinforcements are on their way.
GM John Mozeliak's biggest adjustment has to be strengthening his bullpen.
The Cardinals are 25th in the MLB in save percentage, having blown 10 of their 24 opportunities this season. He needs to find a starting pitcher that will allow Jake Westbrook to move back to the bullpen, or find solid relief pitching like he did at the deadline last year.
Those last-minute moves for Octavio Dotel and Marc Rzepczynski were crucial in St. Louis' wild-card comeback last September.
Expect to see much of the same trend in 2012.