WWE No Way Out 2012: A Lack of Boom, a Dedicated Fans Disappointment
June 18, 2012

I have been a fan of the WWE for close to 30 years, watching the shows, buying the pay-per-views and products and eventually began writing on here in order to take a positive approach to a show that I've always loved more often than not. Last night I was disappointed.
The pay-per-view No Way Out was the first one in a very long time where I sat there saying, "I'm sorry I paid for this." In the past I've come on this very site and defended pay-per-views that others have mocked and criticized. Claims that results were too predictable or that fights were too 'PG' by those who don't come across as fans of the industry, but more so of an era. Today I can't oppose them. I usually write a piece called the BOOMs of the event and go over the highlights of the pay-per-view, but this didn't feel like pay-per-view level. Let me break it down and let you know what I mean.
Sheamus vs. Dolph Ziggler
I had such high hopes for this match and was really looking forward to Dolph Ziggler being able to step up to the spotlight and show his skills in a match against another relatively new guy, the brogue Sheamus. This should have been the highlight of the night. It could have been spectacular. But sadly there were so many missed spots and missed jumps, At one point, Dolph tripped running up to the second rope. The highlight of the match was when the crowd actually began cheering for Ziggler. Hopefully that won't go unnoticed and these two will get a second chance at a better showing for the title again. This was a Smackdown level match at best. They've done better and need to get another shot at a pay-per-view.
Santino Marella vs. Ricardo Rodriguez in a tuxedo match
This was possibly the most boring and pointless match ever to be held at a pay-per-view, and by a man carrying a belt no less. The United States champion was in a match where he had to rip the clothes off another man, who's another wrestlers valet. If it was meant to entertain the kids, it failed. This match was a total bomb and not even worthy of a Sunday Night Heat match.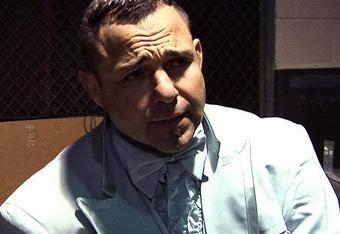 Christian vs. Cody Rhodes
While this match had some good spots, it was just lacking in heart. With all the announcers talk of Edge, you almost have to feel bad for Christina. His former tag team partner has retired and he's still in the shadow. It had a good pace, there were a couple of highlights like Rhodes blocking the frog splash by getting his knees up, but other than that, it felt like if I left the room I wouldn't miss much. This was a Monday Night Raw match, but definitely needed more build up.
Fatal four way match
A fatal four way match to become the number one contenders for the tag team champions, this match seemed so last minute it was crazy. Justin Gabriel and Tyson Kidd, vs. The Prime Time Players vs. The Uso vs. Primo and Epico with dual management, Rosa Mendes and AW. Some might praise this as having some top spots, a huricnarana off the top rope down to the floor did take out everyone in the match but again this match was lacking purpose. The swing at the end, having AW back-stab Primo and Epico to support the Prime Time players seemed forced. This is a dark match if there ever was one, put this on You Tube and give us Brodus Clay vs. David Otunga on the pay per view. How can we care about a number one contender spot when we aren't even allowed to care about the tag team champions.
Layla vs. Beth Phoenix
Again, are they the only two divas right now? The two women both have skills but there are only so many times we can watch them do the same things to each other over and over. Put them in a specialty match. Do something, anything. If not, keep this match on Raw where it has been. In the same boat as the ladies are Sin Cara vs. Hunico and Ryback vs. nobodies. They're the same matches we've seen on Smackdown time and time again. These three matches felt like repeats of the same shows I watched all week prior without paying.
Triple Threat Match
CM Punk vs. Daniel Bryan vs. Kane and the upset of the match, AJ. She has to be one of the worst Divas in history when it comes to acting skills. The crazy chick angle has been done so many times its just sad now. Mickie James. Rosa Mendes. Victoria. All of them played the part so much better. We get it. AJ's cute, but enough already. You ruined a match between a great superstar like CM Punk, an amazing technician like Bryan and a legend in Kane. 
 John Cena vs. The Big Show
In what could have been a decent showing by these two, as we've seen great matches from them before, this match just seemed off. Big Show dominated too much to have Cena keep coming back over and over. It reminded me of why some people really dislike him. He makes it look fake sometimes. But to have his victory over Show and the firing of Laurinaitis, it just wasn't a clean win or a solid match. It was a pay-per-view level match, but not main event status. It needed more. It needed more wrestling. More back and forth, and a solid finish.
I'm sorry to say that this was a disappointing pay-per-view and I truly would like my money back. The WWE didn't put out its best product last night. It just repeated a lot of the same things we've been watching all week. I'll be watching Raw tonight and will be hoping to see a new direction rising from this crash that took place last night.
Follow me on twitter at www.twitter.com/boompage