Tim Lincecum: Are San Francisco Giants in Denial About Their Ace?
June 18, 2012

Donald Miralle/Getty Images
Today I read this blog post by Giants Chronicle beat writer Henry Schulman saying the San Francisco Giants will not skip Tim Lincecum in his next start, despite the fact that the Giants have an off day and would be able to do so while keeping the rest of their rotation on regular rest. 
Short of sending Lincecum to the minors, as I suggested in my last article on the subject, skipping him seemed to be a "duh." But I guess not when your name is Bruce Bochy. In the face of overriding evidence to the contrary, Bochy tends to do the opposite. I tend to think he's more stubborn then stupid, but who knows? 
I mean Sandoval batting second last night? What was up with that anyway? Yeah, let's take one of your top RBI guys, who is possibly your least patient hitter, and put him in a spot where the first item on the job description is "patience." Sorry, I digress. 
Something is seriously wrong with Lincecum. Maybe Bochy can't see it, but the rest of the world can. It seems that he and the rest of the Giants' brass is in denial. 
Earlier this week I read an article by Jim Bowden. Bowden, if you don't know, is the former GM of the Cincinnati Reds and Washington Nationals. He is one of the truly astute baseball men on the scene and one national media guy that I truly respect. 
This is what Bowden had to say about Lincecum:
"Why not give Lincecum a saline-enhanced MRI on his elbow and shoulder to make sure there's not an injury? He might not have pain, but he might have inflammation or a tear that is affecting his command and control in the zone. I can't tell you how many pitchers during my career as a general manager said they were healthy and were even backed up by the trainers, but tests revealed they were really hurt.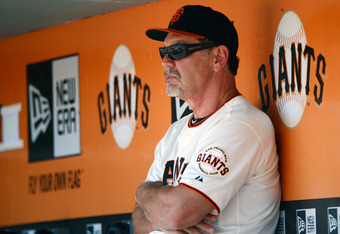 Thearon W. Henderson/Getty Images
I've seen pitchers throwing 95 mph with a nasty slider walk off the field and need Tommy John surgery with no palpable degradation of their pitches or velocity. I've seen pitchers throw ineffectively for months before finally giving in to an MRI and eventually have to be shut down because of injuries.

New York Yankees right-hander Phil Hughes suffered from a mysterious malady last year. Perhaps Lincecum is similar. Maybe he just has strength deficiencies in his shoulder? If they shut him down perhaps they could rebuild that strength and have Lincecum back for the pennant race? Maybe an MRI will show an injury that can be scoped or an exercise program that could help. Maybe his legs are not strong enough.  

In my mind, Lincecum is hurt without pain or has some shoulder weakness that is causing him to miss his intended locations. Curiously, Lincecum said something to me back in March that threw up a red flag. He said he was going to scrap his slider because of the wear and tear on his arm. I didn't understand what he meant by that. Why was his slider causing wear and tear but not his fastball? Did something hurt when he threw his slider? Well, he ended up keeping his slider anyway, but it made me wonder about his health nonetheless."

 
It's time for Giants GM Brian Sabean to take control of the situation from Bochy and pitching coach Dave Righetti, who are obviously too close to the situation and to Lincecum to make rational decisions. Get Lincecum checked out, as Bowden suggests. Have him miss at least one start. If he's healthy, take my earlier suggestion and either send him to the minors or move him to the bullpen for awhile. 
The Giants are now five games behind the Los Angeles Dodgers, after sneaking to within three games of LA before Lincecum's latest disaster. It seems the Giants will gain ground through the rest of the rotation and then fall back when Lincecum pitches. It's like running in place, you don't get anywhere.
This can't continue. The Giants don't want to mess with the Wild Card this year, with the crazy one game play-in rule. Who wants their season to come down to one game after playing 162? Anything can happen. 
The Giants can catch and pass the Dodgers. When Lincecum isn't pitching their record is 35-18. That's a .660 winning percentage, which would be the best in baseball. Lincecum's starts have accounted for 40 percent of the Giants' losses and only 5 percent of their wins. If the starter in that position was just an average member of their rotation, those numbers should both be 20 percent. His ERA is now 6.18. 
Something must change soon.