Newcastle United Gifted with Sweet Schedule as FA Announces League Fixtures
June 18, 2012

Stu Forster/Getty Images
Today, the 2012/13 Premier League fixtures were released.
While the document is only preliminary at this stage and in Spanish, we also have an idea how the Europa League will look next season.
Obviously it's too early to start predicting games, but what we can do is throw the known games together and see how kindly the schedule fits together.
What I have assembled assumes a full League Cup run and an elimination after the pool stages of the Europa League. The FA Cup fixtures are not available at this point.
August
18 v Tottenham Hotspur
23 Europa League first Play-off leg
25 @ Chelsea
30 Europa League second Play-off leg 
September
1 v Aston Villa
15 @ Everton
20 Europa League Day One
22 v Norwich
26 Capital One Cup Round Three (League Cup)
29 @ Reading
October
4 Europa League Day Two
6 v Manchester Utd
20 @ Sunderland
25 Europa League Day Three
27 v West Brom
31 Capital One Cup Round Four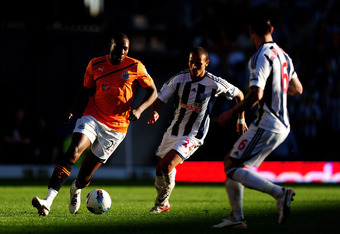 Laurence Griffiths/Getty Images
November
3 @ Liverpool
8 Europa League Day Four
10 v West Ham
17 v Swansea
22 Europa League Day Five
24 @ Southampton
27 @ Stoke
December
1 v Wigan
6 Europa League Day Six
8 @ Fulham
12 Capital One Cup Quarter-final
15 v Manchester City
22 v QPR
26 @ Manchester Utd
29 @ Arsenal
January
1 v Everton
5 FA Cup Round Three
9 Capital One Cup Semifinal Leg One
12 @ Norwich
19 v Reading
23 Capital One Cup Semifinal Leg Two
26 FA Cup Round Four
29 @ Aston Villa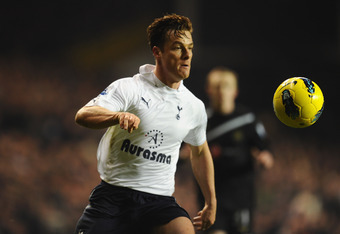 Mike Hewitt/Getty Images
February
2 v Chelsea
9 @ Tottenham Hotspur
16 FA Cup Round Five
23 v Southampton
24 Capital One Cup Final 
March
2 @ Swansea
9 v Stoke or FA Cup Quarterfinal
16 @ Wigan
30 @ Manchester City
April
6 v Fulham
13 v Sunderland or FA Cup semifinal
20 @ West Brom
27 v Liverpool
May
4 @ West Ham
11 FA Cup Final
12 @ QPR
19 v Arsenal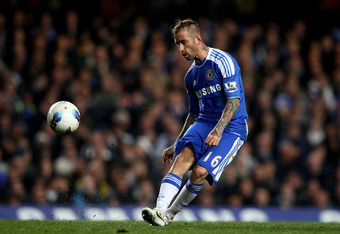 Julian Finney/Getty Images
Getting the big guns out of the way
This is something all Newcastle fans should be thrilled about. After February 10, Manchester City, Liverpool and Arsenal are the only big clubs they will have to face. And guess what, two of those games are at home.
As with last year, the tough games come in patches, with Tottenham Hotspur and Chelsea close by in both August and February. Around Christmas, Newcastle will head to Stoke and Fulham, while Arsenal and both Manchester clubs also await.
From there, however, the gauntlet will largely have been run and they will be free to focus on the easier games.
Avoiding teams at the right time
Last season, Newcastle were unlucky to finish the season with trips to Wigan and Everton (right when both teams traditionally start finding form) and hosting Manchester City with the title race wide open.
This time, Everton can be forgotten about in early January, while the trip to Wigan will be on March 16. Likewise, the only team likely to be facing relegation towards the end of the season will be Queens Park Rangers.
Playing at Stoke's Britannia Stadium on November 27 is not ideal, but at least it's not a couple of weeks later.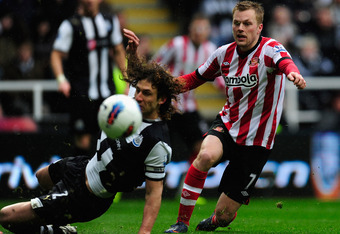 Stu Forster/Getty Images
With their rebuilding phase, Chelsea will take time to fully gel as a squad, so it's better to get them out of the way early.
If Manchester City start quickly again, there is a good chance their momentum will have been slowed dramatically by the time the two sides first meet in December.
Plenty of rest before the derbies
This is one of my favourite features of the schedule. The first Tyne-Wear derby is October 20 on the back of two weeks' rest. For the second game in April, there is again a full week between clashes, so a full-strength squad will almost certainly take the field, barring injuries.
The Europa League doesn't interfere greatly

First, the Europa League won't cause an early start to the season, as European qualifications have been known to do. Unfortunately, the play-offs will mean there is a short turnaround between the clashes with Spurs and Chelsea.
As Champions League winners, Chelsea won't have to go through qualifiers themselves, which is unfortunate.
Otherwise, European football will lead to a short turnaround against Aston Villa, Manchester United, West Brom, West Ham, Southampton and Fulham. It's not yet known which games will be at home or whether there will be games at all (as the qualification stages still have to be won).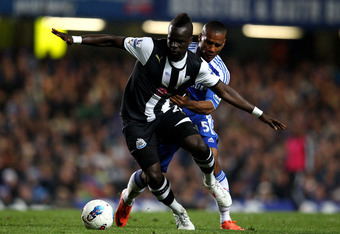 Julian Finney/Getty Images
However, Days Two and Six of the comeptition are the main problems, while the latter can possibly be almost completely shrugged off pending the table at that stage.
It could be a whole lot worse.
The African Cup of Nations
This is not a collection of words any Newcastle fan enjoys seeing together.
The tournament will be held between January 19 and February 10, and will probably see the absence of Papiss Cisse, Demba Ba (if he's still a magpie) and Chieck Tiote among others who may yet sign.
On the bright side, Chelsea will also be affected by the loss of its African players, although their European and South American stocks are beginning to look decent. There is also the chance Spurs will miss a player or two, depending on Cameroon.
Otherwise, games against Reading and Aston Villa will have to be played without the full complement of stars. With a trip to Swansea and a game against Stoke shortly afterwards, it may be hard for the club's African strikers to find form quickly.
On the whole
Just in case the title doesn't make it clear enough, I'm happy with the schedule. Rescheduled games and cup fixtures are yet to feature, but what is available looks reasonable.
I wouldn't expect an unbeaten streak of 10 games to start the season again, but some momentum can be picked up during September with some relatively easy teams.
December will be when everyone's depth is severely tested, and Newcastle haven't gotten off lightly. But if they can forge through that icy gauntlet, they should fancy their chances of finishing strongly with European football in mind.