Los Angeles Galaxy vs. Portland Timbers: Rating the Galaxy Players
June 18, 2012

Victor Decolongon/Getty Images
Hmmm, now this is going to make for some rather, how should I say it...
Oh yes, positive ratings.
Bruce Arena's Los Angeles Galaxy have won a game. Yes, that's right, the Galaxy have won a game, defeating the Portland Timbers 1-0 in a Sunday match at the Home Depot Center that should have seen more production from both sides of the scorer's table.
Todd Dunivant's 61st minute header was all the difference for a Galaxy side that played some pretty good defense and took advantage of the long international break.
It's a perfect confidence booster heading into a midweek crunch match with Real Salt Lake at Rio Tinto Stadium.
Time for some player ratings. Here we go.
Josh Saunders: 9
Here, ladies and gentlemen, is your man of the match. Saunders is paying dividends after going through some counseling to get his whole mind, body and soul in order. Saunders made four saves, but was helped up by an inspired performance from the Galaxy back line.
Sean Franklin: 5.5
Didn't have to do too much in the back. Made some stops, did some clearance work, but didn't have to do too much.
David Junior Lopes: 4
Along with Chad Barrett and Bryan Jordan, David Junior Lopes didn't look too good out there. Lopes wasn't flat-out awful, but he made one too many giveaways, and it's a bad sign when they start to pile up. If he starts against Real Salt Lake, the home team will smell blood in the water.
A.J. DeLaGarza: 7
I tend to give DeLaGarza consistent ratings every time because he is the best man out there on the back line. When it becomes just another day at the office, and you mark off the items on your checklist as a defender, you're doing something right. And this was just another day at the Victoria Stree front office for A.J.
Todd Dunivant: 7
First goal since May 2010 for the Iron Man, how about that. Great extension to reach out for the David Beckham corner in the 61st minute, and did well to hold Kalif Alhassan, Kris Boyd and Danny Mwanga at bay. The Galaxy's scoring potential can become more well-rounded when defenders like Todd Dunivant finish chances that come their way.
Bryan Jordan: 5
What amazes me about all of this is that Bryan Jordan is still on the team. He has a poor touch, can't string a set of passes if his life depended on it, and gave away one too many balls. That, dear readers, is why he is showcased primarily with the reserves and not with the first team.
David Beckham: 7.5
I raise my white flag in terms of David Beckham not going to the Olympics. Stuart Pearce has defied my wish, and so I personally curse Team GB with a bold prediction that they will not win a medal in London, period. There, I said it.
That said, this was just another match in Beckham's ongoing training for the show later this July. While most of his set pieces never materialized, the one that did in the 61st minute  for Todd Dunivant is the type of delivery that could actually help the Brits do something meaningful at the Games.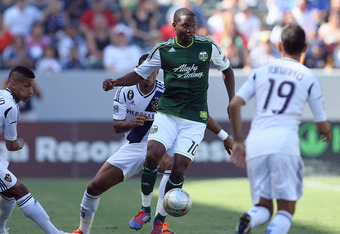 Victor Decolongon/Getty Images
Juninho: 6
Juninho had a quiet game and didn't get a lot of touches. Any attempts at a volley were blocked rather easily, and passes he tried to make were snuffed out. Then again, a quiet game is better than a bad one, since he didn't anything that jeopardized the team's chances to take all three points.
Marcelo Sarvas: 6.5
I'll give Marcelo Sarvas an extra .5 for some flair that didn't amount to much in the long run but did impress the casual fans at the match.
Sarvas needs to have this mentality: get the lead first the no-frills way, then when you have a manageable advantage, go ahead and shine up that first touch for the fans. Perhaps this will be something Sarvas can consider as the current gauntlet of matches continues for the Galaxy.
If Landon Donovan scored in this match (which he should have, 15 minutes in), he would have taken the Man of the Match award from Saunders. That's not to say Donovan didn't have a great game. This is a captain who wanted to step his game up after spending time with Clint Dempsey and the USA Men's National Team. He didn't activate his personal Beast Mode against Guatemala, but he sure did on Sunday, and nearly had a brace to show for it.
If Donovan can continue this intensity, it will rub off on the players and Real Salt Lake might actually have a contest on their hands.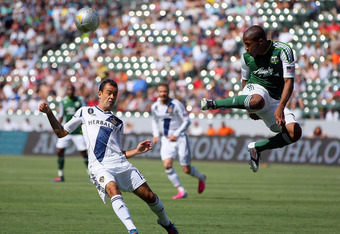 Victor Decolongon/Getty Images
Chad Barrett: 4
This should surprise no one: Chad Barrett's finishing is so terrible that the Carolina Railhawks wouldn't lift a middle finger to him if they tried. Another lamentable effort marred by poor finishing. At least Robbie Keane can actually put the ball in. Can't wait for the Boy in Green to come back to the Men in White.
Jack McBean NR
Kyle Nakazawa NR
Came into the game late, no rating given.