5 Reasons Boise State Football Will Succeed in the Post-Kellen Moore Era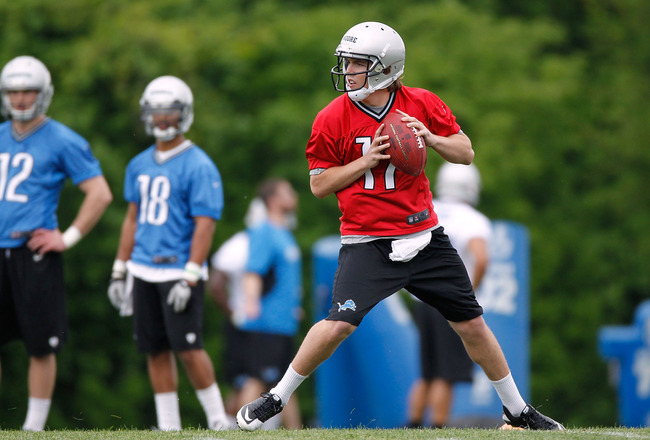 Gregory Shamus/Getty Images
Boise State fans will miss Kellen Moore immensely, and why wouldn't they? The 50 wins that Moore had as a four-year starting quarterback for the Broncos are the best in NCAA history.
What makes that even more incredible is that he only suffered three losses while leading the BSU offense, and all of those losses came as a result of poor kicking and by a total of five combined points.
He was the first Heisman finalist in school history, and even had an award renamed in his honor. The Touchdown Club of Columbus renamed its quarterback award "The Kellen Moore Award" after the prolific passer won their award two years in a row.
Moore also landed a massive number of other awards and accolades that begin to sound like alphabet soup if you try to list them all.
In his entire collegiate career, fans and critics alike are hard pressed to name one game when they can claim Moore had a "bad game". Think about that accomplishment. What other QB in college history can you say that same thing about?
Now, after years of the reliable quarterback behind center, Bronco fans are mourning the loss of this once overlooked recruit out of Prosser, Washington. To think that the only schools to give Moore a look out of high school were Idaho, Eastern Washington and Boise State is almost unfathomable. However, to say he made the right choice of his limited options, would be an understatement.
Another understatement would be to say that it will be difficult to replace Moore. In fact, that task may prove to be impossible.
However, the Broncos will continue to be the Broncos, and although they will miss Kellen Moore very much, his loss will not stop Boise State from the continued success they have experienced over the last decade.
Let's look at five reasons why the Broncos will succeed in the post Kellen Moore era.
Kellen Raised the Bar
Geoff Burke/Getty Images
One of the reasons success will continue for Boise State is the fact that players like Kellen Moore keep raising the bar.
Every quarterback hopeful who comes after Moore will look at his example. They will look to build on the foundation that Kellen has created in hopes of adding their own wing of success.
Yes, it will take special kinds of individuals to accept the challenge of playing in Moore's shadow, but that is exactly the point. Recruits from all over the nation will want to play the position of quarterback for the Broncos simply because of Moore's history.
Kellen Moore raised the bar, and in the coming years Bronco fans can expect it to pay dividends. With the addition of Nick Patti this year, and what that has done to the quarterback competition, it appears to already be paying off.
Moore's Era Elevated the Program Itself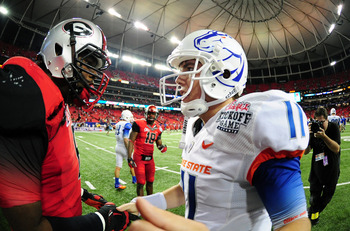 Scott Cunningham/Getty Images
The Kellen Moore era elevated the entire program.
The success Boise State has had in the past four years has elevated the program to a level of success few could have imagined. It has brought much more attention to the Broncos and allowed them to get better in many areas.
The stadium is currently getting a much needed expansion with new locker rooms, coaches offices, weight rooms and a recruiting lounge. Which should only help the program as it goes forward.
Also, the increased revenue that is expected when the Broncos join the Big East Conference in 2013, along with the additional exposure in several recruiting zones as part of that newly expanded conference, all point to future and continued success for Boise State.
If the Broncos have been able to do what they have done on a very limited budget and resources, imagine what happens when all of those things increase?
Kellen Moore and the rest of last years amazing senior class will be missed by Bronco fans, but their legacy has put BSU in a place to continue its historic rise.
The Broncos Have Never Been a One Man Show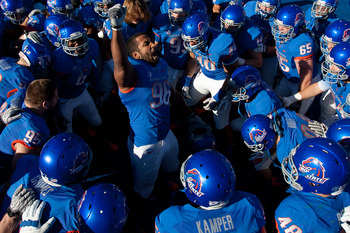 Otto Kitsinger III/Getty Images
The Broncos' success has never been about one player.
Chris Petersen builds a team with a family environment. Every player has his role and every player is important. Now, that is not to say that some players don't have a bigger impact than others, but Petersen doesn't put all of his eggs in one basket.
Kellen Moore did some amazing things at Boise State and coach Petersen positioned and planned the offense around his strengths. You can bet that Petersen will do the same thing with whoever replaces Moore.
There are a lot of talented players still on the roster for Boise State, and the team concept is just as strong as it has ever been.
Look for Petersen to continue to promote the family atmosphere and design his plan of action around the talent he has.
A Solid Receiving Core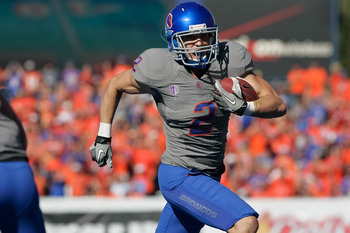 Otto Kitsinger III/Getty Images
Speaking of those strengths...
In the short term, whoever wins the quarterback battle will have a lot to work with. This season the Broncos will have an excellent receiving core. From tight ends to wide receivers and even running backs, Boise State has a ton of talent that can catch the ball.
Geraldo Bolewijn, Mitch and Dallas Burroughs, Kirby Moore, Aaron Burks, Chris Potter, Troy Ware and Matt Miller will all be back as wide receivers. Meanwhile Gabe Linehan and Chandler Koch will return as tight ends.
Add to that mix some exciting newcomers along with redshirt freshman and a couple of running backs who can bring down passes with the best of them, and you have a recipe for serious success.
No matter who wins the quarterback competition, they will have a lot of reliable hands to throw to.
Boise State is becoming a home for excellent receivers. This is of course because they are known as a passing offense with a tradition of having accurate quarterbacks.
Look for this kind of success to continue for a long time to come.
Chris Petersen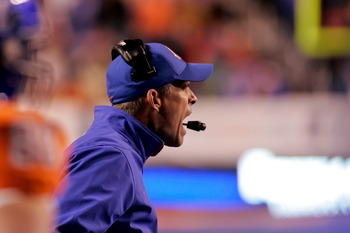 Otto Kitsinger III/Getty Images
Much of the Boise State success has been a result of Chris Petersen.
He would probably say that it wasn't just him, and he would give much of the credit to those around him. Which, is why he is so successful.
He has surrounded himself with quality people. Not just quality players and coaches, but quality individuals. He has made character one of the top things on his checklist, and it is paying off big time.
As long as Petersen remains at Boise State, the Bronco faithful can rest assured that success will continue. Sure, there might be a down year when the Broncos only win nine or ten games, but in any other program that is deemed an overwhelming success.
Petersen doesn't seem to be satisfied with anything but perfection, but he doesn't seek perfection at any cost. He doesn't seem to be a coach who is willing to sacrifice integrity on the altar of success, and for that Boise State fans can be thankful.
A flash in the pan Chris Petersen is not. He is the real deal and as long as he is pacing the blue sidelines of Bronco Stadium, the Broncos will be a top notch program.
Keep Reading

Boise State Football: Like this team?