WWE No Way Out 2012 Results: What's Next for Cody Rhodes After His Latest Loss?
June 18, 2012

Last night at WWE No Way Out, Christian defeated Cody Rhodes to successfully defend his Intercontinental Championship. This came after an awesome back-and-forth match between the two that saw Captain Charisma utilize the Spear for the victory.
As highlighted in the video package that aired this past week on Smackdown, Rhodes claimed he was the one who "wiped the dirt off" the Intercontinental Championship during his near nine-month reign as champion. He was able to restore prestige in the title during that lengthy amount of time and blamed Christian for ruining it by taking the strap off of him last month at Over the Limit.
Over the course of the last month, Rhodes has been determined to prove that the young up-and-comers will always overthrow the seasoned veterans of the roster. Despite that, the former World Heavyweight Champion was still able to defeat Rhodes in a flurry of action at No Way Out.
That being said, only one question begs to be asked: Where does Cody Rhodes go from here?
Since the start of 2012, people have been strongly pulling for Rhodes to receive the rightful main event push he deserves. Although dropping the Intercontinental Championship may have been a blessing in disguise, it was done in such a fashion that it stripped him of all the heat he once had.
Believe or not, but Rhodes hasn't scored many victories since prior to WrestleMania 28, which is never a good sign for something that holds as much potential as this third-generation star. Sure, losing to Christian yet again gives him an excuse to finally leave the mid-card, but it doesn't exactly build him into a dominant force as he moves into the main event scene.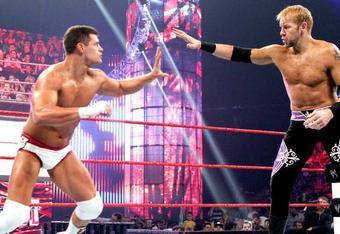 Of course, some will speculate that Rhodes will in fact continue his rivalry with Christian over the prestigious prize. I don't have any major issues with that scenario since both are such great workers, but what reason does Rhodes have for earning yet another shot at the Intercontinental title after failing to capture it on two separate occasions?
While I'm in full support of Rhodes receiving a main event level push, one must wonder what the consequences could entail. The only top face on Smackdown at the moment that's worth feuding with is World Heavyweight Champion Sheamus, and if history has taught us anything, then Rhodes will be quickly buried should he enter a rivalry with the Celtic Warrior.
It's been heavily rumored in recent months that management is high on Rhodes and his work ethic, with it being suggested that a move to Raw be necessary in order for him to fully reach his potential. A possible feud with WWE Champion CM Punk has been pitched, but not many viewers would see him as a threat to the title due to his multiple losses as of late.
As we approach the annual Money in the Bank pay-per-view, I hope to see Cody Rhodes participate in Smackdown's version of the Ladder match (if they opt to once again separate the brands this year) and go on to win it, but one can only hope. He's proved in the past that he's worthy of the top-level push he's bound to receive; it's just the matter of timing and whether he can handle the heat when given the correct opponent to work with.
It will certainly be interesting as to what role Rhodes plays in coming weeks and whether his feud with Christian culminated at No Way Out or he's still in chase mode for the title going forward. What do you believe is next for Cody Rhodes after last night's pay-per-view event?
Be sure to drop a comment below with your thoughts on Cody Rhodes' latest loss and what the future holds for the former Intercontinental Champion. As always, your criticism and overall feedback of my latest piece is welcomed and greatly appreciated.
GSM out.
Visit my website at Next Era Wrestling as well as listen to my SAVE US GSM radio show that airs every Tuesday night at 9/8c for more of my thoughts and writings, along with WWE/TNA news, reviews, recaps and more.
Listen to Internet radio with Spoilerspodcast on Blog Talk Radio