10 Encouraging Signs Heading into the Detroit Lions 2012 Season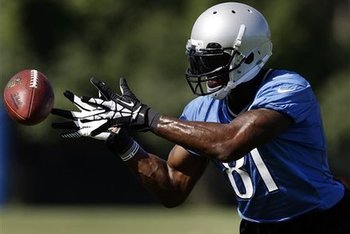 Photo via sports.yahoo.com
If there is one thing fans of the Detroit Lions have gotten used to over the years it's being discouraged. Decades of inept management, playoff failures, untapped potential and an 0-16 season will do that to a fanbase.
Yet in 2012 there's hope, and plenty of it. Even with all the recent drama.
Fans simply need to face facts: The Lions are not choirboys. While marijuana arrests and in-house brawls have turned the offseason into a bad episode of As the World Turns, that doesn't mean the season is already down the tubes.
In reality this team is no different than any other. These things happen in the NFL every day and it's better they happen now rather than later.
Finding the silver lining hasn't always been easy in Detroit, but this year is different. There are scads of encouraging signs that should bring optimism to a city that desperately wants and needs a winner.
Here are 10 signs that should make Detroit forget about the drama—it's in the past—and refocus on the Lions chances for unprecedented success in 2012.
10. Jim Schwartz's Strong Leadership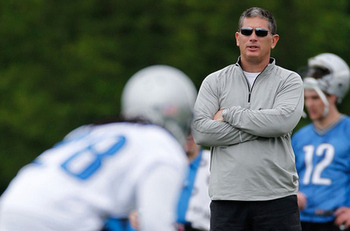 Photo via prideofdetroit.com
It's really a testament to how far the Detroit Lions franchise has come that, despite all the offseason shenanigans, the team is still heading in the right direction.
In years past such drama might have derailed the season and sent the team careening off a cliff.
Not so with this Jim Schwartz-led bunch. It's amazing what solid leadership can do.
Schwartz allows his players to make mistakes. He doesn't run to the media to rip them or send a message. He takes care of things within the context of the team.
Players respect that and they play hard for him. Nick Fairly and Titus Young—two players at the heart of the drama—have been the most impressive players in camp.
The media and fans should show their respect as well. Too often Schwartz is criticized for not "dropping the hammer" on players like Ndamukong Suh or Fairley who make repeated mistakes. He was also faulted for not getting control of the team in the midst of the "dirty Lions" fervor.
Perception is not always accurate, though. No one really knows what goes on behind closed doors.
It's time to trust the head coach. The proof is in the pudding. The team has come out of rough waters with no lingering effects. The focus is back on preparing for the regular season.
Schwartz has got the Lions right back where they should be and in a position to be successful. Isn't that what a great leader does?
9. Rookies Will Make a Signficant Impact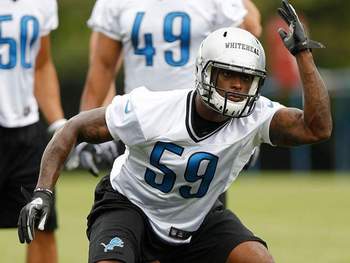 Photo via freep.com
Detroit Lions GM Martin Mayhew's draft success has been well-documented. In fact, when compared to his predecessor, Mayhew looks like a genius.
Even without the failures of Matt Millen to make him look good, he deserves high praise. He's drafted quality players who have lived up to expectations—and in many cases surpassed them.
Look closely at the Lions roster. At every key position there is a Mayhew draftee. His players anchor this team and are the reason the Lions are poised to have a historically successful year.
2012 was another banner year for Mayhew in the draft. Granted none of these rookies have played a single down of football, but early reports are positive.
Riley Reiff is as good as advertised and the Lions already said he will get significant playing time this year. Ryan Broyles was a controversial pick, but his critics have been forced to reconsider.
He's well ahead of his scheduled rehab and has looked impressive thus far. He will be another weapon for Matthew Stafford to target and could be used in the return game as well.
According to MLive.com, Tahir Whitehead, a fifth-round pick, has surprised everyone with his strength and speed thus far.
Add in a handful of defensive rookies who will make the special teams and the secondary better and you have a draft class full of players who will make immediate impacts on the team.
2012 could end up being Mayhew's best draft class yet.
8. Aaron Berry's Improvement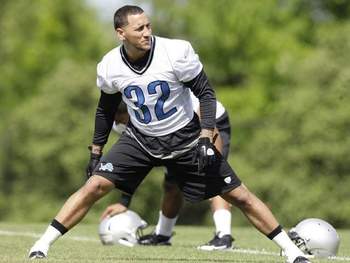 freep.com
The Lions lost one starter to free agency this offseason, cornerback Eric Wright. He was a solid veteran who played in all 16 games.
The Lions secondary struggled mightily at the end of the year. Injuries were the main culprit but upgrades were needed too. That's why the loss of Wright stung. Who was going to take his place?
Aaron Berry has thrown his hat in the ring and made quite a statement during OTAs. According to MLive.com's Anwar Richardson, Lions defensive coordinator Gunther Cunningham was impressed that Berry had put on some weight and he stood out with his play on the field.
He's most familiar with the Lions defense and he showed it. So far he has the starting cornerback spot vacated by Wright locked up.
This is an encouraging sign. Berry was one of the cornerbacks on the field when the Lions got torched by Green Bay and New Orleans to end the year. There were serious doubts about whether he could be a starter.
There's still a long way to go until the regular season, but he's showing growth and he's well ahead of his competition.
That's exactly where he should be.
7. If Needed, Willie Young Could Fill in Nicely for Cliff Avril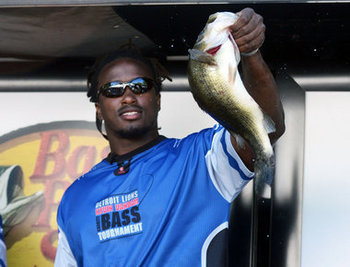 MLive.com
The most discouraging development for the Lions this offseason has nothing to do with drug arrests or infighting. It has everything to do with contract negotiations.
Cliff Avril remains unsigned and there's no indication when the two sides will meet. It's still amicable, but Avril wants a long-term deal and the Lions are balking.
He's yet to participate in any team activities and it's beginning to look like a holdout situation.
Avril is clearly a catalyst for the Lions defensive scheme and they are far better with him on the field.
With that said, there might be a viable alternative.
When he's not participating in bass tournaments, Willie Young has quietly developed into a monster pass-rusher. The seventh-round pick in 2010 saw limited action in 14 games last season and recorded 14 tackles and three sacks (stats courtesy of ESPN).
More importantly, he passes the eye-test. His numbers don't jump off the page, but when you watch him he's always active and more often than not he makes a play. His forced fumble on Drew Brees last season was a great example (h/t detroitlions.com).
Young is young, and raw, but he's consistently shown improvement. In fact, Mayhew recently predicted that he'll have a breakout year (h/t MLive.com).
He might experience some growing pains in full-time duty, but the Lions could do a lot worse than Young if Avril is out for an extended period of time.
6. The Offense Is 'Complete' with Mikel Leshoure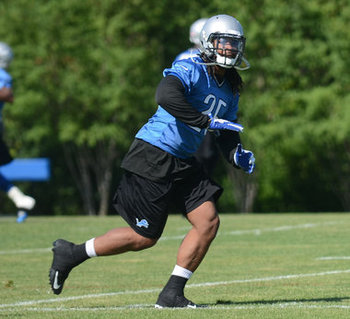 MLive.com
The Lions haven't had consistency from the running back position for many years. It's been well-documented and mostly attributed to a rash of unfortunate injuries.
The result is an offense that—while highly effective—has been incomplete. Even when Jahvid Best was on the field the offense wasn't considered a "finished product." That's because Best was never drafted to be the primary ball-carrier.
From day one Scott Linehan envisioned Best as a slashing change-of-pace back that would be used in the passing game just as much as the running game.
In 2011, the Lions drafted Mikel Leshoure to complete their offensive plan. He was to be the workhorse back that could pick up the tough yards between the tackles. This would allow the Lions to use Best as they had always intended to.
Unfortunately, Leshoure suffered an Achilles injury before playing a single down and the Lions plans went up in smoke (no pun intended).
Fast forward to present day and the Lions have not given up on their original vision for the offense. Leshoure is now healthy and he will finally take on the role they drafted him for. Best is clearly the more dynamic player, but Leshoure's presence allows the Lions to do much more.
It also puts opposing defenses at a greater disadvantage. The Lions can rush inside, outside, throw short passes out of the backfield and everyone knows what the passing game can do.
5. The Play of Titus Young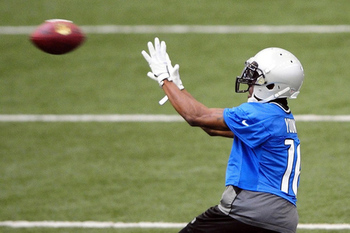 prideofdetroit.com
Given Young's actions this offseason, the above title might get a few eye rolls.Young was wrong when he sucker-punched Louis Delmas. He admitted it and everyone has moved on.
Anyone who's watched him play knows that he is an emotional player, though. That emotion can work both for him and against him. He made some glaring mistakes on the field last year related to unchecked emotion, and that has to change.
There are encouraging signs that might happen. After the incident with Delmas, Young faced the negativity like a man and went to work improving his play. His performance during OTAs has been described as "outstanding" by Jim Schwartz in this article from freep.com.
He's looking like a much-improved player, catching every pass thrown his way and showing the potential to be a legitimate 1,000-yard receiving threat like the Lions drafted him to be.
He's also been given the chance to showcase his playmaking ability in the return game.
With improved technique and an enhanced role, Titus Young will have a huge year in 2012.
4. Nick Fairley's Emergence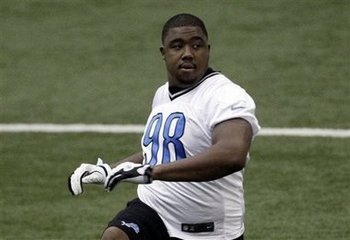 auburn.mentalbreeze.com
Like Titus Young, Nick Fairley's offseason has not been easy. He's been the focus of media attention for all the wrong reasons and has brought negative attention on the Lions because of it.
His two drug-related arrests fueled more talk about the out-of-control Lions and the need for greater punishment.
It was extremely poor timing as the Lions offseason had been filled with great excitement as they are poised for another winning season.
Fairley can't change his actions and he will likely receive a suspension from the NFL. The only thing he can do is put in the work on the field and by all accounts he has certainly done that.
In fact, he's been one of the most impressive players to watch this offseason.
Here's a quote from Martin Mayhew from freep.com:
He's worked his butt off, he's in great condition. He's done some things out here on tape just running around that make you run the tape back and go, 'Who is that?' He has tremendous, tremendous talent level and hopefully he can fulfill that.
The biggest thing is that the foot injury that slowed him down last season appears to be fully healed and Fairley won't be limited in any way. He came to camp in great shape, and he's working hard on the field and in the film room as well.
A focused and healthy Fairley should be more than enough for Lions fans to get excited about.
3. Jahvid Best's Health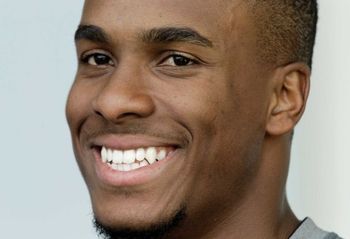 mysanantonio.com
It wasn't that long ago that the general feeling around Detroit was that Jahvid Best would never play again. After suffering his third concussion and missing 10 games with related symptoms, there was no evidence he'd return.
For Lions fans, the worst-case scenario was playing out—yet again.
He did return, though, and he's been an active participant in all offseason activities so far.
Since returning to practice his speed and quickness have been on display and he's shown no ill effects from the concussion or the missed time.
Martin Mayhew has been so impressed that he's predicted Best will be a breakout star and have the best year of his career.
He's yet to put on pads or take a hit, but his progress is undeniable. That's great news for the Lions, particularly Scott Linehan. Now he'll be able to use Best in the "Reggie Bush/Darren Sproles" role he was always meant for.
The offense will be even better for it. Best is a home run hitter and gives them a level of unpredictability that they lacked after he went out.
The Lions offense will become more dangerous? Now that is encouraging.
2. Ndamukong Suh Being Used in Different Ways
freep.com
Regardless of what you think about Warren Sapp, he got it right when he criticized Gunther Cunningham for continuing to use Ndamukong Suh in a predictable way. Here are Sapp's comments from Dave Birkett at freep.com:
I like Martin Mayhew, so I'm like, 'Somebody want to put him on the right side a little more? Jesus, you put the man in a position where he's here, and now people have wham blocks and all that because they know he's right there every time. When I was (alternating sides), you had to map this thing out. He's right there every time. I'm like, 'Come on, Gunther, stop it.' And then you put (Nick) Fairley behind him? Oh, so we don't get to see them side by side?
Amidst all that hot air, there's a really good point in there—trust me.
Suh's disappointing 2011 season was a testament that teams had figured out how to game-plan for him. His sack numbers fell from 10 to four and he wasn't the same playmaker that took the NFL by storm his rookie year.
CBS.com's Pete Prisco was right when he said that Suh is the most overrated player in the NFL. Based on last year that is true.
The Lions aim to change all that, though. They've heeded Sapp's advice and have started shifting Suh around and using him in more creative ways. In the freep.com article Cunningham said, "I'm going to move him all over the place now." They'll also pair him with Nick Fairley early and often.
Those two wrecking balls should dominate the line of scrimmage.
Suh's versatility makes this possible and the Lions pass rush will certainly benefit from it. He should return to form and another Pro Bowl selection is not out of the question.
1. Matthew Stafford and Calvin Johnson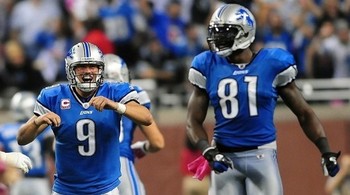 themajors.net
If all else fails, simply look at who's taking snaps for the Detroit Lions and who he's throwing the ball to. With Matthew Stafford and Calvin Johnson on the field the Lions have two legitimate superstar players who always give them a chance to win.
They are arguably the most talented quarterback/wide receiver tandem in the NFL. Stafford might still be behind greats like Tom Brady and Drew Brees but only based on reputation and longevity. On ability, he's right there.
Johnson has already proven he's the best wideout in the league.
Together they've brought excitement, and more importantly winning, to the Motor City and they're more responsible than anyone for the number of primetime games on the Lions' schedule.
They've made the team relevant and desirable to watch.
Both players had statistically their best season in 2011. The scary thing is, they both have the potential to be even better.
It's been a long time coming, but the Lions finally have their franchise cornerstones, and with them in the fold, fans will always have something to be encouraged about.
Keep Reading

Detroit Lions: Like this team?