Kentucky Basketball Recruiting: Ranking John Calipari's Recruit Wish List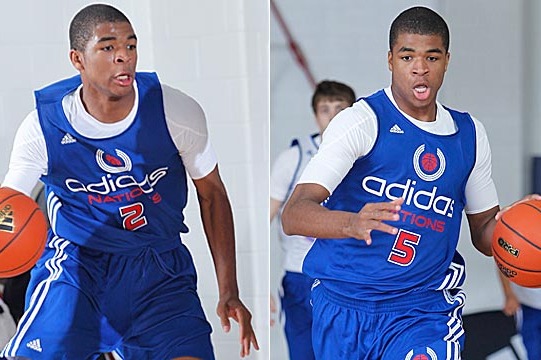 Image via CBSSports.com
Kentucky basketball never sleeps. Well, the coaches don't anyway. The best recruiting program in the country for the past three years is always making news for new scholarship offers or new players enticed to play in Lexington.
It is never too early to look ahead to potential Kentucky basketball recruits. John Calipari goes after the best, no matter what class.
Here, we'll rank some of the best recruits that Calipari has his eye on, regardless of class. Of course, ranking every recruit that has expressed interest in being a Wildcat would be nearly impossible, so we'll take a close look at some of the highest profile recruits that Calipari is courting.
Every one of these players would be a great addition in Lexington, and chances are Calipari won't land them all. Ranking them seems trivial because each one is highly coveted, and each brings his own unique skills.
Keep your eye on: James Young (2013), Julius Randle (2013), Chris Walker (2013), Troy Williams (2013), Jordan Mickey (2013), Marial Shayok (2014), Noah Vonleh (2014), Emmanuel Mudiay (2014) and many, many more.

Depending on how well this article is received, I may be doing more articles dealing with Kentucky basketball recruiting. Feel free to give me feedback as you see fit.
Begin Slideshow

»
Image via NationOfBlue.com
Earlier this offseason, I wrote this article on Tony Trocha and his interesting recruitment. He needs sufficient SAT scores to be classified in the 2012 class, so he may stay in the class of 2013.
If he can't reclassify, Kentucky will have a much harder time landing his talents. More schools will see him play in the Olympics for his native Colombian team, which will no doubt spruce up interest.
Recently, Trocha dropped 24 points and 10 rebounds in a FIBA U-18 match against Mexico (via WildcatBlueNation.com). Not a bad performance for someone who was unheard of just months ago.
Trocha makes the tail-end of this list because he is still an important recruit. Kentucky and coach John Calipari recruited him hard this summer, and the quotes in the aforementioned article confirm that there is mutual interest.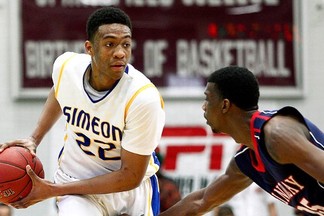 Image via ESPN.com
There aren't too many lists where you'll find Jabari Parker not at the top.
This is one of them.
Let me say this: I love Parker's game. He'll be one of the best wings in the game, and the Sports Illustrated title of "Best High School Basketball Player Since LeBron James" reflects that.
But in a loaded 2013 class, it is possible to obtain a top class without landing the top recruit. Some scouting services have the audacity to question whether or not Parker is the best high school basketball player.
So who is?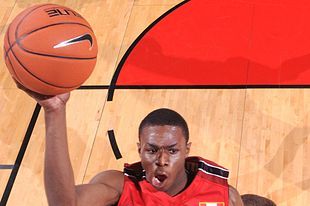 Image via CA.Sports.Yahoo.com
Andrew Wiggins, that's who.
CBS Sports states that Jabari Parker is "...not even the best high school basketball player right now." That title belongs to Wiggins, a member of the 2014 class.
We know the 2013 class is stellar, and Big Blue Nation is expecting a huge haul. But not as much is known about the 2014 class, which makes Wiggins much more attractive. He is hands down the top prospect in his class.
Should Wiggins reclassify to the 2013 class, we'll have a monumental dispute as to who deserves the top rank.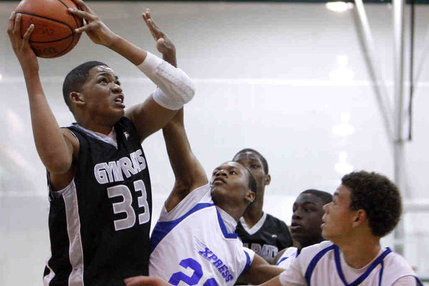 Image via Philly.com
John Calipari has quietly transitioned from a premium point guard coach to one of the best at coaching big men.
Check out his track record: DeMarcus Cousins, Enes Kanter, Anthony Davis, Nerlens Noel.
That's why Karl Towns, Jr. is so high on the list. As talented as Jabari Parker and Andrew Wiggins are, Towns would be yet another dominant big man coached by Calipari.
He is a man among boys in the 2015 class—literally. At 16 years old, he is 6'11", 225 pounds. He's playing on the Dominican Republic national team, he's been compared to Kevin Durant and Dirk Nowitzki and he's being coached by Calipari this summer.
It's safe to say Calipari has the leg up in his recruitment.
Image via WildcatWorld.com
The Harrison twins come in at No. 1 in a high-profile wish list for Kentucky coach John Calipari.
No, they are not the most talented on this list. That title would go to Jabari Parker or Andrew Wiggins, and you can decide that for yourself.
Andrew and Aaron Harrison are at the top because they are a package deal. Pretty nice for two five-star players. Landing both would almost certainly put a recruiting class at the top.
If they love playing together so much, why not stay in college all four years?
Wishful thinking, but if both stayed more than one season, their value would increase dramatically. They deserve the top spot on this list.