WWE No Way out 2012 Results: Grading Each Wrestler on the Card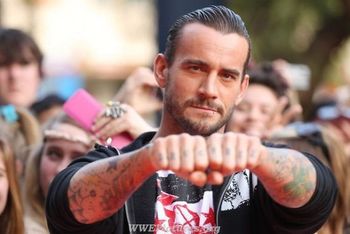 The first thing I'm going to say is this: going into No Way Out 2012, my expectations were very low, but it ended up being a fairly exciting Pay Per View event. Just like any other PPV, No Way Out had its ups and downs, but the WWE did a pretty solid job of constructing a solid event.
Some feuds were settled, while others are just starting. HHH issued a challenge out to Brock Lesnar for SummerSlam and that story will be interesting to pay attention to throughout the next month.
Some matches more than exceeded expectations, while others led to a "boring" chant from the crowd. Here is the overall grading for every wrestler that was on the card for No Way Out.
Sheamus vs. Dolph Ziggler: World Heavyweight Championship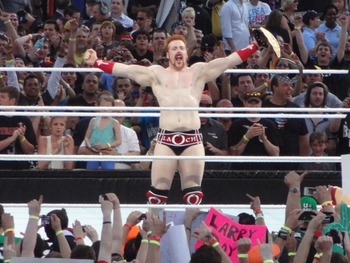 Result: Sheamus defeats Dolph Ziggler to keep the title.
The WWE wasted no time in getting the crowd excited, as the Sheamus vs. Dolph Ziggler match for the World Heavyweight Championship did not disappoint.
The match started with memories of Wrestlemania, when Sheamus won in a record 18 seconds after landing the brogue kick almost right after the bell rang. Ziggler leaned in for a kiss from Vickie Guerrero and just avoided the brogue kick as he came out of his corner.
The match was pretty even throughout, and there were multiple moments where it looked like Ziggler was going to finish Sheamus with either a DDT (he landed two of them) or the sleeper hold, which he attempted three different times.
When Ziggler went in for his third sleeper hold, Sheamus broke out of it and landed White Noise—after leading the crowd in his infamous "Brogue" chant. Ziggler walked right into the big kick and was down for the three count.
Final Thoughts and Grades:
An entertaining match, but I think it could have gone a little bit longer. Although it wasn't an extravagant match by any stance, both guys succeeded in setting the tone to No Way Out.
But my god, was Vickie Guerrero unbelievably annoying ringside.
Sheamus: B+
Dolph Ziggler: B-
Vickie Guerrero: F
Santino Marella vs. Ricardo Rodriguez: Tuxedo Match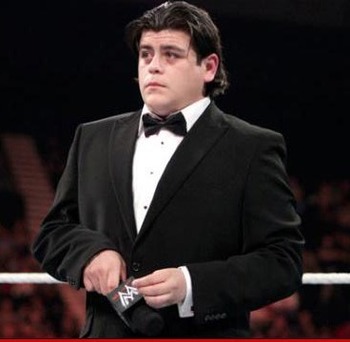 Result: Santino Marella defeats Ricardo Rodriguez
This match was added to the card late and had unbelievably small expectations—and still failed to meet them. After an entertaining match to open the coverage, the tuxedo match was just a complete waste of time.
What was attempted to be a comedic match turned into an absolute embarrassment of the WWE as a whole in my opinion.
After being stripped, Rodriguez had Alberto Del Rio's face on his underwear, and what was supposed to create a laugh just added to the ridiculousness of the match as a whole.
Final Thoughts and Grades:
There should never be another tuxedo match. The crowd said it best as they chanted "boring" throughout the entire bout. The United States Championship belt lost almost its entire credibility.
Santino Marella: D+
Ricardo Rodriguez: D-

Cody Rhodes vs. Christian: Intercontinental Championship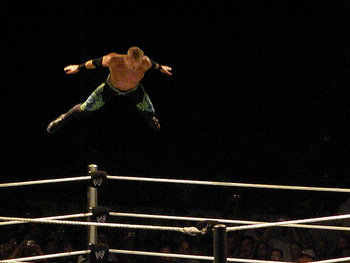 Result: Christian defeats Cody Rhodes to keep the title.
This was a match that defied all expectations in my mind. It is good to see that Christian still has it throughout all the years, and he was great in this match. I haven't seen a lot of Cody Rhodes, but he was also just as solid.
The only problem that I had with the match is that the WWE is seemingly trying to prove that the code breaker is not a legitimate closer, as Rhodes kicked out of it after Christian landed it perfectly.
Rhodes landed a huge Alabama slam, and countered Christian's frog splash. At this point, it seemed like Rhodes was going to find a way to finish it, but after a fantastic ending sequence, Christian landed the spear and it was all over.
Final Thoughts and Grades:
A great match that displayed the talents of two excellent wrestlers on the WWE roster. It was mentioned that Christian had recently indicted long time buddy Edge into the Hall of Fame, and it seemed right that the spear was what ended the match.
Christian: A-
Cody Rhodes: A-

Fatal Four-Way Tag Team Match for Number One Contender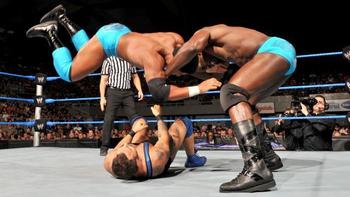 The teams: Primo & Epico, Justin Gabriel & Tyson Kidd, Titus O' Neal & Darren Young (primetime players), Jimmy and Jey Uso.
Result: The Primetime Players Become the Number One Contender
This match was set during the pre-show, and was quite entertaining. At one point, all eight competitors were laid out on the canvas by the runway. For a match that was fairly last-minute, it ended up being an underrated highlight of the PPV. It was nice to see the WWE shed some light on the tag team division, but there were so many people in the match that it got confusing at times.
Final Thoughts and Grades:
It's really hard to give out individual grades because there were eight guys involved in the match. One of the largest criticisms was that there was no tag team event on the card, but this match did not disappoint and was a surprising hit of the night.It will be interesting to see where the Primetime Players go from here, and the one thing I learned is just how much of a beast Darren Young is. I also enjoyed the twist of A.W. backing the Primetime Players over the Uso brothers.
Overall Grade: B+
Beth Phoenix vs. Layla: Divas Championship
Result: Layla defeats Beth Phoenix to keep the title.
I haven't been a huge fan of the Divas division ever since Kharma left, but this was a pretty solid match to say the least. The fact that Layla is absolutely dynamite helped in intriguing me, but from a wrestling standpoint it was a pretty entertaining match as well.
The feud between these two hadn't really been utilized at all in the last few weeks, but it was a good filler match for the card. Beth Phoenix controlled the match for the most part, but Layla had a few counters and landed her Lay-Out finisher to keep the title.
Final Thoughts and Grades:
The Diva division as a whole has gotten stale to me, but both Phoenix and Layla combined for an entertaining match. I don't think the match upped the value of the Divas belt, but it was a fun ten minutes.
Layla: B-
Beth Phoenix: C+

Hunico vs. Sin Cara
Result: Sin Cara defeats Hunico.
Coming from someone who grew up loving Rey Mysterio, Jr., this match really showed how entertaining Sin Cara can be. Even when he ended on the wrong end of the move, Sin Cara showed his athleticism and the excitement that he brings to the ring.
This match was fairly irrelevant to the card as a whole, and had little to no build up, but it was a great filler match and I'm hoping that the WWE will find a way to utilize Sin Cara's ability on a higher level.
La Mistica might also be one of the best finishers out there.
Final Thoughts and Grades:
Hunico is far too animated for me, and it seemed to take away a little bit from the match. Sin Cara on the other hand was fantastic and on a card that was dominated by heavier men he brought some electrifying moves to the PPV.
Sin Cara: A-
Hunico: C+

CM Punk vs. Daniel Bryan vs. Kane: WWE Championship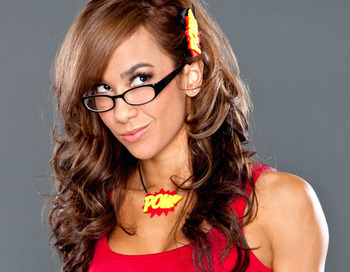 Result: CM Punk pins Kane to keep the title.
This was the match that I was looking forward to the most, and I took away a lot of positives and negatives from the match as a whole. A positive was that CM Punk was at his absolute best, and I'm glad that he ended up regaining the title.
A negative was that Kane was pretty much irrelevant in the match until the very end. I would have liked to see the Big Red Monster land the double choke slam, but it was pretty evident that he was playing third wheel to the Bryan vs. Punk feud.
The other disappointment was that I was really looking forward to see how A.J. was going to be involved in the match, and after such a huge build-up, I wish it would have been something more than what actually happened.
Final Thoughts and Grades:
Judging by the devilish smile toward CM Punk as Kane carried her out of the ring after knocking her out, it appears that A.J. was on Punk's side the entire time. I'm glad that the A.J. fiasco was finally settled, and I think that Punk winning is what was best for the WWE as a whole.
CM Punk: A
Daniel Bryan: B+
Kane: B

Ryback vs. Who Cares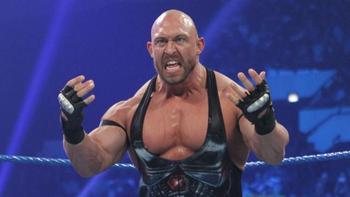 Result: Ryback does what we've all seen for months.
This whole situation frustrates me more and more as time goes on. Ryback has what it takes to become a WWE champion, yet the creative team has failed to build him up. The only thing we got out of No Way Out from Ryback was a new phrase: "Give Me More."
Ryback stomped the two no-names that the WWE placed against him, and continued to dominate everything put in his path.
Final Thoughts and Grades:
Simple. This act is just getting old.
Ryback: C
John Cena vs. Big Show: Cage Match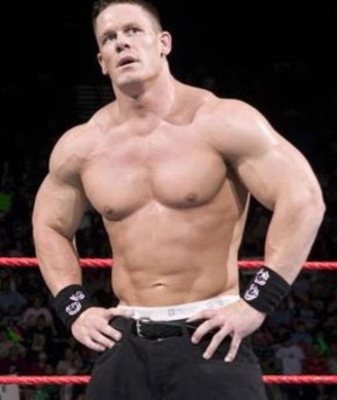 Result: John Cena exits the cage before the Big Show and John Laurinaitis gets fired.
This match was awesome. The Big Show dominated pretty much the entire match, and while everyone knew that John Laurinaitis was going to attempt to interfere at some point, I don't think many people predicted the amount of Superstars that came out of the locker room to aid John Cena in spite of the Big Show.
We've all seen it before, but it was great to see John Cena lift the big man and land the Attitude Adjustment on someone as beastly as the Big Show.
The surprise of the match was the involvement of Brodus Clay. He was the first one down the ramp to help Cena, and he sat at the doorway with a chair trying to get the Big Show to walk right into it. He then went over to hold back Laurinaitis as the race to escape the cage between the Big Show and Cena was going on.
Cena climbed over the cage seconds before the Big Show escaped out the door to get the victory. He then put Johnny Ace in position for the Attitude Adjustment so Vince McMahon could say those famous words: "You're Firrrrred!"
Cena proceeded to plant Laurinaitis onto the announce table and the night was finished.
Final Thoughts and Grades:
The Big Show did a great job at playing the heel role throughout this whole ordeal, and it will be very interesting to see where he goes from here. The other intriguing story will be finding out who is going to manage Monday Night Raw tomorrow, but that's for us to find out. Cena regained some love from the fans that I think he had lost at Wrestlemania, and played the hero role perfectly. Great night all around.
John Cena: A+
The Big Show: A

Keep Reading