Brek Shea Exclusive: FC Dallas Star Talks USMNT, Football, MLS, Arsenal, Tattoos
June 18, 2012

Tom Pennington/Getty Images
Brek Shea been called "one of the biggest young talents" in American soccer by Jurgen Klinsmann. He's trained with Arsenal and at age 22, he's already a regular in the United States national team.
After a breakthrough campaign in 2011, the current season has proven to be more of a struggle for Shea, who has missed playing time through injury and suspension. And Shea was not selected for the United States' recent friendly matches and World Cup qualifiers, a first under Klinsmann.
Shea spoke about all those topics and more when I caught up with him on the phone last week. Here's what he had to say.

MICHAEL CUMMINGS: Hi Brek, thanks for speaking with me today. Let's talk about growing up in Texas. First, how did you get into soccer, and what was it like being a soccer guy deep in the heart of Texas?
BREK SHEA: (Laughs) Yeah, I mean football is everything (in Texas). It's actually grown a lot here. Dallas is a pretty big hotbed for soccer. But growing up in Bryan, Texas, soccer wasn't anything at all. I had to drive all the way to Houston to play on a team.
I remember I was in high school and I quit football and the coaches were telling me I would never get anywhere with soccer, but I could play football or run track or something, but that soccer wouldn't take me anywhere.
MC: So was it harder for you to quit football or to turn pro right after high school?
BS: I liked playing football, but I knew what I wanted to do. So it wasn't that hard. I look back and I miss football, I love watching football, but I'm happy with my decision.
And with going pro, I thought about college for a while and I went on visits, but then I decided, 'This is what I want to do and this is the route I have to take.' So I'm happy with my decision in both.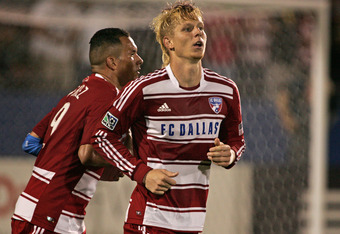 Brett Deering/Getty Images
MC: What position did you play in football?

BS: I played a lot. I kicked everything and I played safety and I was a receiver.
MC: Do you think more Americans will take the route you did—going pro right after high school instead of going to college?
BS: I do. I think especially with these development academies that they're kind of paving the way for people to go pro, especially where they grow up. You look at my team, Dallas, and it has four, five, six guys that they signed from the development academy.
MC: You spent some time training with Arsenal last winter in London. What was that like?
BS: It was a lot of fun. It was a great experience and I learned a lot training with guys like, obviously, Van Persie, who was probably their best player last year. Just seeing what they do on and off the field was great for me, to watch and learn and see. To learn what it takes to play at that level, I think was the best part for me.
MC: 2011 was a breakthrough season for you. This year you had the suspension and now you're dealing with an injury. How would you rate your season so far, both personally and with FC Dallas?
BS: Not very good, to be honest. Whether it's the suspension, injuries or going with the national team or Olympic team…I just haven't had a group of games to get a rhythm, to get going.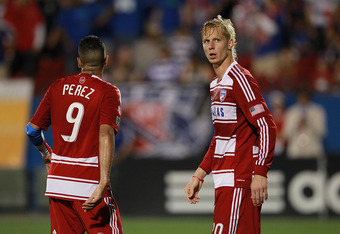 Ronald Martinez/Getty Images
MC: What can you tell us about your future? You were a hot name in the rumor mill not too long ago. Anything to report?
BS: I want to play in Europe at some point. I just have to do it when it's the right time for me, and the right club. It depends on a lot of things.
But I can't complain. I like playing in Dallas. My contract is here for a couple more years, but if the time comes when I feel like it's right and the right team comes and it all feels right, then I want to make a move. I just don't know when it would be.
MC: Let's turn to the national team. What did you make of the Guatemala game?
BS: I've played [Guatemala] before, and it's not fun. I mean, I've done it all at the youth level, but I don't think it's much different, except for the stakes.
I think they could have played better versus Guatemala, obviously, but I know how hard it is, and I know they tried. It's just a hard environment to play in.
MC: For the first time since Jurgen Klinsmann has been in charge, you weren't selected for the national team. When do you expect to get back into the team?
BS: I think just once I get healthy and start playing a lot. I have no doubt in myself and my ability that I'll be back as soon as I get healthy and get a couple games in with my team.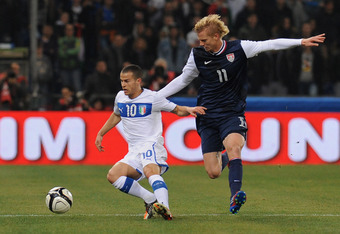 Valerio Pennicino/Getty Images
MC: I read that you have six tattoos. Is that number still accurate, and if so, which one is your favorite?
BS: I don't think that's accurate. I think I have more, but I'm not sure to be honest. My favorite is probably my "Believe" one (on his right leg). It's on my Deuce watch on the bottom. It's my thing: Just believe in yourself, believe in what you do.
MC: You and Deuce Brand teamed up to design a watch. What can you tell me about the watch and Deuce?
BS: I think they're a cool brand. They built me a watch and they did a pretty sweet job, and it captures my personality in it. I like what they stand for.
MC: I've got to ask about the hair. Where do you find inspiration for all your different looks? Do you have anything special planned?
BS: I'm not sure where I get it from. I've just always had a different kind of haircut when I was growing up, whether it was long, short, just something stupid. I just kind of experiment, and I listen to what people say, and I'm like, 'Hey, let's go try it.'
People think there's a lot of thought in it, but there's not. It kind of just happens.
MC: Do you have a prediction for the rest of this season?
BS: I think once I get healthy, I'm going to get back to the form I was in last year and help my team get back on track, because we obviously haven't been playing the best and we've been struggling, too.
And I think when a lot of our players that are injured get back, we'll get in the playoffs and I think we'll do pretty well.
14. Thanks, Brek, I know our readers at Bleacher Report will be really interested to hear what you had to say. Good luck with the rest of the season.
Hey, I appreciate it. No problem.
Brek Shea was speaking at the launch of his "Signature Series" watch with Deuce Brand. For more about Shea's signature watch, visit Deuce Brand's website.