L.A. Lakers: Can They Build a Dynasty Around Andrew Bynum?
June 17, 2012

Stephen Dunn/Getty Images
After seven seasons and a breakout season in 2011-12, 24-year-old Andrew Bynum is now recognized as a tremendous talent with little-to-no leadership skills. 
Can a team build a dynasty around such a dominating player whose demeanor fluctuates about as often as the sun rises and sets? Of course they can. 
The real question is, should they?
Bynum finished the regular season healthy for the first time in his career, an accomplishment in itself.  He rehabilitated his injury-prone knees, improved his conditioning and footwork, and added a few interesting moves around the basket. 
The result was Bynum being named the starting center for the Western Conference in this year's All-Star Game. For the season, he poured in close to 19 points on 56 percent shooting. Bynum's 35.2 minutes of playing time per game were by far the most of his somewhat erratic career, and his 13.3 attempts also represented a new high and almost double the number of shots he took the year before (7.6).
Lakers coach Mike Brown and his staff made a concerted effort this season to get Bynum the ball more often. He and fellow Twin Tower Pau Gasol took an average of 27.4 shots per game, and together they contributed just more than 36 points per game for L.A.
So, what does the future hold for Bynum, and should he be the centerpiece of a new Lakers era?  Except for point guard Ramon Sessions, who is 26 and may or may not in purple and gold to start the new season, the rest of the Lakers starting lineup is a bit long in the tooth.
Gasol, another trade possibility, turns 32 on July 6 and is in dire need of rest, which he won't get until August at the earliest. He is eagerly looking forward to playing for Spain in the London Summer Olympics and could end up challenging for the gold medal against Kobe and the U.S. team.
Small forward Metta World Peace will be 33 on November 13 and is coming off the worst season of his 13-year career. In fact, MWP's numbers have dropped off drastically in each of the three years he has been with L.A., marked by a terrible offensive season in 2011-12 where he averaged just 7.7 points on 39 percent shooting.
Kobe, turning 34 on August 23, is still one of the elite players in the NBA, though his shooting percentage this season dropped all the way to 43 percent, the lowest for him since his second year in the league.
Lakers management has, at one time or another, thought of Bynum as the anchor for a future dynasty.  They recently picked up his option for next season at $16.1 million, but is this the type of player you really want to build a franchise around? 
Despite his impressive numbers, Bynum has proven time and again to be an erratic, often disinterested sort who doesn't join huddles, takes ill-advised three-point shots and displays little passion for being a team leader.
As reported earlier on June 4 by Mike Bresnahan of the Los Angeles Times, there is no guarantee Bynum will be a Laker for life: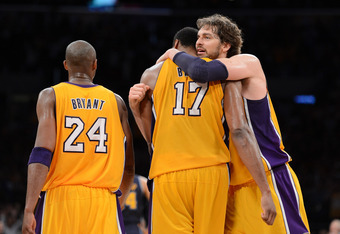 Harry How/Getty Images
Bynum had plenty of ill-conceived moments this season, including a well-documented three-point attempt in the third quarter of a close game at Golden State in March. He was yanked from the game and said afterward it wouldn't stop him from taking more three-point shots. (He didn't.)

The Lakers fined him about $7,500 for his actions stemming from that game.

About a week later, Bynum didn't take part in team huddles during timeouts in a game against undermanned New Orleans because he said he was resting and "getting my Zen on."
One year ago, after their disappointing sweep in the playoffs by the Dallas Mavericks, Lakers legend Magic Johnson strongly suggested that management should "blow up" the team and rebuild. One year later, they have the opportunity to start that process by trading their most valuable young asset, Andrew Bynum.
The smartest thing management could do is trade Bynum now for someone like superstar point guard Deron Williams of the Brooklyn Nets. Bynum grew up in nearby New Jersey and having him in a Nets uniform when the team opens play in its new arena this fall will give them a legitimate young star on the rise.
And it will give the Lakers one of the league's premier point guards, who is still just 27.
Or, the Lakers can move Bynum to a young team like Charlotte or New Orleans, where they might be able to pry loose a few up-and-coming players (Kemba Walker?) and/or a high draft pick. The Hornets have two first-round selections, including the 10th—what about Bynum for that pick plus Trevor Ariza? 
Or Bynum for Ariza, point guard Jarrett Jack and 6'8" forward Lance Thomas?
The bottom line is, trying to build a dynasty around Bynum in Los Angeles would be counterproductive.  For at least the next two years Bryant remains the leader of the Lakers and a fixture in the team's hierarchy.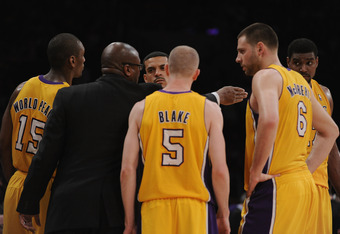 Harry How/Getty Images
Building pieces now around Bryant makes more sense, and the best way to do that is to move young, valuable assets like Bynum. Gasol's $38 million, two-year contract will scare off most teams and bring the Lakers much less in return than if they were to trade Bynum.
Some pundits feel Bynum needs to go because he needs to get away from a ball-hogging, selfish Bryant who wants all the glory, win or lose, for himself. I don't buy that argument, though I understand their point. 
As NBA editor Tim Ziller of SBNation wrote recently, "The Lakers need to build around Bynum, or he's going to go to waste carrying Kobe's luggage. Talk all you want about Kobe's will to win, but even Michael Jordan, the ultimate cutthroat competitor, knew when to share the rock, when to let someone else help."
Whatever the reasoning, these remain Kobe Bryant's Lakers. There is a way to rebuild the dynasty, but not with Bynum at its core and aging veterans surrounding him. 
L.A. should look to move Bynum now when he has the most value. The team can amnesty MWP and possibly trade Gasol for cap relief and a couple of decent shooters.
Moving your All-Star center is not crazy—it's a sound business decision that may just bring the Lakers what they presently lack: youth, depth and a hunger for world championships.