NASCAR's "Nightmare" Is Over: Dale Earnhardt Jr.'s Win Brings Cheers
June 17, 2012

Wesley Hitt/Getty Images
The Associated Press' Jenna Fryer is well-known on Twitter for being one of the more divisive members of the motorsports media corps.
More often than not, her sarcasm is frequently taken the wrong way by sensitive members of particular fanbases, but it didn't stop her from saying what we were all thinking (some of us more seriously than others) when Dale Earnhardt Jr. won today's Quicken Loans 400 at Michigan International Speedway:
"Our Long National Nightmare is Over. Dale Jr. wins. RIP, Internet. #NASCAR"
But among the gentle fun poked at Earnhardt Jr.'s 143-race winless drought coming to an end, and the awe that Twitter was able to handle the celebration en masse without crashing, fellow racers and high-profile race fans sent out a series of heartfelt, congratulatory tweets to the sport's most popular driver.
Hendrick Motorsports teammate and five-time Sprint Cup Series champion Jimmie Johnson wrote, "I'm so happy for Jr and the entire #88 team. Way to go @SteveLetarte and all of@TeamHendrick."
Fellow Hendrick teammates Kasey Kahne and Jeff Gordon also chimed in. Kahne called the victory, which saw Earnhardt Jr. extend a six-second lead towards the end, "well-deserved." Gordon, the only Hendrick driver yet to win this season, promised, "24 is next!"
"Way to go boss!" added Danica Patrick, who drives for Earnhardt Jr. in the Nationwide Series. "Great to see jr back in victory lane!"
"Schools are closed tomorrow," joked Michael Waltrip, a longtime teammate of Earnhardt Jr. at Dale Earnhardt Incorporated.
The congratulations extended long beyond the fraternity of NASCAR drivers, though. 2003 CART champion Paul Tracy tweeted, "I refrained from saying go Dale go, (because) something goes wrong every time, but that was cool to see him dominate!"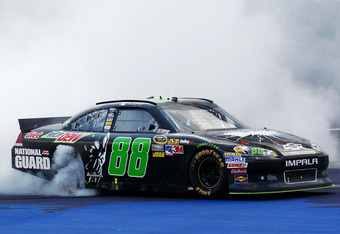 Jeff Zelevansky/Getty Images
Legendary IndyCar driver and 1969 Indianapolis 500 winner Mario Andretti added, "Really great to see Dale Jr in victory lane again. Big congrats Jr!"
Even famous fans have stepped up to offer their congratulations as well. Country music star Brad Paisley, who performed at Hendrick Motorsports' 200th victory celebration, simply tweeted, "Hallelujah!"
Add to that the thousands of long-suffering members of Junior Nation who have tweeted their congratulations and joy in the past few hours, and NASCAR Nation has a party on its hands.
Earnhardt Jr. may have struggled through four years of under-performance, leaving his fans disappointed and the sport wondering when he would take his next victory (after all, it's difficult to do business when your star attraction is mired in the middle of the pack).
But today's win signals a major turnaround on the horizon: Earnhardt Jr. has 12 top-10s this year, as many as he had all of last year, and he hasn't ranked lower than fifth in points all season.
Without getting too carried away, it looks like Dale Earnhardt Jr. really is back in a groove at the front of the Sprint Cup pack. Our long national nightmare may indeed be over.