Euro 2012: The Netherlands Crash and Burn in the Group of Death
June 17, 2012

Lars Baron/Getty Images
No one could have seen this coming for the Dutch.
After they were placed in the group of death, it was apparent that the Flying Dutchmen would have to play extremely well in order to advance to the quarterfinals.
Regardless of the tough competition, there were still high expectations for the Netherlands after scoring a tournament high 37 goals in the qualifiers. There was no way that squad that made it to the World Cup Finals would be knocked out in group play, right?
Even after the Dutch fell to Denmark 1-0 in their first match of the tournament, there was still the expectation that they would bounce back and make it through, but this was not the case for the Oranje.
Their uninspired play became a trend in all three of their group-play matches. They did not play as a cohesive unit. Their star players that had such a huge role in their success in the World Cup were not on the same page.
They couldn't get in a rhythm offensively from the start, and the weak play from their back four hurt them.
Critics pointed the finger at Dutch manager Bert van Marwijk
Marwijk was heavily scrutinized for some of the decisions he made, especially in their first two matches. His decision to keep the defensive-minded captain, Mark van Bommel, in the starting 11 was at the center of the debate.
Even after losing the first two matches against the Danes and then the Germans, the Dutch still had a chance to move on. They would have to win their match against Portugal by at least two goals and  Germany would have to defeat the Danes. Both of these results seemed plausible.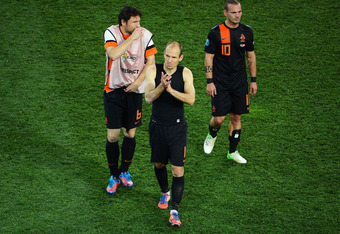 Lars Baron/Getty Images
Manager Marwijk decided to start Rafael Van de Vaart and Klaas-Jan Huntelaar, who scored 29 goals in 32 Bundesliga games, to try and increase their offensive production.
After Van de Vaart scored 11 minutes in, it seemed as if the tides had turned for the Dutch team, but after the 20th minute and Cristiano Ronaldo's goal in the 28th minute, Portugal took over the match and Oranje looked flat. They didn't really have a realistic chance to win this match by two goals after Ronaldo's clutch shot. 
The wheels fell off for the Netherlands and despite their superstar talent (Wesley Sneijder, Arjen Robben and Roben Van Persie), they were unable to even score a point in group play and lost their third straight match.
What they were able to accomplish in the 2010 World Cup is merely a distant memory at this point, and the Dutch, along with their fans, have been left with a bitter taste in their mouth after this disappointing Euro 2012 performance.
Erick Fernandez is the creator of I Want to Thank My Hood & My Psychiatrist
Follow Erick Fernandez on Twitter