Dale Earnhardt Jr.: Junior Will Ride Momentum to 1st Sprint Cup Championship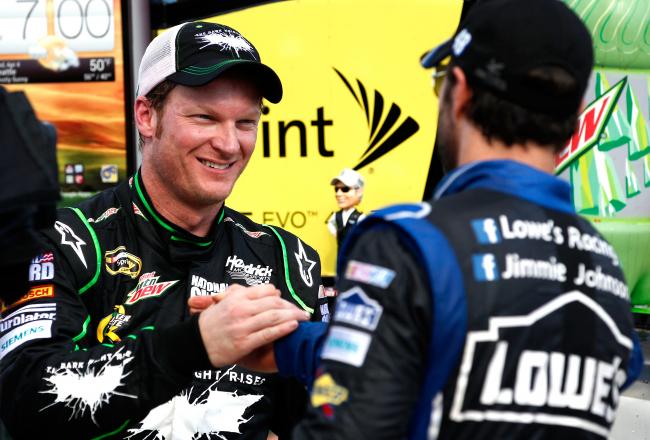 Jeff Zelevansky/Getty Images
June Bug wasn't squashed after all.
Will Junior win the Sprint Cup Series Championship?
Dale Earnhardt Jr. wrecked a 143-race losing streak with a win in the Quicken Loans 400 at Michigan International Speedway on Sunday. While quenching his thirst for victory after such a distressing drought must seem satisfying, Junior has even bigger fish to fry.
Dale Newton of ESPN reported that after the race, when Jeff Gordon was asked what's next on Earnhardt's to-do list, he said: "'A championship, I guess.'"
For a 37-year-old who's never won a Sprint Cup Series Championship and just ended a 143-race losing streak, you wouldn't think winning a championship would be a realistic possibility. But for Earnhardt, it isn't just realistic—it should be expected. He's now only four points behind Matt Kenseth for the lead in the standings.
This season, Earnhardt finished in the top 10 a dozen times—more than any other driver. He also has six top-five finishes. Junior already had something going before his most recent win, but now that the monkey is off his back, his success will skyrocket even farther.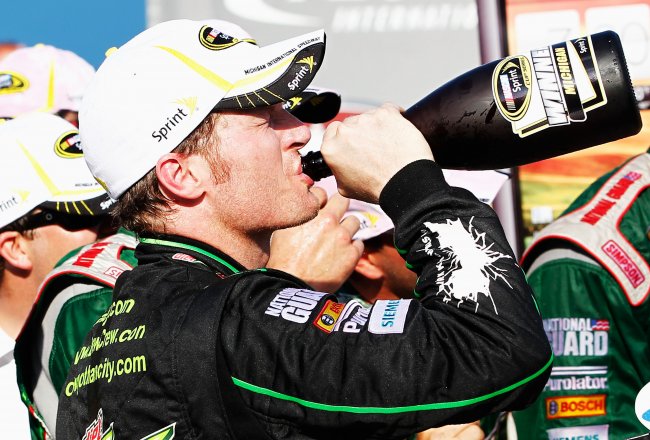 Jeff Zelevansky/Getty Images
Nate Ryan of USA Today reported that Earnhardt "thought the victory 'would be all relief, but it wasn't relief at all. It was all excitement.'"
And that quote should be a relief for Earnhardt fans. If Junior would've felt relief after the W he waited so long for, his natural reaction would've been to take his foot off the gas—his hunger would've died a bit. But instead of relief, he was filled with excitement. And because of that, he'll only hunger for more.
Believe it or not, Earnhardt wasn't even on his own bandwagon going into Sunday's race. Said Earnhardt after the victory (via USA Today):
"I wasn't very confident after the practice last night. Steve felt pretty good. I was a little nervous when the race started; the car was not quite where I needed it to be. We were not in too big of trouble. But I guess he knows me well enough, because he made the right calls, and the thing took off flying."
If Junior went into the Quicken Loans 400 with doubts and he still won, just imagine him with confidence. Dangerous. Earnhardt is in striking distance of his first Sprint Cup title, and with all the momentum, expect the checkered flag to continue to wave in his favor.
David Daniels is a featured columnist at Bleacher Report and a syndicated writer.
This article is
What is the duplicate article?
Why is this article offensive?
Where is this article plagiarized from?
Why is this article poorly edited?