The Doctor's WWE No Way out Recap: The 242 Things We Learned, Loved and Hated
June 18, 2012

Welcome, ladies and gentlemen, to my weekly, or in this case monthly, recap list. I always appreciate my loyal readers, but for those of you who are new, each week I recap Raw and Smackdown with a long list. I also try and do one for every PPV as well.
The entries are made up of equal parts observations, humor, recap, play-by-play, revelations, speculations, questions, answers, opinions and anything else I notice during the show. I sometimes comment on commercials, too, just because I get bored during them.
I have been using a signature image for the past few weeks, which was designed by one of my loyal readers, Natasha Farley. For PPV events, I will usually use the poster from the event, but since this is the first PPV since she designed the image, I figured I would include it within the article.
She made me an awesome picture, so it's hard for me not to want to use it in some way every time.
I try to make this more like a conversation with the readers instead of me just telling you facts and events. I try and interject some fun into these lists, so I hope you have fun reading this list of the things we learned, loved and hated from No Way Out.
I will split the list into sections by match since it is a longer list than normal, which is usually the case for a PPV. That way, you can skip anything you aren't interested in. 
Dolph Ziggler vs. Sheamus
1. Happy Father's Day to all the dads out there.
2. No Way Out starts up with the usual PPV pyro and shots of fans in the audience as Michael Cole welcomes us to the show.
3. The first match starts right away, and it's the World title match between Sheamus and Dolph Ziggler.
4. Sheamus is out first.
5. He seems to be making a habit out of having new ring gear at every PPV and then sticking with it until the next PPV.
6. Ziggler is out next, and it sounds like the crowd is half and half, but different arenas have different acoustics which come across different on TV. I watched Extreme Rules after attending it, and it was completely different in terms of crowd response.
7. Oh, by the way, Brodus Clay beat David Otunga in the pre-show by count out.
8. I love that Ziggler is doing leg lifts and push-ups in the corner while the introductions are happening. What a showoff.
9. A Ziggler chant can be heard before the bell.
10. Vickie gives Dolph a kiss on the cheek after the bell, and Ziggler turns around to barely avoid a Brogue Kick.
11. He almost lost the match the exact same way that Daniel Bryan did at WrestleMania.
12. Sheamus uses his power to immediately take control of Ziggler after they finally lock up.
13. Ziggler comes back with a nice dropkick. He has one of the best dropkicks in the business right now.
14. Ziggler puts the sleeper on Sheamus, who sits Ziggler on the middle of the top rope.
15. Ziggler slaps the taste out of Sheamus' mouth before the Irishman pushes Sheamus over the rope and out of the ring.
16. Sheamus launches over the top rope into the ring and hits a shoulder block for a near fall.
17. I think Ziggler borrowed those aqua trunks from Darren Young.
18. Ziggler is stomping Sheamus in the corner, and the crowd is chanting "Yes" with every stomp.
19. Daniel Bryan is probably pissed right now.
20. Sheamus stops Ziggler in his tracks with a big elbow.
21. This is a decent match so far, but I want the pace to quicken a little.
22. Ziggler pulls Sheamus into the ring post and Sheamus falls hard, hitting his arm on the steel steps on the way down.
23. Wow! Ziggler hits a jumping DDT on Sheamus for a near fall. That looked really cool.
24. Ziggler is looking very good in this match. He is trading offense with Sheamus pretty evenly and playing the heel perfectly.
25. Ha! Ziggler does his headstand/headlock move to a nice pop from the crowd. The crowd is pretty pro-Ziggler tonight.
26. Ziggler hits another huge DDT for another very close fall.
27. Booker is loving this match, judging from his enthusiasm. He is putting Ziggler over pretty well.
28. Ziggler tries to use the rope to get a pin, and the ref stops the count.
29. Sheamus almost wins with a roll up when Ziggler is arguing with the ref.
30. After a series of reversals, we see Sheamus put Ziggler out of the ring while in the sleeper hold.
31. Damn. Sheamus and Ziggler botch a move where Sheamus was supposed to catch him after a cross-body, and they both tried to hit signature moves to save it and they both messed up pretty bad.
32. Ziggler ends up hitting a Fame-asser for another near fall. The crowd is really behind Ziggler. That is great to see.
33. A "Let's go Ziggler" chant breaks out, and King mistakenly says it's a chant for Sheamus.
34. Sheamus goes to the top, but Ziggler leaps up and hits a facebuster from the top rope for another very close fall.
35. That one mistake is not making the crowd like this match any less, and I already don't care about it either.
36. How does Vickie not lose her voice every single night?
37. Sheamus hits the Irish Curse Backbreaker to get some breathing room.
38. Ziggler tries for the sleeper again, but he gets hit with White Noise by the Champion.
39. Sheamus is setting up for the Brogue Kick, and the crowd is split at this point.
40. He hits it and retains in a pretty good match. The one mistake will be talked about a lot tomorrow, but these guys just had a great match, regardless.
41. I am a little unhappy that Ziggler is not champion, but the match was satisfying.
42. Vince McMahon is backstage, and John Laurinaitis walks up in a bright red suit with a blue tie.
43. He does his usual schmoozing, and Vince brushes him off and walks into his office.
44. What a stupid time for Josh Matthews to come up and ask JL questions.
45. JL seems confident that he will be keeping his job.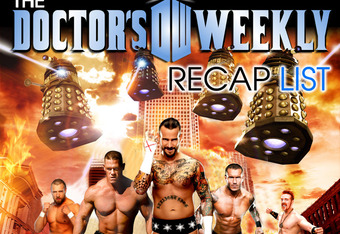 Santino vs. Ricardo Rodriguez
46. Oh, great. The tuxedo match is next. I am pretty upset that this is happening.
47. Santino should be defending the US title to someone who can use the push and not in a comedy gimmick match at a PPV.
48. I will admit that his baby blue tux is kind of funny.
49. I was hoping Ricardo Rodriguez would come out in a beater like he did at the Royal Rumble.
50. Why didn't Howard Finkel do the introductions? It only seems right.
51. Jersey is behind Santino in this match. I don't have a dog in this fight; I just want it to be over quickly.
52. RR rips part of Santino's tux, and Santino yells "This is my only tuxedo!" before returning the favor.
53. Santino hits a few wrestling moves and then gets RR's jacket off.
54. He is using it like a flag, while RR is running at it like a bull.
55. Haha! Cole makes fun of Booker for trying to call this like it is a real wrestling match.
56. Santino gets out the cobra after getting most of RR's tux off.
57. Cole asked why Santino didn't put a tux on the Cobra, and I nearly spit out my drink. He is being pretty funny. He is certainly the best part of this match.
58. Santino has a Cobra sock on, and he kicks RR with it before ripping off his pants and winning the match.
59. RR has underwear with Alberto Del Rio's face on them. This was a waste of time, and my money. Can I get a one-match refund?
60. CM Punk is backstage with Matt Striker talking about AJ.
61. Punk says he has no relationship with AJ, and he is focused on the WWE title.
62. AJ is right there to wish him luck, and Punk says luck is for losers and walks off.
63. Striker tries to get her to say something, but she just gives him a look and he walks away.
Cody Rhodes vs. Christian
64. Nice. Cody Rhodes is out next for his match with Christian. This should be a good match.
65. You never called Myka back! Jerk.
66. Christian's new shirt has a symbol from the periodic table of elements with Ch in the box. I kind of like it. It's a shirt logo I have never seen for a wrestler.
67. Fun fact: CH4 is Methane. Imagine the four is really small.
68. Rhodes and Christian exchange some offense until Rhodes pulls Christian off the apron.
69. Christian is on the steps while holding Rhodes legs, and Rhodes pulls him into the ring post really hard.
70. Rhodes is working over Christian's arm with a short-arm scissors. A hold I do not see very often.
71. Rhodes pushes Christian to the outside form the top turnbuckle, and Christian hit his shoulder on the way down. Chriatian can sell like a champ.
72. Damn. Christian runs and leaps off the steps to hit a spinning DDT on Rhodes outside the ring.
73. The ref is counting, and both men make it in at eight.
74. Christian misses a Killswitch, and Rhodes almost wins after he reverses a cross-body from Christian in quick succession.
75. Cody holds up three fingers to the audience to signal he is going to win, and Christian ends up almost pinning him after Rhodes took too much time on the turnbuckle.
76. Oh, Awesome!!! Rhodes with a huge nod to Bob Holly! He lifts Christian's legs while Christian is draped over the ropes and hits a boot to the mid-section before a big Alabama Slam. That combo has Holly's fingerprints all over it.
77. After some reversals, we see Christian hit the Killswitch for a very close fall. The crowd seems happy Rhodes kicked out.
78. Christian goes for the Frog Splash, and Rhodes gets his knees up.
79. Both men reverse the other's finishers numerous times before Christian hits a spear for the pin and the win.
80. That ending was crazy. Very good match.
81. Why would they air the "Don't try this at home" video in the middle of the show?
Fatal-4-Way tag team match
82. A last-minute addition is a Fatal-4-Way match for the No. 1 contenders to the Tag Team Championships.
83. Epico and Primo are out first to face The Prime Time Players, Justin Gabriel and Tyson Kidd and The Usos.
84. I guess rematch clauses expire, Cole said so.
85. Darren Young and Titus O'neil are sporting some bright pink trunks tonight.
86. Did Booker just make a gay joke in reference to the pink trunks? Who wants to place bets to see if anyone notices it and makes a fuss?
87. O'neil and Jey Uso start things off. The match is one-fall, so the first pin wins.
88. The Usos do some double team moves on Young in the corner.
89. Am I the only one who thinks The Usos stole those trunks from Carlito?
90. Epico tags himself in, and then, after a near-fall, Gabriel comes in to face Jey Uso, who drops him with a Samoan Drop.
91. O'neil almost steals a win after tagging himself in and trying to pin Gabriel.
92. I almost forgot to mention that Rosa looks awesome in a very revealing, silver outfit.
93. Abraham Washington is at ringside as well, and he is shouting instructions at Primo while he is in the ring with Gabriel.
94. Booker and Lawler take some time to appreciate Rosa as she shakes various body parts at ringside.
95. Primo and Epico slow the pace down as they beat down Gabriel in the corner.
96. Kidd wants in the match really bad, and he gets the tag and hits a huge springboard dropkick on Primo.
97. Kidd hits a Blockbuster from the top rope for a near-fall.
98. Kidd misses a flying elbow and gets hit with a Back Stabber.
99. Everyone starts fighting everyone on the outside of the ring, and Kidd is left alone with Kidd in the ring.
100. No one knows if Darren Young made the tag or not.
101. Whoa! Kidd hits a big top-rope frankensteiner to Primo, which takes both men outside the ring onto the other six wrestlers.
102. A "Holy S###" chant breaks out after that impressive spot.
103. After the mayhem, we see Young hit a gutbuster on Primo to win the match.
104. The Prime Time Players are the new No. 1 contenders for the tag team titles.
105. AW is in the ring, and I guess he has jumped ship to the winners team.
106. Epico and Primo are pissed and they clock AW, but Young and O'Neil attack them and send them out of the ring to save their new manager.
107. Rosa tends to her team as AW celebrates with Young and O'Neil in the ring.
108. A strange promo for Money in the Bank airs with Alberto Del Rio. I am sure you'll see it on Raw if you didn't watch No Way Out.
109. A recap of Lesnar attacking Triple H is shown.
110. Trips comes out to a nice pop without his arm brace.
111. He jokes about the fact that he became a wrestler because he didn't want a corporate job and now that is what he is doing.
112. Triple H beats around the bush a little before proposing a match between he and Brock at SummerSlam.
113. Triple H channels Christian Bale's BATMAN for a moment when he challenges Lesnar.
114. AJ is backstage talking to Daniel Bryan, and she says that she hadn't gotten over him.
115. He barely manages to squeeze in the words "I don't care" before she keeps talking.
116. She gives him a quick kiss and leaves, and Bryan just goes back to shadow-boxing.
Beth Phoenix vs. Layla
117. Beth Phoenix is out first to face Layla.
118. Just once, I want to see Carlos Cabrera get involved in a match. Why shouldn't the Spanish announcers get a few minutes in the spotlight?
119. I guess Layla got the most write-in votes out of anyone in the world for the Maxim Hot 100. Understandable.
120. The match starts out slow, with Beth using her strength to push Layla around.
121. Beth rants for a minute to the crowd before Layla gets in some offense.
122. Layla takes off Beth's headband and puts it on to mock Beth.
123. Beth chases Layla around the ring until Layla hits a facebuster.
124. This is strange. Layla is doing a lot of dancing. I guess she is having fun.
125. Beth gets control back and puts Layla in a double underhook submission.
126. The crowd is dead for this match.
127. Beth keeps punishing Layla until Layla hits a big DDT out of nowhere for a near fall.
128. This is nearly a 10-minute Divas match. That's like spotting Big Foot.
129. Layla hits her neckbreaker to win the match. Not a terrible showing, but I expected more.
130. I think Beth should keep the headband off. It always bothered me, and I think she looks better without it.
131. AJ approaches Kane backstage and doesn't know what to say to him other than good luck.
132. She kisses his cheek, and he pulls her back in and they make out.
133. AJ has had a lot of screen time tonight. WWE must have a lot of faith in her future.
Hunico vs. Sin Cara
134. Hunico is out next to face Sin Cara in another last-minute addition to the card.
135. Sin Cara's new gear and jacket have completed his transformation from Luchador into Power Ranger.
136. Hunico starts off with some kicks to Cara to take the early advantage.
137. Hunico catches Cara going for a suicide dive, and he hits a rolling senton to Cara from the apron.
138. The crowd is dead, yet again.
139. Hunico has effectively grounded Sin Cara for the first few minutes of this match.
140. Hunico with a big show of strength. He just about dead lifted Sin Cara into a modified powerbomb.
141. A Zack Ryder chant breaks out for some reason.
142. Cara starts building some momentum after hitting a spinning headscissors.
143. Cara hits his finisher out of nowhere and wins the match.
144. The crowd being dead and the stupid yellow lights above the ring sort of ruined that match for me.
145. There were no major mistakes, but it could have been faster paced considering who is involved.
146. WWE continues to use bands I have never heard of for their theme songs. I am pretty out of touch with new music, though.
Punk vs. Bryan vs. Kane
147. The WWE title match is next, and a video package airs to show how the three-way feud got started.
148. AJ is the star of this video. They make it seem as if the whole feud revolves around her.
149. Kane is out first, followed by Daniel Bryan and then CM Punk.
150. A lot of support for Bryan in the crowd tonight. Although I did see a Goat Face sign.
151. A CM Punk chant starts before his music even hits. Does WWE need more proof that he is main event material than the reactions he has been getting lately?
152. Kane goes right for Punk after the bell.
153. Punk and Bryan team up on Kane and start hitting kicks to Kane's chest in a sort of duel.
154. They finish him with a double dropkick and then both try to pin Kane.
155. Punk wins a fist fight with Bryan and sends him over the top rope.
156. Kane cuts him off when he tries to hit a suicide dive, and after some exchanges, we end up seeing Bryan hit a suicide dive on Kane, and then Punk takes both of them out with a springboard clothesline to the outside of the ring. Nice spot.
157. Punk puts Bryan in a submission and starts calling him Goat Face.
158. Kane takes back control, and he focuses on Punk.
159. Kane stretches CM Punk on the ring post and then he hits a sliding dropkick, sending Punk's ribs back into the ring post.
160. Kane is keeping right up with Bryan and Punk in this match.
161. There is a lot of exchanges between all three men.
162. Damn! Bryan kicks the ropes, but it looked like he hit Kane right in the face from the camera angle.
163. The announcers actually address that Bryan hit the rope right after I typed that.
164. Punk and Bryan go back and forth until they end up on the top turnbuckle.
165. Kane comes in and stops Punk from superplexing Bryan.
166. Kane nearly pulls trunks off when he rips him off of Bryan.
167. Bryan takes out both men with a dropkick from the top rope, and he gets a near fall on Kane.
168. Bryan starts kicking Kane and Punk back and forth until ending with a huge roundhouse to Kane.
169. He misses Punk and nearly gets pinned with a roll-up.
170. Punk with the high knee in the corner to Bryan and then across to Kane.
171. This is either a very well-choreographed match or these guys just have great chemistry. Maybe it's both.
172. Kane gets Bryan on his shoulders, and Punk hits a springboard Doomsday Device on Bryan for a near fall.
173. Kane is down outside the ring as Punk climbs up for the Macho Man elbow, and he hits it for a two-count.
174. Punk tries for a GTS, but Kane hits him with a huge boot for another near fall.
175. Kane avoids a Macho Man elbow, and Bryan capitalizes with a flying headbutt to Punk before he sends Kane into the barricade from the apron with a running elbow.
176. Bryan hits a big kick to Punk and then puts on the Yes Lock.
177. Punk reverses and nearly wins the same way he did last month, and then he hits a GTS to Bryan, but Kane pulls Bryan from the ring to break up the pin.
178. Kane takes out Punk with a flying clothesline before Punk reverses a Chokeslam into a DDT for another near fall.
179. Punk hits the flying elbow to Kane and then tries for the GTS, but can't lift Kane off the ground.
180. Kane hits a Chokeslam, and Punk kicks out at the last second.
181. Nice. Kane is freaking out at the ref.
182. Kane goes for the Tombstone, but Punk squirms out and pushed Kane into AJ on the apron, who came out of nowhere.
183. Punk manages to get Kane up for the GTS and he gets the win, but AJ is down outside the ring.
184. She had a lot less impact than I expected after the video package we saw.
185. I never noticed that AJ has Converse Chuck Taylors as boots. I have a pair of low-top Chucks in red. Good shoe for anything except Pro Wrestling.
186. Kane picks up AJ and carries her to the back while Punk celebrates, and AJ smiles over Kane's shoulder as they leave.
187. I really like what WWE is doing with AJ right now. She is one of the most interesting Divas in quite some time.
188. That was a great match. There was a lot of action and everyone looked strong coming away. I sort of hoped Bryan would win, but Punk had a good showing as Champion.
Ryback vs. Jobbers
189. Dammit. Two jobbers means we have a Ryback squash coming up.
190. King mocks one of them for no reason whatsoever, but then they try and sing, and now, I just want Ryback to come and end this.
191. I will admit that Ryback always had cool-looking singlets. I don't care if they sort of resemble RVD's.
192. Ryback sends one guy way up into the air with a back body drop.
193. He then takes a page out of Orton's book and screams "Stupid, stupid" at the jobber.
194. A Goldberg chant breaks out.
195. Ryback puts up both men and screams "Feed me three" before putting them down with his finisher for the win.
196. I wish WWE would take a hint and turn this guy heel so the fans' reactions seem more appropriate.
197. To think, they could have had Antonio Cesaro, Damien Sandow or Kofi Kingston on the card, and instead, we get Ryback and a terrible tuxedo match for our money.
Big Show vs. John Cena
198. The cage lowers for the main event between John Cena and Big Show.
199. JL and his patriotic suit are out first.
200. Big Show is out next, and he is followed by Vince McMahon.
201. Cena is out to a bit of a mixed reaction.
202. Big Show nearly chokeslams Cena right off the bat, but even after Cena breaks free, we see Show put him into the cage face-first.
203. Big Show tries for the WMD early, but hits the cage, and Cena tries to escape the cage.
204. Wow! Cena got some decent elevation with a dropkick to Show, but it had little effect.
205. This match is moving really slow, but that's usually the case with cage matches between two powerhouses like this.
206. Cena gets thrown into the cage again, and Show steps onto his stomach to add to the punishment.
207. We're about five minutes into this, and I am bored as hell.
208. Cena crawls towards the cage door while Show just watches him before stopping him.
209. Cena hits a bulldog from the middle rope and then tries to escape, but Show stops him.
210. Cena ends up making show drop onto the rope, crotch-first, before hitting a running shoulder block.
211. Even Lawler thinks Cena is stupid for not trying to just walk out the door while Show is in the ropes on the other side.
212. Of course, Cena gets grabbed while escaping, and Show nearly pins him after putting him into the cage and then hitting a reverse electric chair.
213. Big Show hits a Vader splash in the corner for a near fall.
214. Wow! Big Show grabs Cena by the throat, climbs to the top rope and then lifts Cena up with him with one hand.
215. Big Show walks along the top rope while holding the cage in an attempt to hit a flying elbow drop, but Cena avoids the impact.
216. Show tries to crawl out of the door, but Cena is holding his leg for dear life.
217. Cena manages to drag Big Show back in the ring and then goes to escape, but also gets caught.
218. Cena gets a head of steam and hits a jumping shoulder block for a near fall.
219. Cena goes to escape and JL closes the door on him, which brings over McMahon to rip him off the door and open it again, but JL pushed him and the door into Cena's face, and McMahon is down outside the ring.
220. Big Show hits the Chokeslam for the near fall and goes for a WMD, but hits the ref by mistake.
221. Cena can't get him up for the AA, and Show hits the WMD, but there is no one to count the pin. I guess he could just leave the ring.
222. Show postures inside the ring for no reason when he could just leave the cage to win.
223. Brodus Clay is there with a chair and is inviting Big Show to come outside the ring.
224. Show doesn't know what to do as Clay signals for Alex Riley and Santino to come down.
225. Show knocks them off the cage, and Ryder gets the same thing when he tries to climb in from the outside.
226. Kofi finally comes out and stops Show from leaving the cage by kicking him from the top.
227. Show is down now and Cena is starting to move.
228. This match started to pick up, but now that there are a bunch of people involved, I am not sure how it will end.
229. Cena gets Show up for the AA, and the crowd pops big.
230. The ref is still down, so there is no one to count the pin, and Cena decides it is smarter to climb out the far side of the ring instead of leaving through the door.
231. Clay stops JL from using the crutch on Cena, and Cena wins the match, with Show making it out of the door a few seconds after Cena hit the floor.
232. I wonder if they wanted that to be a closer call where no one could tell who won.
233. Cena gets JL up on his shoulders, and Vince tells him he is fired before Cena puts him through the Spanish announce table.
234. I guess People Power is over.
235. Cena celebrates with Clay and the fans as Vince heads to the back.
236. Cole turns his back on JL and says he was doing a bad job and that he never supported him as GM.
237. The show ends with Cena standing tall in the ring.
238. I have mixed feelings about this PPV.
239. On one hand, we had some really great matches with Ziggler vs. Sheamus, Rhodes vs Christian and the triple threat WWE title match.
240. On the other hand, we didn't see a single title change hands, Ryback had another pointless squash, the tuxedo match was not even funny enough to call a joke and Sin Cara and Hunico were wedged in there for no reason.
241. I think the best way to describe tonight's show is hot and cold.
242. I will be very interested to see what you guys have to say about the show.
Thanks for reading, and feel free to share your thoughts and additions to the list below.