Chicago Cubs: Why Jorge Soler Was Foolish to Head to North Side
March 8, 2017
Jorge Soler finished as the biggest loser when the Chicago Cubs won a bidding war to sign the Cuban prospect.
Chicago locked up Soler for a nine-year stay in MLB purgatory with a $30 million bounty (via CBS Sports).
David Waldstein of the New York Times reports that the Philadelphia Phillies, Atlanta Braves, New York Yankees and Los Angeles Dodgers all competed in the bidding war. John Heyman adds for CBS that several of these teams bid at least $25 million for the five-tool, 20-year-old lefty.
That's an impressive list of suitors. It's just too bad that he chose to marry for money without even considering the quality of his mate.
Soler clearly does not care even the slightest bit about winning. That extra $5 million may seem like a big enough difference now, but let's see how he feels when he actually has to play for his new—for lack of a better term—team.
Someone should have warned Soler what he was signing up for. A simple conversation with another stud athlete mired in mediocrity would have saved this star a decade of misery. Where was his countryman Yoenis Cespedes on this one?
The young Cuban is forgiven for not knowing his old American baseball history. Frankly, however, that is irrelevant in this situation.
This goes well beyond the franchise's 103-year title drought—although that alone should deter any MLB player with options. This issue is deeper than any of the many franchise curses.
Forget history. Signing with the Cubs was a foolish decision for Soler based on the present.
USA Today's Bob Nightengale explains that the Cubs owned baseball's third-highest opening-day payroll at $146.6 million in 2010. They opened this season at $88.2 million, ranking 15th in the majors.
Their major league talent has plummeted as quickly as their payroll, with the Cubs on pace to lose 108 games, surpassing their franchise record of 103 losses set in 1962 and tied in 1966.
Nightengale argues that Soler instantly becomes an integral piece Chicago's rebuilding project and that the team will be ready to compete again in 2015.
Excuse the cold water, but even that seems overly optimistic. This has nothing to do with Soler and everything to do with the state of Chicago's organization.
ESPN's Keith Law ranked Chicago's farm system as the 11th worst in Major League Baseball. Only the Phillies rank lower among the teams that pursued Soler. That was before the Cubs acquired the Cuban, but includes the presence of much anticipated prospects Anthony Rizzo and Brett Jackson.
Soler certainly boosts this standing, but Yahoo's Kevin Kaduk notes that his addition now presents further complications for the Chicago's new front office: "developing the farm system's first outfield talent in at least a few generations."
That alone handicaps Soler's long-term upside, regardless of his new team's inability to win games.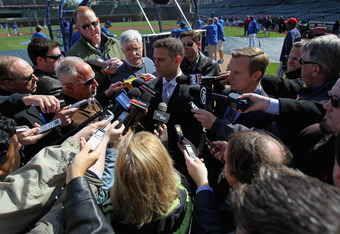 Jonathan Daniel/Getty Images
Theo Epstein was hailed as Chicago's savior when he landed in the north side's front office. That mindset is gaining new traction with the announcement of Soler's contract.
Yahoo's Dan Soderberg celebrates Epstein for "attempting to rebuild the Cubs from an overpriced, aging disappointment to a young, exciting contender." He calls Soler's signing a "major step in the right direction."
Yes, the signing is indeed a step in the right direction. In context of the entire journey, however, it makes very little difference. This step essentially moved the Cubs off the Golden Gate Bridge on their way to the Statue of Liberty.
Soler just joined a team with the worst MLB roster and a farm system ranked in the league's bottom half. Expecting the Cubs to be competitive by 2015 is insane. Hoping they can be competitive by the expiration date of Soler's contract is much more reasonable.
Just make sure to drink plenty of north-side Kool-Aid between now and then.
By then, however, Soler will have realized that the greener (read: wealthier) pastures of the friendly confines aren't necessarily better. Luckily for the youngster, New York, Philadelphia and Los Angeles will likely all come calling again.
Only then they will be offering bail instead of a bounty.