Euro 2012: Wayne Rooney's Status as One of the World's Best Hangs in the Balance
Wayne Rooney is undoubtedly a top player, but he has yet to deliver on the international stage in a way that he can be classed as truly one of the world's best.
Laurence Griffiths/Getty Images
On the back of Wayne Rooney's exhilarating performance in England's 4-2 win over Croatia at Euro 2004, his manager, Sven-Goran Eriksson, saw fit to compare his 18-year-old star to Brazilian legend Pele.
"I don't remember anyone making such an impact on a tournament since Pele in the 1958 World Cup," said Eriksson, via the BBC.
By that point, Rooney had already been making headlines in England for nearly a couple of years, with the forward's precocious displays at Everton alerting the nation of a potential new star.
It would have meant nothing without his showings at that summer's European Championships (and subsequently, more often than not at Manchester United), but Eriksson's statement all but ensured Rooney was promoted to the top echelon of world-football stars.
That group is an ever-changing entity. Where Zinedine Zidane and Ronaldinho were ruling the roost back around 2004, it is now Lionel Messi and Cristiano Ronaldo to whose levels most aspire.
Depending on your viewpoint, Rooney is either just behind them in that pecking order and worthy company to players likes Xavi and Andres Iniesta, or an overrated hype-merchant who consistently fails to deliver.
The truth is somewhere in between.
Rooney has scored goals and played a significant enough part in Manchester United's successes of the last decade to warrant inclusion among the game's elite, but his disappointing contributions at the international level have left the question of his true standing there unanswered.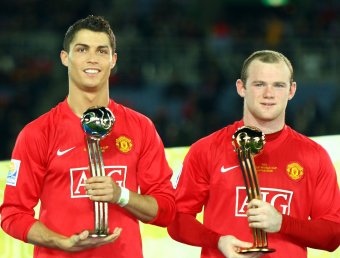 Is Rooney anywhere near as good as the likes of Cristiano Ronaldo? Or merely out of his league?
Koichi Kamoshida/Getty Images
It would be absurd to pin England's own failures solely on him—he has not been alone in underperforming, and there is no simple explanation for the convoluted mess the national-team setup has been for the best part of the last decade.
In fairness, even Ronaldo and Messi cannot claim to have fulfilled all their own expectations at the international level.
But such has been their comprehensive and brilliant, record-shattering dominance of the club game, their underwhelming at the international level is excused, with there still being plenty of time to remedy that (indeed, Ronaldo may well be in the process of doing so this summer with Portugal).
Rooney cannot expect to reach such heights individually, but can excel enough in his contributions to his teams so as to still be regarded as a top player.
That is the foundation of his legacy with Manchester United. He has, without a doubt, been an integral part of the four Premier League titles and one Champions League the Red Devils have won during his tenure (in addition to other trophies).
Why he has not been as effective for England post-Euro 2004 is baffling (and is the one major question mark on his credentials among that top echelon).

Reasons and excuses can be cited—injury restricted that effectiveness at the 2006 World Cup and then personal issues for years later—but they will not deflect criticism any longer (if they have at all, anyway).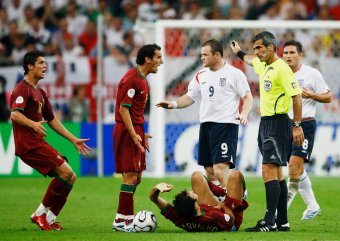 Rooney's 2006 World Cup campaign saw him frustrated by injury before going out inominy after being sent off against Portugal.
Clive Mason/Getty Images
After returning from suspension, Rooney, like his teammates, did what needed to be done against Ukraine to ensure England's progress into the quarterfinals.
However, besides his (rather fortunate) goal and a few rare flourishes of skill and endeavor, Rooney was largely ineffective in the match.
A certain level of understanding can be tolerated in this case—coming back as he was, it takes a little time to adjust to the pace. With Ukraine making one last frantic effort to progress from Group D, in many ways, it was always likely to be a game when Rooney existed on the periphery.
But what we did see when the game did come to him will need to be improved upon when facing Italy in Sunday's quarterfinal clash.
Too often, Rooney was static, waiting for the ball to come to him instead of going to look for it—something that renders him virtually useless against difficult opposition.

Rooney wasn't alone in this, but his capability to conjure up something when he does get on the ball does make it far more necessary for him to be moving into space and making himself an option than for someone like Danny Welbeck or Andy Carroll.
It does not mean he has to go chasing all over the pitch. It's just that, by making those little runs into the channels or dropping off five yards from a defender, he can be the catalyst for a fluidity in England's passing game that has been agonizingly just beyond reach thus far.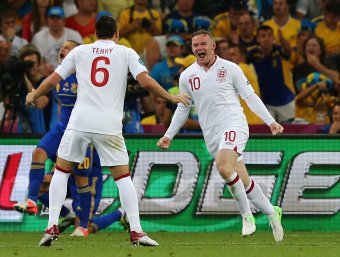 Celebrating his goal against Ukraine, Rooney and England will be hoping for more reasons to be cheerful yet at Euro 2012.
Martin Rose/Getty Images
And it may well lead to some opportunities for Rooney to impose himself individually to explosive and thrilling effect like he is well capable of.
Rest assured, Steven Gerrard, Ashley Young, etc. will be looking for him in those positions and desperate to utilize this option.
Cesare Prandelli's side will not easily allow England through, so it is imperative they attempt to pull them out of position when they can—especially if they are defending for long periods without the ball.

Rooney, of course, is partially at the mercy of the players Roy Hodgson lines up around him. He could perform fantastically and still be on a losing side because others elsewhere did not deliver.
But with great talent does come great responsibility.
As much as it could be said Rooney needs the help of others for England to really thrive, at least for himself, he needs to go home this time with as few regrets as possible about his own play.
Anything less than Rooney at his best cannot be tolerated any further with England, or despite his talent, it will be time to look elsewhere for a way of playing that is not so reliant on the whims of an exceptional but unfulfilled star.
This article is
What is the duplicate article?
Why is this article offensive?
Where is this article plagiarized from?
Why is this article poorly edited?