Arsenal: After Saturday's Match, It's Finally Time to Sell Andrey Arshavin
June 19, 2012

Shaun Botterill/Getty Images
When he's at his best, Andrey Arshavin is among the most sublime footballers of his generation—a true joy to watch and a formidable proposition for any opposing defender.
When he's at his worst, as has been the case far too often in recent memory, he can be infuriating.
Those missed performances come for a reason. Arshavin has created expectations of Everest-level proportions with some of the exploits he's produced on the pitch.
We are therefore so terribly disappointed when he looks adrift during games, looking as if his heart wasn't in it.
I've long held the belief that Andrey Arshavin is a genius. Now, like so many monikers in this life, "genius" is a term pinned far too frequently, becoming watered down just a bit more every time it's used to describe someone. However, I abide by the rule that when you see genius, you simply know it. There's something that sets it apart from anything else.
When I see what Arshavin can produce—the deft little touches, the defense splitting through balls, the wonderful finishes, the mazy dribbles—I know I'm in the presence of someone transcendental.
The problem is Arshavin's genius is that of Van Gogh's. It's capable of producing the sublime, but in order to get those, you have to endure his maddening bouts of listlessness.
As James Joyce once put it, in one of his more eloquent fits of self-deprecation, Arshavin can be "one moment high as the stars, the next lower than the lowest wretches."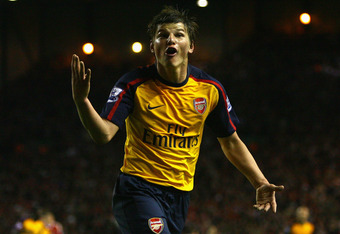 Alex Livesey/Getty Images
The little maestro, now 31, admitted to struggles during a particularly dreadful stretch in the midst of the 2010-11 season. While statistically speaking, it was one of Arshavin's finest campaigns—he contributed 10 goals and 17 assists in 52 appearances (all competitions)—that may be one of the finest examples of numbers not telling the whole story.
At no point were Arsenal fans more befuddled, and frankly disenchanted, with the winger. For all his statistical production—which Arsenal manager Arsene Wenger frequently alluded to in increasingly desperate attempts to protect his player—they simply didn't add up to the product seen on the pitch, which was far from impressive.
The highs are well-documented. Before ever joining Arsenal, Arshavin was, perhaps, one of the most intriguing prospects in world football.
Few knew of him before his gate-crashing performance for the national team at Euro 2008, but his quality was unmistakable. In 2007, his penultimate season at Zenit St. Petersburg (before re-joining the club on loan this past February), Arshavin provided 27 assists in 46 matches (all competitions).
Considering that 10 of those assists came in European competition (UEFA Cup), the number is afforded far more credence.
It was Euro 2008 that served as Arshavin's official introduction to the world's stage. With his concerto against the Netherlands in the quarterfinals, in which he provided an assist before scoring himself in a 3-1 victory—Arshavin helped bring Russia on an improbable run to the semifinals, where they lost to eventual champions Spain.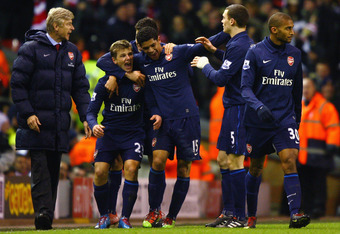 Clive Brunskill/Getty Images
He carried that form into the beginnings of his Arsenal career. After signing for a club-record £15 million in January 2009, Arshavin started his career at the Emirates with the proverbial bang.
They seemed repaid when Arshavin contributed four goals against Liverpool in the cauldron of Anfield and provided impressive display after impressive display during that wonderful spring. Arsenal's production might have been somewhat lackluster—they would slump to a fourth-place finish—but the prospect of having Arshavin for a full season was enough to make any Gooner confident.
It was the ability to turn a match on its head, as he'd done so brilliantly against Liverpool, that made Arshavin such a priceless commodity. Wenger referenced it in an interview with Arsenal's official website in 2010.
"Arshavin likes the big stage. He can be quiet for 20 minutes, and then suddenly turn up with something decisive. That is what you want from the big players—the big players make you win the big games."
Sometimes, it seems Arshavin's talent in the offensive half is so prodigious that to constrain him within a particular position is to do him a disservice. So exquisite is Arshavin's technical skill set—Wenger once told Arsenal's official site that the Russian could play "in every offensive role," so exceptional are his talents—that he almost requires a "lack" of positioning.
The French call it l'electron libre, the idea of a roaming electron granted complete freedom to move about the attacking half.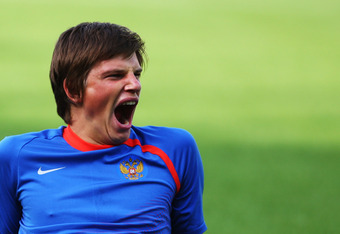 Clive Mason/Getty Images
Unfortunately, to be afforded that type of freedom demands a certain level of performance from Arshavin on a match-in, match-out basis. When he's at his best, he makes the role—or lack thereof—look like a masterstroke. When he's not, however, an offense can fall flat very quickly indeed.
Confidence, or mental anguish, often seems to contribute to Arshavin's worst stretches as a player. The wretched lows, as Joyce termed them, came after Russia failed to qualify for the 2010 World Cup.
They had been granted a playoff against Slovenia, which looked a fairly straight-forward affair given what appeared to be glaring gulfs in talent between the two sides. But plucky Slovenia took their chances well and pulled off the improbable upset, leaving Arshavin to consider the fact that he would have to wait another four years for another chance at participating in his first World Cup.
One might expect a professional to bounce back from that type of shock. But this is Arshavin—a man who once said (with L'Equipe's print edition as a source) he requires emotion to play at his best.
That's all well and good when he's on a high, but when that low comes rushing him thick and fast, as it is so apt to do to the delicate genius, he is struck down by its power.
Wenger duly noted just how "down" Arshavin was after returning to London from the World Cup playoff, but believed his charge would come good in due time.
After 2.5 years later, we still find ourselves waiting for that old Arshavin to resurface.
It's as if that missed World Cup served as a chasm into which Arshavin fell and has since spent his every waking moment trying to climb out of. For every impressive display he provides, he erases it seconds later with a maddening bout of inconsistency.
His recent performance at the European Championships, in which Russia failed to get past the group stages, is a prime example of that phenomenon.
In Russia's first match against the Czech Republic, Arshavin was at his dynamic best, contributing two assists in a thrilling 4-1 victory that had many would-be pundits stumbling over themselves in their haste to paint the Russians as dark horse favorites to win gold.
After enjoying an excellent run of form during that loan stint back at Zenit, it looked as if we might have the "old" Arshavin back.
But then came Russia's next match against co-hosts Poland. After going up 1-0, during which Arshavin was yet again at his mazy best on the left wing and throughout the attacking third, the Russian was caught in possession.
Instead of tracking back, he remained listless, allowing Poland to grab the equalizing goal in an eventual 1-1 draw and thus pouring the first layer of dirt upon Russia's European coffin. (They would lose 1-0 to Greece in their final group stage match, where again Arshavin underperformed.)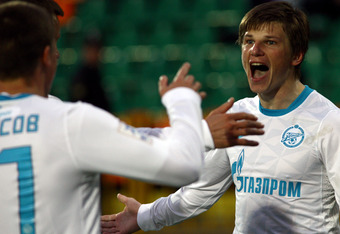 Epsilon/Getty Images
Given the way in which he dealt with his last international heartbreak, perhaps, this latest setback with Russia is the final stone that must be dropped in order to signal Arshavin's departure from the Emirates.
He's under contract until 2013, but given the rise of certain players within the side (Alex Oxlade-Chamberlain), along with what promises to be a flurry of signings this summer (Lukas Podolski, who can play as a left winger for Wenger, is already on board), the Russian's time may just have run out.
Were he to get the sort of freedom with Arsenal he's enjoyed with Russia, a team he captains, things might be different. But despite some very good performances while playing that role (see: his goal and assist against Bolton in last season's Carling Cup), Arshavin has never been afforded the freedom he requires.
On the left wing, where he's played ever since Wenger shifted to a 4-2-3-1 formation before the 2009-10 season, he has often looked bereft of ideas, or perhaps inundated by the sheer weight of them.
In January 2011, Arshavin told The Sun he was afraid of making decisions on the pitch.
"I am afraid of taking the initiative," he said then. "When such thoughts appear, your final decision, as a rule, turns out to be wrong. And you waste a lot of opportunities. That was happening to me in recent matches.

"Now when I get the ball, I begin to think, 'Should I try and trick an opponent? Or if I do, will I Lose the ball? And what if I make a pass? Won't they think that I am trying to get rid of the ball?'

"Unfortunately, there is no button in a human body to switch off unnecessary thoughts. I need to train and play. After a few good performances, the courage and automatic decision-making are going to return.

"I do not have enough acceleration. From the very start of this season I felt I'm fast enough only in separate episodes. The reason? I don't know. Maybe I'm just getting old."
Those were not the words of a man brimming with confidence. And for whatever reason, Arshavin has never been able to reclaim the star-level highs he once enjoyed at the Emirates.
Instead, he has become a wraith whom fans seem intent upon seeing the worst in. One of the more interesting observations about his final days with the Gunners last season, before heading out on loan to Zenit, is the selective memory of fans.
Arshavin was greeted to a chorus of boos against Manchester United on Jan. 22, when his soporific attitude on the wing allowed Antonio Valencia to push past him and set up United's winner in a 2-1 victory.
Fans never forgave him for that fault, especially considering he had come on as a substitute for Alex Oxlade-Chamberlain, who had been sensational that evening in providing the assist for Robin van Persie's equalizer.
But fans forget that that misstep by Arshavin was sandwiched by two brilliant assists—one coming on Dec. 31 against Queens Park Rangers, when the Russian set up van Persie's winner—the other an exquisite cross for another winner, this time from Thierry Henry, at the Stadium of Light on Feb. 12.
That cross may well become the last kick Arshavin ever contributes in an Arsenal kit.
And somehow, that seems most fitting. It was an assist of the highest register—a truly transcendental piece of genius.
Despite all the reasons we might grow frustrated with him, that was Arshavin in a nutshell—able to provide us with jaw-dropping bits of skill one moment, only to disenchant us the next.
Perhaps, a move back to Zenit, who have expressed interest in re-signing their former youth product, would be in his best interest.
His best years may be behind him, but with a chance at one last hurrah at the 2014 World Cup (he will be 33), it would behoove the man to get some good football in. Russia seems to be his best chance for that.
So, if he becomes the latest Arsenal player to shuffle his feet out those Emirates doors, it will be with a heavy heart that I watch him go.
There are so many reasons why I could remember him in a negative light, but I'll offer a counter to that.
The Arshavin I'll remember is the one who could change a match in the flash of a moment and who could play through the most painful injuries without thinking to complain about it.
This Arshavin sent in a winner at Anfield in December '09 despite not practicing in the week leading up to that match—so painful was an injury suffered to his right foot. This Arshavin scored a wonder goal against Blackburn in March of that year, just minutes after having stitches inserted into his foot.
It was a true testament that Wenger, manager of the likes of Tony Adams, Martin Keown, Lee Dixon, Patrick Vieira and a whole host of tough characters at Arsenal, said he had not met many who could rival Arshavin's threshold for pain.
That's the compliment I'll remember him by—a man who could shrug off gruesome physical pain with that iconic shrug and look of utter impishness we all came to know so well but who could become completely submerged by the devilish workings of his own mind.
A terrible dichotomy but one shared by many of the most brilliant men and women to have walked this earth.