Julio Cesar Chavez Jr.: Why He Will Be Greater Than Julio Cesar Chavez Sr.
June 17, 2012

Jeff Gross/Getty Images
"He was too big and too strong," said Andy Lee after his fight with Julio Cesar Chavez, Jr.
Even if Lee had said nothing, the bruises and cuts on his face post-fight would have said it all.
Chavez, Jr. was supposed to be tested by a bigger man in Lee, a fighter who came in with 20 knockouts in his 28 victories.  To his credit, Lee came out fighting and easily controlled the first two rounds.
Lee was active with his jab and, unlike Timothy Bradley in last week's debacle versus Manny Pacquiao, accurate with it as well.
Yet Chavez, Jr. was able to get in close and begin asserting his own size and power advantage, as he is known to gain well over 10 pounds after the official weigh-in of his fights, before moving on to face Sergio Martinez.
If Lee represented a test, then Martinez will be Chavez, Jr.'s version of the LSAT. 
Martinez is largely regarded as a top-five pound-for-pound fighter, and a win over him would help elevate the young Chavez, Jr. to superstar status.  Also helping him raise his profile—as it always has—is being the son of an all-time great: Julio Cesar Chavez, Sr.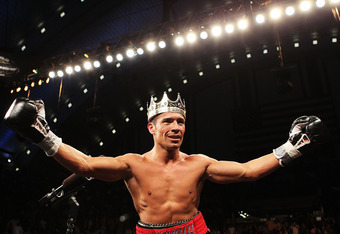 Al Bello/Getty Images
Now, the question that everyone knew would be asked the moment he began his boxing career has more credence: Can Julio Cesar Chavez, Jr. be as good as his father?
No.  He will be better.
When the younger Chavez began boxing, this comparison would have been ridiculous.  He was a raw fighter with nothing but size to his advantage, lacking the commensurate power that you would expect would naturally come along with being bigger.
He threw a ton of body punches, just like his father did.  But he also looked like a fighter who threw body punches just because his father did.
Even as late as three or four years ago, Chavez, Jr. looked to be a marginal talent who could be featured on an undercard just to boost ticket sales.
But then he went to Freddie Roach.
With each fight, Chavez, Jr. shows improvement in a multitude of areas: footwork, head movement, attacks to the head of his opponent.  These improvements have also augmented another area, as Andy Lee can attest: power.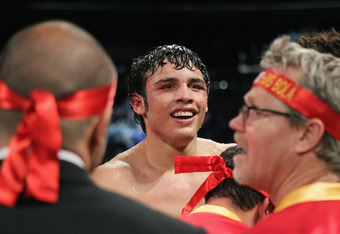 Jeff Gross/Getty Images
His improvement is reminiscent of another Freddie Roach charge whose formerly one-dimensional fighting style evolved tremendously over years of Roach's tutelage: Manny Pacquiao.
But while Pacquiao has dominated opponents in recent years while having a distinct size disadvantage, Chavez, Jr. as a middleweight will maintain a size advantage over the majority of his foes, and he would at least be on equal footing with fighters at the super middleweight level.
How, though, can he be compared to one of the greatest of all-time in Julio Cesar Chavez, Sr.?
While the elder compiled an impressive record that included over 100 wins, many of his early wins came against soft competition; in fact, his first 33 fights came within a span of two years and eight months, all fought in Mexico.  Eighteen were fought in his hometown of Culiacan. 
Though he fought some name fighters in the years after (including two fights with Roger Mayweather), his first big test came against an undefeated Meldrick Taylor on March 17, 1990.
At the time, Chavez, Sr. was 27; Chavez, Jr. is 26.
I watched that fight live as a teenager, and I understood the hype: Chavez entered the ring at 68-0, while Taylor was an up-and-comer with his own undefeated record of 24-0-1.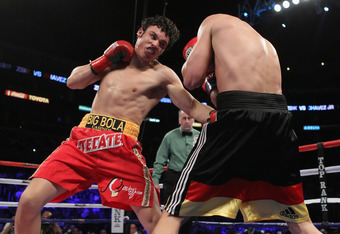 Jeff Gross/Getty Images
Taylor lacked power with 14 KOs among those victories, many coming early in his career.  He boxed well, and for 11 rounds he controlled the action.
Chavez, Sr. was on the verge of his first loss when he caught Taylor and put him down.  Taylor rose to his feet but was unsteady, and the referee stopped the bout with 15 seconds left in what would have been Chavez, Sr.'s first loss.
The elder Chavez padded his record in warm-up fights.  A good example would be the two fights that followed the classic versus Taylor, in which his opponents' combined record was 9-6-1.
He also walked through credible but overmatched opponents in Angel Hernandez, Hector Camacho, Greg Haugen and Terrence Ali along the way.
Then came September 10, 1993.  On that night, he faced a boxing technician in Pernell "Sweet Pea" Whitaker .  If anyone gave his opponents "boxing lessons," it was him.
Chavez, Sr. was 87-0 and moving ever-closer to a 100-0 record. The fight ended in a draw, when many media outlets believed that Whitaker was the winner.  Nonetheless, Chavez, Sr. maintained his undefeated record.
Whitaker is regarded by boxing fans as one of the best technical fighters of the past few decades.  Sergio Martinez, as a pound-for-pound candidate and a fighter who many other boxers avoid, represents the "Pernell Whitaker" moment in the younger Chavez's career. 
He has fought two credible fighters in Marco Antonio Rubio and Andy Lee and beaten them both convincingly.  Now he faces the challenge of facing a top-tier fighter in Martinez.
A convincing win would not only make Chavez, Jr. the recognized middleweight champion—a fictional title that Martinez holds—but also drop the young and improving Chavez, Jr.'s name into pound-for-pound discussions.
He is ready.  Previously, it was Martinez calling for a fight with Chavez, Jr., but after a convincing TKO over Lee, it was Chavez' turn to call for the fight to happen.
His improvement over the last few fights with Freddie Roach in his corner have turned what would have been a farce a couple of years ago that Martinez would run away with into a very intriguing matchup and one that Chavez, Jr. has a real shot to win.
In truth, a spirited loss to Martinez would not hurt Chavez, Jr.'s reputation one bit, and would still raise his profile.  A loss in a strong performance could do for him what Pacquiao-Morales I did for a young Manny Pacquiao, who at the time was 26 years old.
It was from that point that Pacquiao started his string of 15 consecutive victories against name fighters, a streak that only ended with the controversial decision in the Bradley fight.
Should Chavez, Jr. take a similar path to his Roach stablemate Pacquiao and fight a series of top contenders and future Hall of Famers, he will position himself to outpace his father.
He has already shown tremendous improvement, and he is still only 26.  Another four or five years with Roach guiding him—and not to mention the guidance of Chavez, Sr.—could turn Chavez, Jr. into must-see television, and not because of his name.
The first indicator of whether he will fulfill his potential will be this upcoming fight with Sergio Martinez.