Germany vs Denmark: Rating the German Players in Euro 2012 Group B Showdown
June 17, 2012

Martin Rose/Getty Images
On Sunday, Germany defeated Denmark to advance to the next round, completing their impressive sweep of the group stage. Goals from Lukas Podolski and Lars Bender propelled Die Mannschaft to a 2-1 victory and clinched the top spot in the group.  
Aside from brief lapses into stagnation and ball-watching, the Germans proved why they are one of the top contenders to win the 2012 European Championship.
Mario Gomez: 7. Gomez found himself in several fortuitous opportunities to finish off the Danes, but was unable to find an opening to shoot. His positioning was excellent, but he seemed to take one touch too many once he received the ball. In the 19th minute, Gomez laid off Müller's cross for Podolski's finish.
Lukas Podolski: 8. His goal came from a powerful strike that blasted through the keeper's outstretched hands. He was positioned well and capitalized off Denmark's poor coverage. This match was his 100th cap for Germany.
Thomas Müller: 7. Although he squandered an opportunity during the match's early stages, Müller compensated by supplying the cross for Podolski's finish. Müller carried the ball to the end-line before cutting it across the goal. The ball flicked off Gomez's heel, and Podolski was provided an easy finish.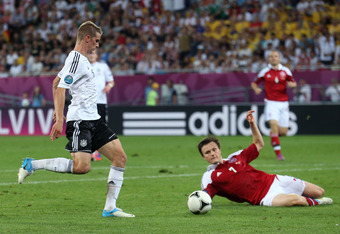 Joern Pollex/Getty Images
Mesut Özil: 8. Özil had a slow first half and struggled with the final, lethal pass that has won him so much reverence. However, his pace and creativity improved during the second half, and he provided the assist for the winning goal.
Sami Khedira: 7. Some of his passes lacked accuracy, but Khedira displayed ingenuity when he linked up with Real Madrid teammate Mesut Özil on several passes. He was a contributor to the counterattack that culminated in the winning goal.
Bastian Schweinsteiger: 10. Positioned as a deep-lying central midfielder, Schweinsteiger displayed why he is in his own class, as he directed traffic and interrupted the Danes' attack.
Denmark had no answer as the midfielder dictated the flow of play and found open lanes for the German wingers. He always seemed to make the right choice whether it was pass, carry or cross.
Philipp Lahm: 8. Lahm had decent positioning, but made his mark whenever he advanced the play up the pitch using his speed and passing accuracy.
As a fullback who presents an attacking threat, Lahm's presence on the wing can overwhelm opposing defenses. Tonight was more of the same from Philipp Lahm.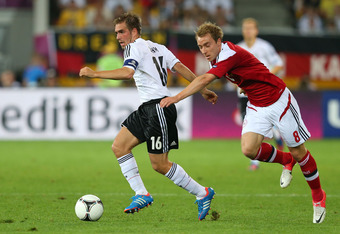 Alex Livesey/Getty Images
Lars Bender: 8. Bender notched the winning goal to ensure Germany's advancement to the next round. His goal was the finale to a dominant counterattack led Sami Khedira and Mesut Özil. Bender filled in effectively at right-back, though his tenure as a starter will likely end when Jerome Boateng returns.
Holger Badstuber: 7. Badstuber performed well enough to stop any Danish attack during the flow of play. Denmark only had a couple of opportunities aside from the goal from the corner. Badstuber got away with pulling Nicklas Bendtner's jersey on a goal-scoring opportunity.
Mats Hummel: 7. Partnered with Holger Badstuber, the central defenders spurned most of Denmark's attacks and allowed Neuer to enjoy a relatively uneventful match.  
Manuel Neuer: 6. Neuer's positioning was precarious, and he surely caused several fans' hearts to jump when he came off his line 30 yards to make a clearance. He got the job done, though, and his side produced the win.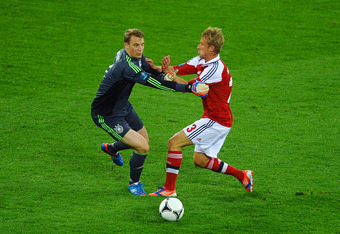 Laurence Griffiths/Getty Images
Substitutes
André Schürrle: 6. During the 67th minute, Schürrle had an exceptional opportunity to score on a through-ball into the box. Although he directed it well to the far post, the keeper pushed the ball wide. 
Miroslav Klose: 5. Klose never made an impact on the match. Özil's final pass on the counterattack was directed towards Klose, but he failed to reach it.
Toni Kroos: 5. Kroos came on too late to make his mark on the game.
If the Germans perform as they did today, the next match against Greece should culminate in a more drastic goal tally.