Carlos Gonzalez: Rockies' Star Fights for NL Triple Crown, MVP, Respect
June 17, 2012

Doug Pensinger/Getty Images
For all the troubles the Colorado Rockies have endured this season, outfield star Carlos Gonzalez has given baseball fans in Denver a reason to celebrate.
Gonzalez, 26, is enjoying a season that may very well thrust him into baseball's history books should his hot hitting continue.  
The fifth-year player from Venezuela is not only on the cusp of making his first All-Star appearance, but is also making a strong push for the 2012 NL Triple Crown and MVP Award.
According to Troy Renck of the Denver Post, Gonzalez is likely to make the All-Star game, either voted in by fans or as the Rockies lone representative in the wake of Troy Tulowitzki's injury. Per Paul Casella of MLB.com, Gonzalez is 10th in NL voting for outfield with 728,903 votes and climbing fast.
For Gonzalez, an all-star game would be well deserved for this all-round speedster who missed the cut in 2010.
Frankly, it would be a crime for Gonzalez not to make this year's all-star classic, especially when one considers the outstanding numbers he is posting so far.
Currently, Gonzalez is fifth in the NL in batting average (.335), third in home runs (17) and second in RBI (51), according to ESPN.
This puts Gonzalez right in the thick of things in the NL Triple Crown race.
Should things fall in line, Gonzalez would become the first hitter to earn the Triple Crown since Boston Red Sox Hall of Famer Carl Yastrzemski in 1967. The last NL player to earn this prestigious award was Gashouse Gang member Joe 'Ducky' Medwick in 1937.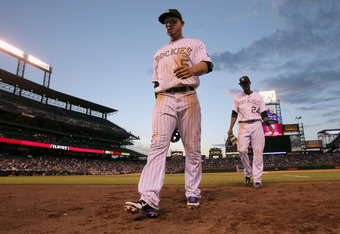 Doug Pensinger/Getty Images
In the NL MVP race, Gonzalez is first in the majors in runs scored (51), fourth in hits (82), fourth in slugging percent (.629), sixth in OPS (1.023) and ninth in OBP (.394).
Should Gonzalez win the NL MVP, he would join Larry Walker as the only two players in franchise history to win the award. Walker won it in 1997.
More importantly, Gonzalez would finally earn the respect he undoubtedly deserves.  
For Rockies fans, Gonzalez's march toward long-deserved superstardom is fun to watch to say the least.
Whether it is enough to ease the sting from a tough start to the 2012 season, that's another story.
For more baseball stories and useful tools, join us on the Basebook Social Network!