Cincinnati Bengals: 12 Early Winners and Losers of the Bengals' Offseason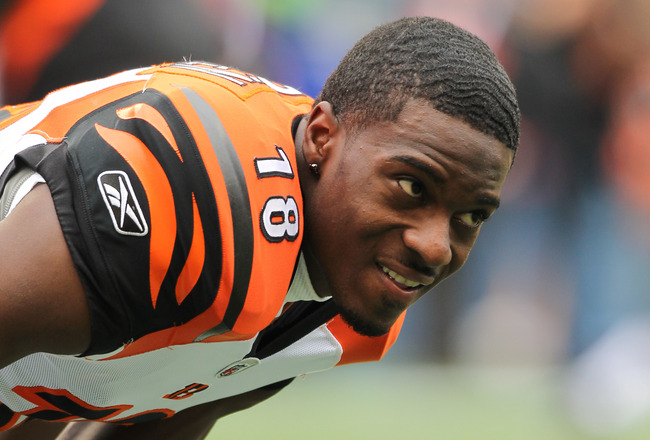 Otto Greule Jr/Getty Images
The Cincinnati Bengals 2012 NFL offseason is still in the infancy stages, but there are some early winners and losers already.
With rookie minicamp and OTAs officially in the books, many players on the Bengals roster have managed to stand out on and off the field. Others have stood out for the wrong reasons.
As the Bengals move into a new era of competitiveness and hope, the offseason to date has been an encouraging sign of things to come. There are no more major distractions, selfish players or serious encounters with the law.
In its place is a youth movement with a taste of playoff experience and the desire to function as a team. Young players are taking the roles of grizzled veterans and learning from an experienced coaching staff. The end result is impossible to know, but there are a few things that stand out already.
Here are the early winners and losers of the Bengals offseason.
Winner: Adam Jones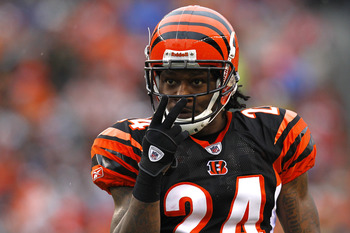 Tyler Barrick/Getty Images
Cincinnati Bengals cornerback Adam Jones was asked by the NFL to speak to the incoming rookies at a symposium recently, because of his tumultuous NFL career thus far.
Jones' checkered history is well known. His final run-in with the law was wrapped up by a judge ordering him to pay about $11 million to victims of a club shooting.
Despite this final setback, Jones has taken his new role with NFL in a serious manner (h/t Joe Reedy, Cincinnati.com):
I want to tell them what I went through and hopefully not make the same mistakes that I made. Please don't do what I did. Keep a group of people with you. There are a lot of guys that come from the same background that I do who run into a whole bunch of money. They don't respect the money. If they don't, they will be in the same situation I was.
Jones has found a positive in his off-the-field issues. He is now helping impressionable rookies prevent making the mistakes he did. Jones may not be an elite cornerback, but he is an outstanding punt returner and is turning his life around off the field.
For that, Jones is a winner.
Loser: Rey Maualuga
Jamie Sabau/Getty Images
Rey Maualuga continues to lose as the middle linebacker of the Cincinnati Bengals. Last year he hurt his ankle in the early stages of the season and proceeded to be ineffective when able to play.
Now Maualuga has admitted to playing "wrong football" last season (h/t Joe Reedy):
I was playing wrong football, as far as I didn't want to re-injure my ankle and be done with the season. At times I felt like I was playing selfish. They could have put someone out there that could have done more than I could have. Just going out there and letting the coach know that I was fine when really I was not.
Maualuaga's admission isn't surprising. He was never the same after he returned from injury and appeared noticeably slower.
His selfish play likely hurt the team more than it helped. Maualuga's backup, Dan Skuta, was just as good, if not better, than Maualuga last season after the injury. Having a healthy Skuta in over a hobbled Maualuga could have made the Bengals even better defensively a year ago.
Maualuga would be wise to learn from this mistake. He is now entering the last year of his contract with the Bengals, and if he doesn't improve and avoid mistakes such as this, it will be his last season in Cincinnati.
Winner: Leon Hall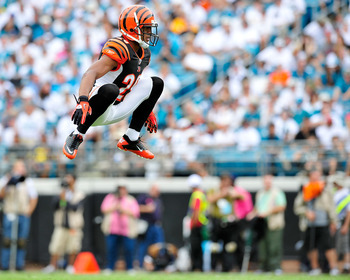 Grant Halverson/Getty Images
Leon Hall was one of the better cornerbacks in the league last season for the Cincinnati Bengals before succumbing to a torn Achilles. After the injury, the Bengals' defensive unit was not the same.
An Achilles' tear is now an injury more devastating than any knee injury, and the recovery time is much longer. For a player at a position such as cornerback or wide receiver, it is a career-ruining injury most of the time, because of the nature of the position with cuts and breaks at full speed.
The general consensus about Hall was that he would start the season on the PUP list, allowing him to fully recover. The signing of Jason Allen and Terence Newman, along with the drafting of Dre Kirkpatrick and Shaun Prater seemed to reinforce that idea.
Now things are looking much different. Hall expects to be fully ready to play at the beginning of Bengals' training camp in late July. His recovery is drastically ahead of schedule, and PUP list no longer looks like an option right now.
Loser: Dre Kirkpatrick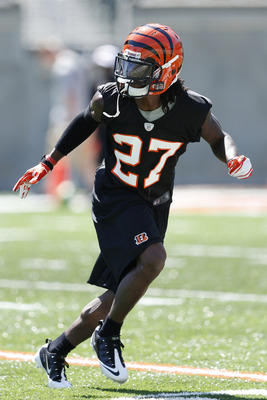 Joe Robbins/Getty Images
Dre Kirkpatrick, formerly of Alabama, is expected to one day be the Cincinnati Bengals' starting cornerback. As of right now, the wait could be a while.
Kirkpatrick has had a mediocre offseason since being drafted by the Bengals. He has battled a variety of injuries and illnesses that have limited his playing time, and he has surrendered big touchdowns when actually participating in practices.
It is still early for Kirkpatrick. It was known that he could have a difficult transition to the NFL in some areas, and those concerns are proving to be correct thus far.
Kirkpatrick is experiencing issues most rookie corners encounter upon first entering the league. These issues can be ironed out over time. The lingering and consistent injuries are a whole different beast, and something to keep an eye on moving forward.
Winner: A.J. Green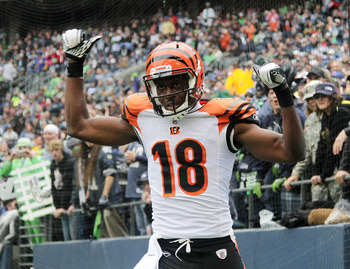 Otto Greule Jr/Getty Images
After recording a jaw-dropping rookie campaign that was better than the rookie years of Calvin Johnson and Jerry Rice, to name a few, A.J. Green didn't have many areas to vastly improve upon this offseason, right?
Wrong.
Green has spent the offseason thus far learning all three receiver positions, including the slot receiver spot on the field. He is also working on improving his route running and how he reacts to certain coverages.
To make things even better for Green, he is working out with the Arizona Cardinals' Larry Fitzgerald this offseason to work on his all-around game. There couldn't be a better role model for Green in the NFL than the elite receiver residing in Arizona.
Loser: Dontay Moch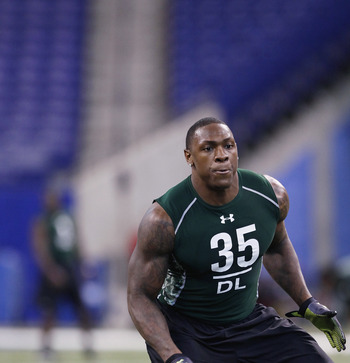 Joe Robbins/Getty Images
Dontay Moch was sidelined all of last season for the Cincinnati Bengals because of injury issues and dealing with recurring migraines.
With the injuries healed and the migraines suppressed, 2012 was supposed to be Moch's breakout year. He certainly has the talent to be an elite pass-rushing threat in the Bengals scheme thanks to his outstanding 4.4 40-yard dash—an unnatural number for a linebacker.
Instead of fulfilling these expectations, Moch has stumbled out of the gate already. The second-year linebacker has been suspended by the NFL for the first four games of the 2012 season for testing positive for a banned substance.
Moch has been a disappointment thus far, and he won't last long in Cincinnati if this trend continues. The linebacker unit for the Bengals is a deep and talented one, and there are only so many roster spots to go around.
Winner: Michael Johnson
Andy Lyons/Getty Images
Michael Johnson is one of the more underrated aspects of the Cincinnati Bengals' defensive unit from a year ago. He played through injury and ended up playing more snaps than any defensive lineman for the Bengals last season.
Last year, Johnson compiled 42 tackles, six sacks, a forced fumble and an interception, but was less effective as the season wore on because of nagging minor injuries.
Johnson was listed at a playing weight of 265 lbs last season. This offseason, he showed up to camp weighing in at a muscular 280 lbs, which is a great thing for the nature of his position.
A 6'7", 280-lb defensive end is the type of player that gives opposing offensive linemen fits, and Johnson hopes to do that consistently next year. So far so good for the pass-rushing specialist.
Loser: Brandon Ghee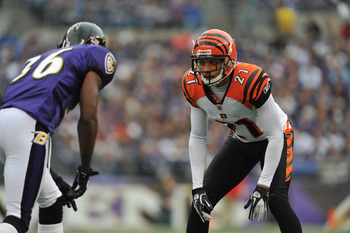 Larry French/Getty Images
Brandon Ghee has yet to go much of anything for the Cincinnati Bengals after the team selected him in the third round of the 2010 NFL draft.
Ghee has entered camp healthy and looking to compete for a starting cornerback spot. Up to this point, Ghee has been nothing but depth for the team while he battled a variety of injuries.
Unfortunately for Ghee, this season may be too little too late in regards to a starting spot. The team has Leon Hall returning and just drafted Dre Kirkpatrick.
Hall is the unquestioned starter, and Ghee will have to battle it out with guys like Nate Clements, Jason Allen, Terence Newman, Adam Jones and Shaun Prater to even make the roster.
The optimism and potential from Ghee is there, and it is great to finally see him healthy. Ghee has a long way to go before he even makes the Bengals roster at this point, though.
Winner: Taylor Mays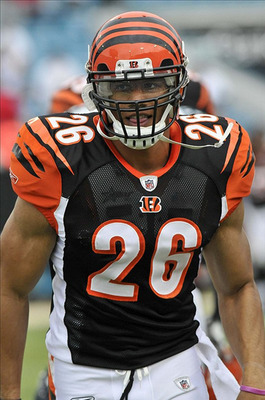 bengals.com
Taylor Mays has not quite lived up to expectations yet in the NFL. As the No. 49 overall pick in the 2010 NFL draft, Mays failed to make an impact with the San Francisco 49ers and was promptly traded to the Cincinnati Bengals for a seventh-round pick.
Mays did not see a lot of playing time last season, but he may finally have a chance to start this offseason. He has been practicing with the first team this offseason in the strong safety slot, and he credits this full offseason critical to his development (h/t Anthony Cosenza, CincyJungle.com):
(Having no real offseason) Made it a little tougher last year trying to learn it on the run, especially when pretty much we was already in Week 1 of the season. Now, having an offseason and these OTAs and these meetings with our coaches, where (defensive coordinator Mike Zimmer) can really go over the defense, and get the reps and walkthroughs on the field during practice makes a big difference.
Mays has a solid point. He was traded to the Bengals very late in the offseason last year and never truly had a chance to learn the playbook or schemes except on the fly during the season.
2012 could be a big year for Mays thanks to a full offseason, and he appears to be making the most of the opportunity.
Loser: Pat Sims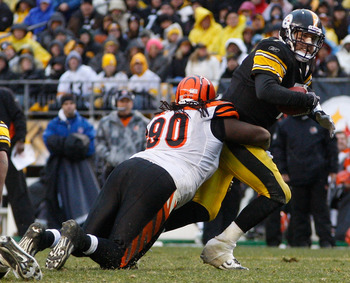 Jared Wickerham/Getty Images
The Cincinnati Bengals have a good problem at the defensive tackle position this year, but it could be bad news for Pat Sims.
The Bengals brought back Sims in free agency this year, but that was before drafting both Devon Still and Brandon Thompson in the NFL draft. Combined with Domata Peko and Geno Atkins, that makes five tackles on the roster at this point in time.
Sims is the odd man out in that bunch, despite recently being re-signed. Sims does one thing very well, and that is stuff the run. The rest of the tackles on the roster are good players at both stopping the run and rushing the passer.
The Bengals historically hold on to versatile linemen that can do it all. With limited roster space available, a player like Sims could be on the outside looking in very soon.
Winner: Mike Brown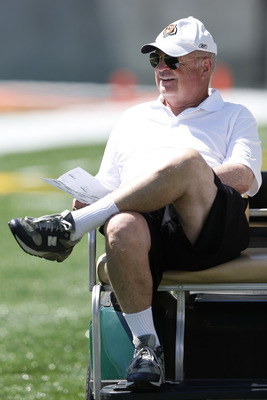 Joe Robbins/Getty Images
Mike Brown has been receiving universal praise as of late for the way things have been taking shape in Cincinnati. The Bengals are a team on the rise, and that is a direct result of Brown giving up more control of player personnel decisions to Head Coach Marvin Lewis and company.
The past few drafts have seen the Bengals add players like Jermaine Gresham, Carlos Dunlap, Jordan Shipley, Geno Atkins, A.J. Green and Andy Dalton. Add in outstanding free-agent acquisitions such as Manny Lawson, Thomas Howard and Adam Jones, and it is easy to see why the Bengals are on the upswing.
The 2012 NFL draft saw the trend continue with widely-heralded selections such as Dre Kirkpatrick, Devon Still, Mohamed Sanu, Brandon Thompson and Orson Charles.
Although most will criticize Brown for his money management, it has now placed the Bengals in a position to contend for years to come. Having one of the highest free cap space numbers in the league will allow the Bengals to retain their top talent.
Brown isn't directly making the majority of the decisions in Cincinnati, but he is receiving the majority of the praise. For that, he is a winner this offseason.
Loser: Marvin Lewis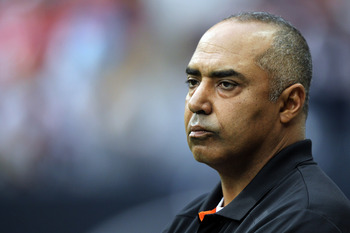 Jamie Squire/Getty Images
Cincinnati Bengals Head Coach Marvin Lewis has been the main architect for the upswing the Bengals are currently experiencing.
After reportedly making demands of owner Mike Brown or not re-signing with the team, Lewis has spurred several changes within the organization. These include the hiring of Offensive Coordinator Jay Gruden, the addition of more scouts to the league's smallest scouting department and inquiries about an indoor practice facility for the northernmost NFL team without one.
Add in the outstanding player personnel decisions since signing his two-year extension, and it is easy to see that Lewis is the only reason the Bengals are becoming a true NFL franchise.
Marvin Lewis has compiled a 69-77-1 record as coach of the Bengals, a number most would scoff at. That is, until the records of every coach combined under Brown not named Lewis is revealed to be 55-149.
Despite all of this, Lewis isn't receiving rave reviews in the press like Brown is, and he hasn't been approached by the team about a contract extension with the 2012 season being his last year under contract.
There is still a lot of time left for Lewis to receive an extension, but it is dumbfounding that the team hasn't explored the idea yet. Losing Lewis at this juncture could be catastrophic for the progression of the franchise.
Keep Reading

Cincinnati Bengals: Like this team?