Portugal vs. Holland Euro 2012: Players to Watch in Crucial Group B Showdown
June 17, 2012

Dean Mouhtaropoulos/Getty Images
Group B will conclude Sunday and every team is still capable of reaching the knockout stages. European Championships always provide drama at its finest.
Euro 2012 has been nothing short of fantastic theater and there are still plenty of moments to be made.
Portugal and the Netherlands are looking to make some moments in their crucial showdown. Here are some players to watch on Sunday. 
Portugal scored three goals against Denmark in their second game at Euro 2012. It should have been five.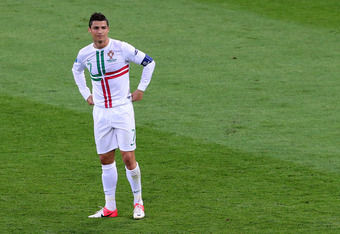 Alex Livesey/Getty Images
Cristiano Ronaldo is one of the top-two players in the world. He consistently acts like he's better than every player on the Portugal roster. He is upset when the wrong ball is played, acts like he does nothing wrong and continuously complains about something. 
Ronaldo has done virtually nothing on the national stage, especially at the European Championship. It's time for him to just go play football and forget about the other emotions. 
It's time for him to prove that he's dominant in all areas of world football, not just at the club level.
Portugal will need him to create off the dribble, be dangerous on the counterattack and most importantly, get shots on target. 
Arjen Robben
Another star, another lackluster performance. This is becoming a trend for Robben as he continues to not show up for the biggest games of the year.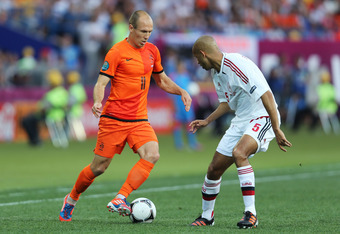 Ian Walton/Getty Images
He has done little worth talking about at Euro 2012. He's not seeing the pitch, is missing through balls and he's hardly hitting the target.
With one last opportunity to prove that he can come through in the clutch, Robben will need to be on top of his game against Portugal. 
Against an average defense, he'll have plenty of opportunities. 
Pepe
With Denmark playing Germany, and Portugal only needing a tie if Denmark can't find three points, expect Portugal to play a defensive game mixed with counterattacks.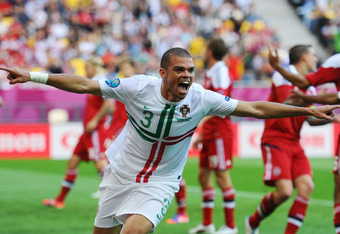 Laurence Griffiths/Getty Images
Pepe is one of the more underrated defenders in the world. His strong aerial play also allows for him to chip in offensively from corner and free kicks.
And defensively, he's asked to do a lot in the air to defend crosses. He has been up and down through two games, but he has one more game to prove his worth. 
If Portugal advances to the knockout stages, Pepe will need to have a great game against some of the best offensive players in the world.
Prediction
Portugal and the Netherlands draw 1-1. Portugal's future will hinge on the Germany-Denmark game.