NBA Finals 2012 TV Schedule: What to Watch for in Game 3 Showdown
June 17, 2012

Ronald Martinez/Getty Images
Three games never seemed like so many victories. 
Oklahoma City and the Miami Heat are three wins away from winning the NBA Finals. 
After the teams split the first two games of the series in Oklahoma City, the scene shifts to South Beach. 
Here is what to watch for in Game 3. 
Russell Westbrook 
Oklahoma City's Russell Westbrook has scored 27 points per game in the first two games of the NBA Finals.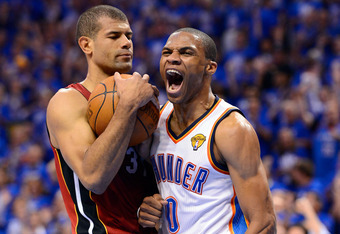 Ronald Martinez/Getty Images
Sounds like he's playing at a high level, right?
Wrong.
Westbrook has struggled with his shooting percentage in the past two games shooting 10-for-26 and 10-for-24. If this were Allen Iverson or Kobe Bryant, this would be a regular night.
But when you have Kevin Durant on your team, there will be some issues.
I'm fine with Westbrook being aggressive on the offensive end—Oklahoma City is that much better when he's being aggressive—but he has to realize when he's hurting the team.
If he's not feeling it, or if Durant is on fire then he has to play the position of point guard.
Westbrook won't change the way he plays which is great because he shouldn't have to. But when things aren't clicking, he has to realize what's best for the team. Jacking up shot after shot won't win an NBA Championship.
Rebounding 
Despite Oklahoma City's size advantage down low, Miami won the rebounding battle 40-36 in Game 2.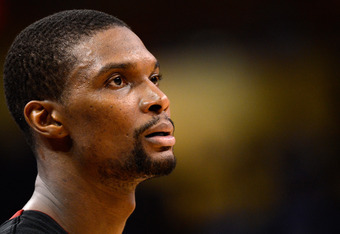 Ronald Martinez/Getty Images
Chris Bosh was an absolute monster down low. He grabbed 15 rebounds; eight defensive and seven offensive. James grabbed eight rebounds, Wade had six, Udonis Haslem had four and Mario Chalmers had four.
For Miami to compete on the glass against Kendrick Perkins, Serge Ibaka and the size of the Thunder they have to gang-rebound. Bosh probably won't have another 15 rebound night, but that doesn't mean Miami will be out rebounded.
Miami has some of the best rebounding guards in the league. Game 2 proved that. 
Shane Battier 
Throughout the 2011-12 season, Miami's Shane Battier was dreadful shooting the ball. Suddenly, in the biggest series of his career, he starts shooting lights out.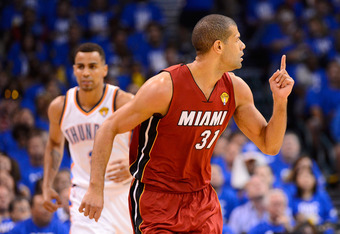 Ronald Martinez/Getty Images
Battier has averaged 17 points per contest on 70.6 percent shooting. This coming after his 4.8 points per game on 38.7 percent shooting in the regular season.
Despite his numbers falling off slightly in the next few games, Battier will still be given opportunities to shoot a high percentage. When James and Dwyane Wade penetrate the lane, they cause so much distraction that it forces Thunder defenders to lose sight of Battier.
If Miami wants to win this series, Battier will need to continue to be solid shooting from the perimeter. 
Oklahoma City's Big Three and Nobody Else
Westbrook, Kevin Durant and James Harden scored 80 of Oklahoma City's 96 points. No other guard scored more than three points for the Thunder.
Somebody needs to step up and drain some three's or get easy buckets off of offensive rebounds.
Whether it's Derek Fisher, Thabo Sefolosha or Perkins down low, somebody needs to help the big three in the scoring department.
Prediction
Miami wins Game 3 to take control of the series and put a little pressure on Oklahoma City. 
Here is the remaining TV schedule for the series. All games will be televised on ABC:
Game 3 - Sunday, June 17, 8 p.m. ET
Game 4 - Tuesday, June 19, 9 p.m. ET
Game 5 - Thursday, June 21, 9 p.m. ET 
Game 6 - Sunday, June 24, 8 p.m. ET (if necessary)
Game 7 - Tuesday, June 26, 9 p.m. ET (if necessary)