USC Football: What Each 2013 Commit Will Bring to the Trojans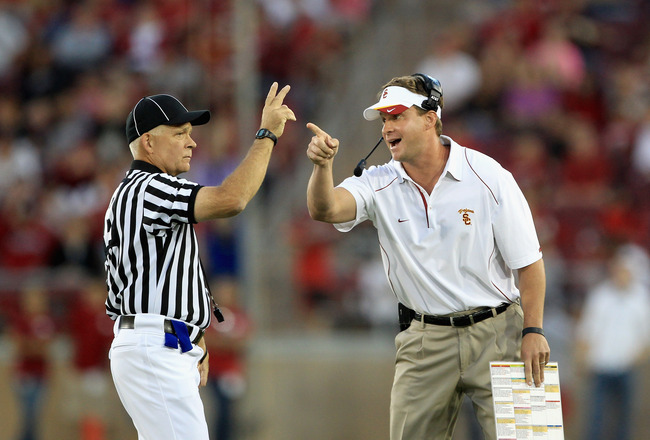 Ezra Shaw/Getty Images
At the halfway mark of verbally filling USC's allotment of 18 scholarships—including three early enrollments—for 2013, the Trojans are crafting what appears to be a historic recruiting class.
Sporting an abundance of nationally-ranked top ten players at their respective positions, Lane Kiffin and his crew have already assembled a group of players that 98 percent of college programs would give their right arms for.
What about the players themselves?
Yes, they are highly rated. But, what will they bring to the men of Troy?
This slide show will take a look at each of these nine prospective Trojans and offer a brief thumbnail sketch of their value to the football program.
Nine down, nine to go.
Here's what the first half looks like.
Steven Mitchell (Wide Receiver)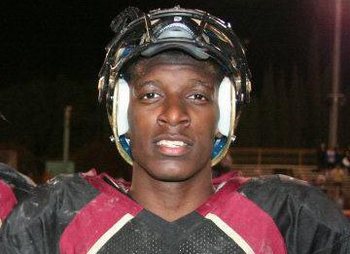 Though not particularly big (5'10", 185 lbs), the Mission Hills (Calif.) wide receiver more than makes up for his lack of size by being extraordinarily quick and shifty.
Destined to play in the slot—think former Trojan Steve Smith—Mitchell will give opposing coaches fits trying to figure out how to cover both inside and out against the Trojans.
Another thing he brings to USC is versatility, which includes his playing a good portion at running back.
With the burden of NCAA-mandated reduction of scholarships still being dealt with, Mitchell offers head coach Lane Kiffin some latitude, should injuries occur.
Since that versatility has cost Mitchell valuable time at receiver during his high school career, look for him to redshirt in his first year as he learns the nuances of his primary college position.
Su'a Cravens (Athlete)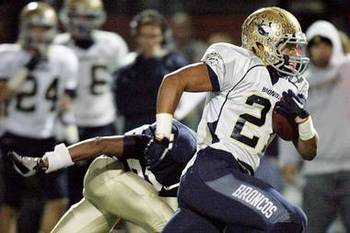 photo from collegesportsfeed.com
Perhaps the best player in the West and certainly one of the finest athletes in the entire nation, Murietta (Calif.) stud Su'a Cravens defies assignment to a single position because he is so talented in a myriad of areas.
Though he will likely begin his Trojan career as a safety, chances are he will grow into a linebacker. His speed at that position will make him a terror on the field.
Will he play some running back? How about receiver?
Yes and yes.
Lane Kiffin and his position coaches will take advantage of Craven's abilities all over the field. This will create angst for opposing coaches who will tire of seeing Cravens in so many places.
Because of scholarship limitations, versatility will be an asset as the Trojans go forward. In this area, Cravens provides a wealth for Kiffin to work with.
Look for young Su'a to contribute from the moment he steps on the field for USC.
Justin Davis (Running Back)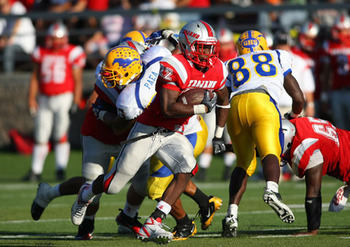 photo from trojanempire.wordpress.com
The Trojans desperately need running backs, and Justin Davis is the best the West has to offer.
Big (6'1", 195 lbs), powerful and fast, Davis is a threat to go all the way every time he touches the ball.
With the depth issues USC will be facing next year when Curtis McNeal graduates, Davis will have an opportunity to play almost immediately.
Whether he does play as a true freshman will come down to how well he learns to pass protect—which he is already pretty good at—and how quickly he picks up the playbook.
Ty Isaac (Running Back)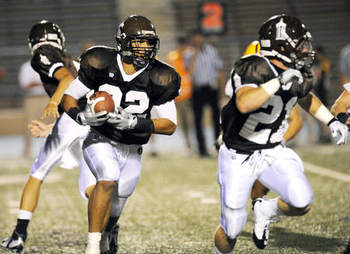 photo from yourseason.suntimes.com
The bigger of USC's "two-headed running back monster" for the class of 2013, Ty Isaac is an absolute beast coming out of the backfield.
After rushing for over 2100 yards and 45 touchdowns during the regular season as a junior, Isaac followed that up by rushing for 515 yards and six touchdowns in his Illinois state title game.
Smooth and big (6'2", 220 lbs), Isaac can do it all, including possessing some of the softest hands you will ever see on a running back.
Like Davis, Isaac will have an opportunity to contribute immediately.
Eldridge Massington (Wide Receiver)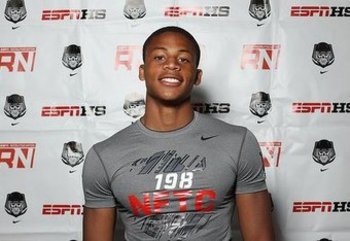 photo from uofmich.blogspot.com
With Robert Woods likely gone after this season and Marqise Lee's possible departure after 2013, the wide receiver unit will be in serious need of replenishing.
That mission starts this year with Eldridge Massington of Mesquite, Texas.
Massington is a prototypical Trojan wideout who possesses great size (6'3", 210 lbs) and even greater speed (4.4 second 40).
With the aforementioned Steven Mitchell likely to assume the flanker position, Massington will be called on to stretch defenses with the long ball—a scenario he excels at.
A lot depends on whether or not Woods and Lee stays or leaves but, either way, young Eldridge will be hearing his name called on Saturdays soon.
Kylie Fitts (Defensive End)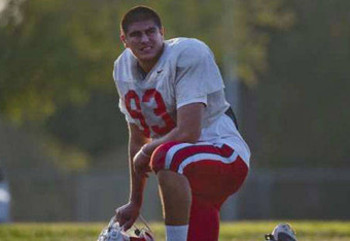 photo from buzzbox.com
The unit that needs the most replenishing with the 2013 class is arguably the defensive line.
And while it is the interior in the form of tackles that needs the most attention, when a guy like Kylie Fitts (Redlands, Calif.) becomes available, you take him and ask questions later.
Fitts is unique in that, with his frame (6'4", 260 lbs), he can probably slide inside from his end position to a tackle position without too much trouble.
Even if he stays right where he is, the Trojans are getting a guy with excellent physical tools and a motor that never quits.
Having said that, look for Fitts to take a redshirt next year unless he really wows them in camp.
Max Browne (Quarterback)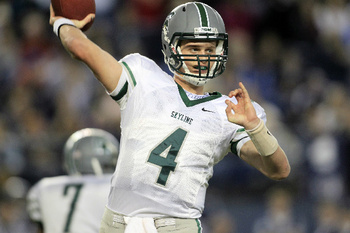 photo from usc.ocregister.com
If you are going to build the perfect quarterback, he would look something like Max Browne.
At 6'5" and 214 lbs, the Sammamish, Wash., native has exactly what a young quarterback needs to excel at the next level.
Though he may not have a cannon for an arm (yet), Browne can make all of the throws and his football savvy is off the charts.
Browne will be given an opportunity to start as a freshman, but likely will not as the Trojans have two excellent options—Max Wittek and Cody Kessler—ahead of him with two years in the system.
Make no mistake about it, at some point he will join the litany of great Trojan quarterbacks. Probably sooner rather than later.
Chris Hawkins (Cornerback)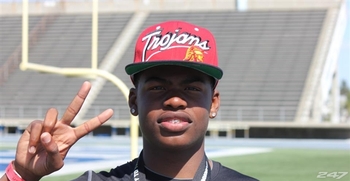 photo from usc.247sports.com
If there was ever a player born to be a Trojan, it is Rancho Cucamonga (Calif.) cornerback, Chris Hawkins.
Hawkins, who chose USC almost from the second he was offered, has all of the attributes needed to become a dominant shutdown corner at the next level.
Blessed with excellent height (6'0") for the position, Hawkins will need to add muscle to the 170 pounds he now carries.
With his level of dedication, that will not be a problem.
However, because he will need to add that bulk, look for Hawkins to redshirt his first year with the Trojans.
Kenny Bigelow (Defensive Tackle)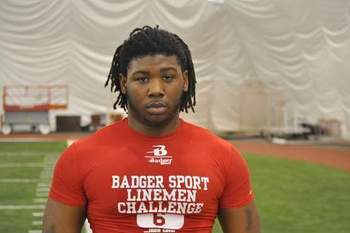 When all is said and done, the Trojans first verbal commit of 2013 may wind up being the best of them all.
As stated before, defensive tackle is as important an area for restocking as there is for USC. With Elkton, Md.'s Kenny Bigelow, they have arguably the best at his position in the country.
Bigelow is a man-child at 6'3", 280 lbs, and the only thing more impressive than his dominant strength is the surprising nimbleness he displays at a position that typically doesn't display that attribute.
Though young, given the Trojans need at the position coupled with his obvious tools, look for Bigelow to get a long look as a true freshman.
Don't be surprised if he works into the rotation in his very first year.
Conclusion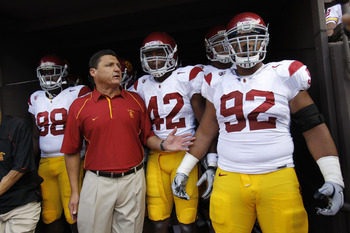 Ed Orgeron (USC Recruiting Coordinator)
Kent Nishimura/Getty Images
Nine down, nine to go for this year's Trojan recruiting class.
So far, Lane Kiffin and his crew have assembled an incredible group of prep players. It will only get better as they have several more recruiting "irons in the fire" for this year.
Many of the finest non-committed players in the nation have USC on their "short list." As signing day draws near, look for more high profile players to pull the trigger for the Trojans.
With many more holes to fill, the Trojans will focus on getting more defensive line, wide receiver, defensive backfield and possibly running back help—although they would be satisfied with Isaac and Davis.
Other areas will be served by signing the best player available. There are several out there who fit that bill and are considering the Trojans.
In the meantime, fans of the program will wait and see who the next blue chip is to come USC's way, secure in the knowledge that, when it comes to recruiting, there probably isn't a better staff in the nation.
Keep Reading

USC Football: Like this team?